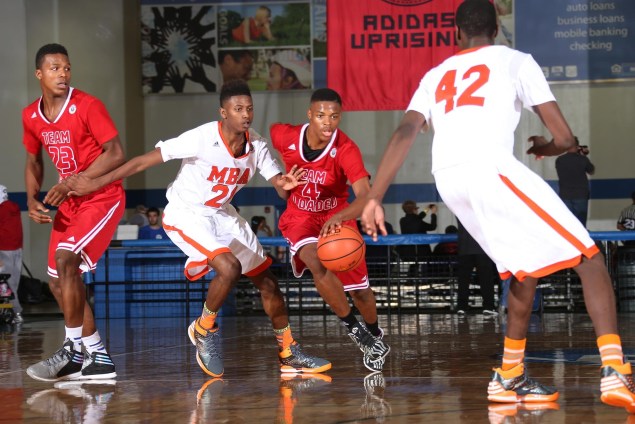 INDIANAPOLIS — After taking in the action at the adidas Gauntlet stop in Indianapolis over the weekend, here are seven takeaways I have from the event.
1. Jaylen Brown is the best small forward in the 2015 class: Georgia native Jaylen Brown is already a five-star prospect and the No. 11 player in the 2015 class according to Rivals but there had been rumblings during the high school season that other wings like Las Vegas native Ray Smith, Philadelphia native Derrick Jones and North Carolina native Brandon Ingram had emerged enough to make it a debate. While I haven't seen Jones in-person since last summer, I'd be hard-pressed to say any player is better at small forward than the 6-foot-7 Brown. With his power drive game from the wing and an emerging perimeter jumper, Brown is going to draw some comparisons to Arizona commit and McDonald's All-American Stanley Johnson, but he's his own player. After the 48-point explosion Friday night and another impressive stretch on Saturday, Brown cemented his status as the current top small forward in the 2015 class.
RELATED: Five-star Jaylen Brown wants to end recruitment this summer
2. Ray Smith and Brandon Ingram have improved: I mentioned Smith and Ingram in the previous paragraph in regards to Jaylen Brown, and although they may not be on-par with Brown right now, both possess tremendous upside going forward. Las Vegas native Smith ran with Dream Vision and the 6-foot-6 wing has one of the purest perimeter strokes off-the-catch in the class. Especially from the left wing, Smith is deadly. Smith can also play above the rim and handle a bit in the open floor, but his defense is a cause for concern at the moment. Smith just had too many mental lapses on that end of the floor and doesn't possess the necessary strength to stop bigger wings at the current moment. Ingram is an interesting case because he's grown a few inches during the high school season and now stands at 6-foot-7. Ingram acknowledged to NBCSports.com that he's still trying to figure out his new frame, but he had some brilliant flashes of play this weekend in Indianapolis. Ingram is bouncy enough to play above the rim and grab rebounds off of his quick second jump and skilled enough to play on the perimeter and handle a bit. He tends to float too much on the perimeter sometimes and still needs strength, but like Smith, he has a lot of upside going forward.
RELATED: adidas Gauntlet Saturday: Chase Jeter shows steady improvement
3. Tyler Dorsey and Justin Simon will be an interesting backcourt for Arizona: When I asked five-star guard Tyler Dorsey about new Wildcat commit Justin Simon on Saturday, even he acknowledged that both guards did similar things.
"I saw one highlight reel during the season when he played at Temecula," Dorsey said to NBCSports.com. "We have similar games but I think we'll be a good backcourt for the future."
Dorsey's opinion isn't far off. Both he and Simon are more combo guard than true point guard at this point, but they both do different things well. Dorsey is a much better defender and scores shooting the ball off-the-catch and has a really good pull-up jumper at the elbow while Simon is more apt to go to the rim and make a play for himself or others. Both have good size and feel for the game and it'll be interesting to see how they mesh together at Arizona in the future.
4. Carlton Bragg needs to bring it every game: There is no question that Ohio Basketball Club forward Carlton Bragg is a top-10 talent in the 2015 class but the 6-foot-8 forward has a hard time consistently bringing it every single game.
While the five-star forward closed out the adidas Gauntlet with a dominant 36-point performance on 13-of-20 shooting in a win on Sunday, Bragg didn't attempt more than 12 field goal attempts in any of OBC's four other games during the weekend — three of them losses. Some of that falls on his guards for not putting Bragg in proper position to go to work on the block so he can face-up and shoot his devastating mid-range face-up jumper, but Bragg has to be more assertive demanding the ball and making sure the offense runs through him.
5. Dennis Smith, Jr. is the real deal: I hadn't seen 2016 point guard Dennis Smith, Jr. prior to the weekend in-person, but after speaking with scouts and college coaches during the week, it was clear that buzz was growing for the 6-foot-1 North Carolina native. Smith lived up to the hype in my eyes this weekend as he played well against 2015 top-25 guard Justin Simon on Friday night in a Team Loaded (North Carolina) win. Smith plays above the rim but he's also adept at using jabs and fakes to blow by his first defender and create for himself or others. He's a bit of a gambler on defense but he has good timing as a shot blocker and rebounder at guard and his hands are quick enough to force some steals. It'll be fun to track his development going forward and he's a highlight-reel waiting to happen.
RELATED: Five-star 2016 point guard Dennis Smith, Jr. is the next great guard out of North Carolina
6. Thon Maker is getting more accustomed to physical play: One of the big positives from this weekend's adidas Gauntlet was seeing 2016 top-5 prospect Thon Maker play with more physicality in the post. Maker moves so well for a 7-footer, covering ground laterally and vertically so quickly on the defensive end, but he's had problems in the past with physical play thanks to his slight build. Maker still needs to add strength to avoid getting stripped of the ball, but he fought with much more ferocity in the post this weekend than I had seen in the past. Maker is skilled enough to be a pick-and-pop big man on the perimeter, and he can put it on the floor a bit, but he still has to get stronger to maximize his potential.
RELATED: adidas Gauntlet Friday: Jaylen Brown goes for 48 points
7. A great start for the adidas Gauntlet: With Nike switching its grassroots initiative to a league format with the EYBL, it changed the way spring and summer high school basketball is being played in America. This year adidas trotted out their version of a grassroots league, the adidas Gauntlet, and they've done a nice job for a first-year league. There was a lot of big-time talent, the college officials are so much better than typical grassroots referees and having a shot clock and full stats gives scouts and fans a better glimpse of how players might fare in college basketball. And since it isn't a tournament format where kids can sometimes play a ridiculous number of games in the same weekend, legs are a bit fresher throughout the weekend than in a tournament setting. The EYBL is still the gold standard, thanks to having a few years under their belt, but adidas is doing a really nice job of bridging that gap and creating a really nice league of their own.