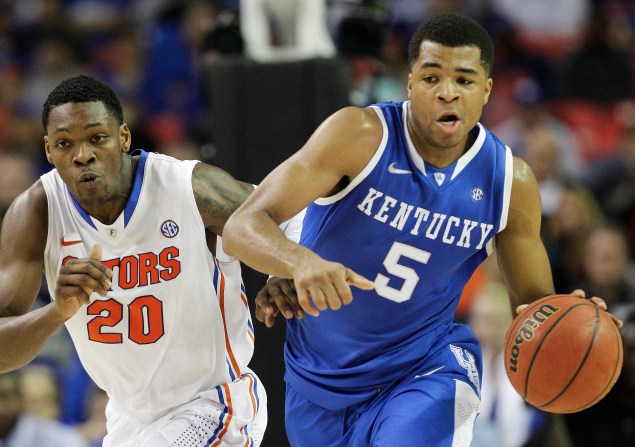 There may not be two college basketball programs in the country that are operating at a more efficient rate right now that Kentucky and Florida.
In the last four seasons, the Wildcats have been to three Final Fours while winning a title and losing in the national title game. Florida went to three straight Elite 8s before making it to the 2014 Final Four, and that was just seven years removed from when Billy Donovan won his second straight national title.
There is a valid argument to make that, right now, the Gators and the Wildcats are two of the top five college basketball programs in the country.
RELATED: Read through all of our Conference Catchups here
And after that, the SEC may not have another programs that even deserves consideration for being a top 25 hoops program.
Arkansas can never seem to get it's act together despite always having talent and perpetually filling Bud Walton Arena. Tennessee was on the verge of becoming a powerhouse before Bruce Pearl lied about having a barbecue with Aaron Craft. LSU can get talent into the program, they just don't always turn that talent into wins. Missouri has been disappointing during their first two years in the conference. Georgia, Texas A&M, Vanderbilt, Ole Miss.
Outside of the league's top two teams, no one else in the conference seems to be capable of being a perennial NCAA tournament team, and that certainly won't change this season. Someone will undoubtedly win enough games to put together a resume worthy of an at-large bid, but outside of Kentucky and Florida, there is no one in the SEC that I would feel comfortable betting on to make the 2015 NCAA tournament.
For a league that has so thoroughly figured out football, it's amazing that they cannot find a way for the rest of the league to be competitive in hoops.
THREE UP
Kentucky: Kentucky was the preseason No. 1 team in the country last season, they made it to the national title game, and they are losing their two best players to the NBA Draft and … they're going to be better next season? As weird as it sounds, it looks like it. Four of the six guys that had a chance to go pro this year decided to return to school, where they will be joined by another excellent recruiting class. The Wildcats will have a massive and deep front line, and with the Harrison twins returning to school, they'll actually have some back court depth. The key, however, is going to be finding a way to distribute minutes while keeping everyone happy.
Arkansas: The Razorbacks didn't make the NCAA tournament and they still lost 12 games last season, but here are two reasons to be hopeful for Mike Anderson's club next season: They won three road games in the SEC (including at Kentucky!), none of which came at Auburn, and they return their top three scorers from last season, including potential lottery pick Bobby Portis. It will be a disappointment if Arkansas is back in the NIT next year.
LSU: The Tigers should have been an NCAA tournament team last season. They lost in the first round of the NIT, and while they lose their starting point guard and center, LSU should be better next season. Jordan Mickey and Jarrell Martin will have a year of college basketball under their belt, Josh Gray, a JuCo transfer, should be able to step in and take over at the point, and the massive Elbert Robertson should provide enough of a low-post scoring presence to make up for the loss of Johnny O'Bryant.
THREE DOWN
Florida: The Gators spent much of the 2013-2014 season considered to be the best team in college basketball despite the fact that their season came to a close in the Final Four. That's the biggest reason that they are slotted in the 'down' column here, because Florida will lose four senior starters — including Scottie Wilbekin and Patric Young — from that team. They should still be good enough to, at the least, push Kentucky in the SEC standings, especially is Chris Walker and Kasey Hill live up to the hype they had coming out of high school.
Missouri: Last year was the year for the Tigers to make a run. And Frank Haith led them to the NIT before taking off for Tulsa. They lost both Jordan Clarkson and Jabari Brown to the draft while Earnest Ross graduated, leaving a roster that has some talent but is very, very young. Even in the watered down SEC it is tough to win with a roster stacked with freshmen and sophomores.
Tennessee: This is going to sound weird — especially if you read the paragraph below this — but Tennessee is going to have a tough time living up to that Sweet 16 that Cuonzo Martin led the Vols to last season. Jarnell Stokes went pro. Jordan McRae and Jeronne Maymon graduated. Martin went west. Robert Hubbs returns, as does Josh Richardson, and they add a nice crop of recruits, led by Detrick Mostella, but Tennessee will have a bit of rebuilding to do.
FIVE NEW FACES
Bruce Pearl: Auburn needed someone to bring some life to a program that has all-but been dead for the last decade. They landed Pearl, who may be the single-most vibrant head coach in all of college basketball. At the very least, the city of Auburn, Al., just got a lot more entertaining.
Donnie Tyndall: Cuonzo Martin got out of town at the right time. He orchestrated a run to the Sweet 16 after a relatively disappointing season, leaving for Cal at a time when his team would be losing four starters. Enter Donnie Tyndall, a ball of personality from Southern Miss that has come into the program and, in less than a month, managed to convince seven players that will join the team next season or in 2015 to commit to the program while also preventing Robert Hubbs, a five-star recruit from the Class of 2013, from transferring. The Vols may not be better in 2014-2015, but the program is certainly heading in a positive direction.
Kim Anderson: The new coach at Missouri was a bit of a surprising hire. A longtime Big 12 assistant, Anderson spent over a decade as the head coach at Division II Central Missouri, winning the 2014 DII national title. He hasn't had the immediate results that Tyndall has, but he did manage to keep star recruiter Tim Fuller around, and that, in turn, kept Jakeenan Gant from asking for a release. Anderson can really coach, but with a young team, early results may not be ideal.
Alex Murphy: The x-factor for the Gators this year is going to be Alex Murphy, a 6-foot-8 forward that was a five-star recruit coming out of high school. He spent two-and-a-half seasons with Duke — redshirting his first year — before transferring into the program that turned his brother, Erik, into an NBA player. He'll be eligible in December.
Kentucky's freshmen: The Wildcats bring in a four-man recruiting class that, once again, will be ranked amongst the best in the country. Tyler Ulis and Devin Booker in the back court. Karl Towns and Trey Lyles up front. But here's the weird part: Kentucky may not start a single freshman.
POWER RANKINGS
1. Kentucky
2. Florida
3. Arkansas
4. LSU
5. Georgia
6. Tennessee
7. Missouri
8. Texas A&M
9. Ole Miss
10. Alabama
11. Vanderbilt
12. South Carolina
13. Auburn
14. Mississippi State