The Big 12 may not have been the best conference during the 2013-2014 season, but it certainly was the most competitive and the most thrilling.
As of late February, there were eight teams in the ten team conference that had a shot to make the NCAA tournament. Seven of them did, including Baylor and Oklahoma State. Baylor lost eight of ten to start league play. Oklahoma State lost seven straight games at one point.
The top of the league wasn't great — Baylor and Iowa State were the only teams to reach the Sweet 16 and they both lost there — but it was the balance that made it so entertaining. Anyone could beat anyone on any given night.
I'm not sure that will be as true this season.
RELATED: Read through all of our Conference Catchups here
Once again, Kansas looks like the favorite to win the conference. They lost Andrew Wiggins and Joel Embiid to the draft but they replace them with Kelly Oubre and Cliff Alexander, a combo that should be able to match their production, if not their potential. The Jayhawks also traded out Naadir Tharpe for Devonte Graham, meaning that their season will, once again, hinge on the point guard play.
Texas will be the second-best team in the league after they beat out Kansas for top ten recruit Myles Turner. With Cameron Ridley, Johnathan Holmes, Isaiah Taylor and Javan Felix all returning as well, the Longhorns will be loaded and the biggest challenger to the Jayhawks' streak of regular season titles.
Oklahoma loses Cameron Clark but will still have plenty of talent returning. The same can be said for Iowa State, who lose Melvin Ejim and DeAndre Kane. Kansas State brings back Marcus Foster, making them a likely NCAA tournament team. Beyond that, we're looking at some rebuilds. Baylor should make the tournament despite their personnel losses, but it seems unlikely that Oklahoma State will.
THREE UP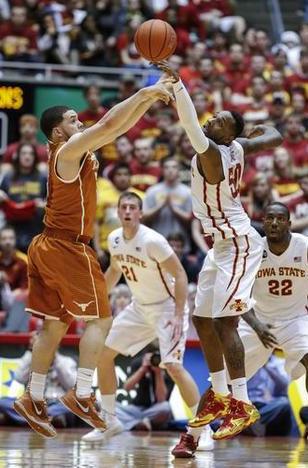 Texas: My, what a difference a year makes. At this time last year, we were wondering if it was even possible for Rick Barnes, who had been unable to tap into the talent-rich Texas high school ranks of late and who was jettisoning players from his program, to make it to May 15th with his job at Texas intact. Today, we're talking about how the Longhorns might be the favorite to end Kansas' streak as Big 12 regular season champ. After a third-place finish last season, the 'Horns returned essentially everyone of importance while adding top ten recruit Myles Turner to the mix. They'll enter the season in the top ten.
Kansas State: The Wildcats were a huge surprise a season ago, making the NCAA tournament despite entering the season without much expectation. The biggest reason for that run? Marcus Foster, the overlooked freshman that led the team in scoring. Foster won't be sneaking up on anyone this season, but he should end up being one of the best off-guards in the conference while leading KSU back to the tournament.
Monte Morris: Morris put together quite an impressive season for a freshman point guard in 2013-2014, but since he was playing behind all-american DeAndre Kane, his numbers went largely unnoticed. That will changed next season, when Morris takes over the role of starting point guard. He'll have some talent surrounding him — namely Georges Niang and Bryce Dejean-Jones — but don't be surprised to see Morris develop into one of the better point guards in the league.
THREE DOWN
Oklahoma State: Marcus Smart went pro. Markel Brown graduated. Stevie Clark has been kicked out of the program, Jared Terrell got out of his letter of intent, and Kamari Murphy transferred. That basically leaves Le'Bryan Nash, Phil Forte and their cast of characters at Travis Ford's disposal. And with the massive buyout that Travis Ford has in his contract, things may not get easier anytime soon.
Baylor: The Bears lose Isaiah Austin to the draft and Cory Jefferson and Brady Heslip to graduation. Those are gaping holes for Scott Drew to fill. He'll have some pieces — Kenny Chery is one of the nation's most underrated point guards and Drew does have talent stored on his bench — but replacing a pair of double-doubles machines and one of the nation's most lethal shooters is not an easy task.
West Virginia: The Mountaineers were sneaky-good a season ago, but with Eron Harris departing, West Virginia will be relying heavily on the shoulders of Juwan Staten to carry them. With Harris, WVU might have had the best back court in the conference.
FIVE NEW FACES
Cliff Alexander and Kelly Oubre: Kansas loses Andrew Wiggins and Joel Embiid, which will hurt quite a bit. But their replacements should do just fine. Oubre is not the defender that Wiggins was, but he should be able to provide the same scoring pop on the perimeter. Alexander isn't the same force around the rim that Embiid was, but he's as aggressive and athletic of a big man as you'll find. Throw in Wayne Selden and Perry Ellis, and the Jayhawks are once again a top five team. The key? The point guard spot, and possibly another freshman, Devonte Graham.
Myles Turner: Turner is a top ten recruit in the Class of 2014, a shot-blocker with three-point range on his jump shot. He's going to have some competition for minutes in the Texas front court, but his presence should help make the Longhorns a legitimate Final Four contender. The Texas native is as bright as they come and should be an instant fan favorite in Austin.
Bryce Dejean-Jones: Iowa State landed themselves yet another high-profile cast-off. Dejean-Jones is one of the more talented scorers in the country, but this will be the third school that he has played at. He's a gunner, the kind of wing that never saw a shot he didn't think he can make. He'll be the key to the Cyclones this season. If he can buy into what Fred Hoiberg is running, Iowa State is a top 15-caliber team. If not, they could end up going the way of UNLV the last couple of seasons.
Jordan Woodard: Jordan Woodard isn't a new face — he was a freshman last season — but I think that he's on the verge of becoming a star in the Big 12. There's a reason that Je'lon Hornbeak transferred out of the program, and with Cameron Clark gone, Woodard has a chance to really break out this year.
Jeff Newberry: Newberry is going to be a key for Oklahoma State. A highly-regarded JuCo guard, Newberry is going to be asked to be a primary ball-handler and a key cog for the Cowboys offensively right off the bat, and with some of the personnel losses the Pokes will suffer, his role will be vital.
POWER RANKINGS
1. Kansas
2. Texas
3. Oklahoma
4. Iowa State
5. Kansas State
6. Baylor
7. Oklahoma State
8. West Virginia
9. Texas Tech
10. TCU