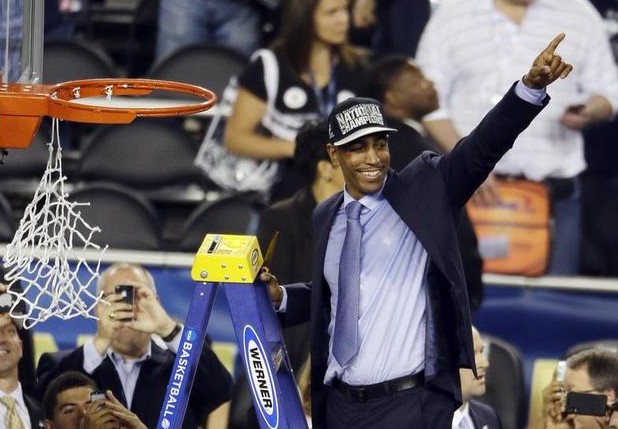 The inaugural season of the American Athletic Conference turned out to be a good one for the conference, with a UConn squad that finished tied for third going on to win the national title. But the March run of Kevin Ollie's team wasn't the only success for Mike Aresco's conference, as Cincinnati won 27 games and a share of the regular season title and both Louisville (31 wins) and Memphis (24) reached the NCAA tournament as well. Add in an SMU program that took a major step forward in Larry Brown's second season, and the American put forth a solid debut.
However the quest for national respect is something that didn't come easily, with the Mustangs being left out of the NCAA tournament field and both Louisville and UConn receiving seeds that many deemed to be low. Improving the league's standing from a national perspective is the next step for the American, and thanks to conference realignment the Cardinals won't be around to help out as they're joining the ACC on July 1. Rutgers (Big Ten) is also moving on, with East Carolina, Tulane and Tulsa entering to move the total number of members to 11.
RELATED: Read through all of our Conference Catchups here
Losing Louisville hurts from a pedigree standpoint, but for a conference that's new on the scene there's also the chance for others to step forward. SMU's turned into a program some consider to be a threat to reach the Top 10 in the national polls in 2014-15, with McDonald's All-American Emmanuel Mudiay joining a roster that already boasts the likes of Nic Moore and Markus Kennedy. While the American has some programs that have been among the nation's best for quite some time, the development of an SMU (and Houston as Kelvin Sampson begins his tenure) will be important when considering the long-term viability of the league.
UConn will be a factor as well, although they will need to account for the losses of Shabazz Napier, Niels Giffey and DeAndre Daniels. Cincinnati and Memphis also lost multiple key players from last season, but given their recent runs of success both teams should find a way to contend. Of the three newcomers Tulsa, which reached the NCAA tournament last season, looks best equipped to contend even with the change from Danny Manning to Frank Haith. But don't overlook a Tulane squad that returns its top three scorers, led by shooting guard Jay Hook.
Three programs have new head coaches (Houston, Tulsa and USF), and given the roster and program turnover the 2014-15 season should be an interesting one in the American. It will be an important one as well, with the conference needing its members to make a few statements in non-conference play before beating up on each other.
THREE UP
SMU: The Mustangs' non-conference strength of schedule (295th per rpiforecast.com) played a major role in their landing in the NIT as opposed to the NCAA tournament in 2013-14, but thanks to the schedule Larry Brown's put together to this point that shouldn't be a concern in 2014-15. And with the talent both on the roster and arriving on campus, SMU will likely be the preseason pick to win the American come October. Emmanuel Mudiay's arrival gives SMU a second McDonald's All-American (Keith Frazier's the other), and veterans Nic Moore and Markus Kennedy are back. The biggest question for SMU: how will they handle the bull's eye that will come with the preseason expectations?
UConn: In two seasons at his alma mater Kevin Ollie's successfully led the program through APR sanctions and won a national title. So what will he do for an encore? Losing the trio mentioned above hurts, but the return of Boatright is certainly a positive for the Huskies as they've got themselves a clear leader. And the newcomers on the perimeter (Daniel Hamilton, Sam Cassell Jr. and NC State transfer Rodney Purvis) do not lack for talent. However Amida Brimah having to undergo shoulder surgery doesn't help matters, as the sophomore center will have to use the summer primarily for rehabilitation purposes. Brimah and Philip Nolan will need to take a step forward from a consistency standpoint, but given that perimeter rotation (Terrence Samuel and Omar Calhoun return as well) UConn will definitely be a contender.
Tulsa: The Golden Hurricane will be one of three debutants in the American, and even with the change in head coaches they're well-positioned to be a factor. Tulsa's biggest personnel losses from last season's NCAA tournament team were Tim Peete and Patrick Swilling Jr., and they combined to average 13.9 points per game. With James Woodard, Rashad Smith and Shaquille Harrison all back for another season, Frank Haith has the pieces needed to hit the ground running. Also of note: all three of the players mentioned in the previous sentence are juniors, so they'll (likely) be solid pieces for Haith and his staff to build around.
THREE DOWN
Memphis: To lose four senior guards is a tough proposition for any program, regardless of the ability of Josh Pastner and his coaching staff to land talent. The Tigers are going to be good, especially with Shaq Goodwin and Austin Nichols in the paint. But they're going to be inexperienced on the perimeter, with Avery Woodson being a junior college transfer and both Pookie Powell and Dominic Magee yet to play a game at the Division I level. Within the conference the Tigers should contend, but the question is whether or not they have enough to be a Top 25 team.
Cincinnati: The Bearcats are in a position similar to Memphis, and in the trio of Sean Kilpatrick, Justin Jackson and Titus Rubles head coach Mick Cronin has to account for the loss of guys who were productive with regards to both numbers and leadership. Players such as Troy Caupain and Shaquille Thomas will be key on the perimeter, and the same goes for Gary Clark, Quadri Moore and Octavius Ellis in the front court. Given the work Cronin and his staff have done in recent years Cincinnati will once again contend within the American, but given the key personnel losses they're in a position similar to that of Memphis.
UCF: The Knights had one of the most versatile players in the American in Isaiah Sykes last season, and they won just four conference games (13-18 overall). With Sykes, Tristan Spurlock and Calvin Newell Jr. all out of eligibility UCF will have to replace its top three scorers. Kasey Wilson, who averaged 9.6 points per game in 2013-14, is the team's leading returning scorer and that means the newcomers (keep an eye on Adonys Henriquez) will need to be ready to go from the start. This could be a tough season for Donnie Jones and his staff down in Orlando.
FIVE NEW FACES
Emmanuel Mudiay, SMU: Mudiay arrives on campus as the nation's number two prospect according to Rivals, and he's got the talent needed to have a major impact for the Mustangs. Mudiay's a point guard, but with Nic Moore back he should see time off the ball as well. The expectation is that not only is Mudiay good enough to get SMU to the tournament for the first time in more than two decades, he's good enough to lead the Mustangs deep into the 68-team event.
Daniel Hamilton, UConn: Like Mudiay, Hamilton was a McDonald's All-American this year and the Californian will be a skilled scorer on the wing for Kevin Ollie. He doesn't lack for confidence on the offensive end of the floor, and considering the many ways in which Hamilton can score that's certainly understandable. His ability to knock down jumpers and beat teams off the dribble will be key for the Huskies given the loss of Shabazz Napier.
Kelvin Sampson, Houston: After serving as an assistant for two different NBA franchises following his unceremonious departure from Indiana, Sampson's back in the college game as the Cougars look to improve their standing within the American. Sampson's won nearly 65% of his games as a college head coach, so the success has clearly been there. The Cougars did lose Danuel House and TaShawn Thomas, but given Sampson's track record the program won't be down for long.
Gary Clark, Cincinnati: Clark played on the same grassroots team as North Carolina signee Theo Pinson, and he's a very good addition for the Bearcats. Ranked 87th by Rivals, the 6-foot-7 Clark runs the floor very well and is a tough customer in the front court. With Justin Jackson and Titus Rubles out of eligibility there's the opportunity to earn significant playing time as a freshman, and Clark's more than capable of doing just that.
James Woodard, Tulsa: Woodard isn't a newcomer to the Tulsa program, having played two years there already, but he is a newcomer to the American and a talented one at that. Woodard was Tulsa's leading scorer last season, as he averaged 15.5 points per game while earning second team All-Conference USA honors. And in a league that will have to account for the loss of some very talented guards, Woodard is capable of stepping into that void.
Way Too Early Power Rankings
1. SMU
2. UConn
3. Cincinnati
4. Memphis
5. Tulsa
6. Temple
7. Tulane
8. East Carolina
9. UCF
10. Houston
11. USF