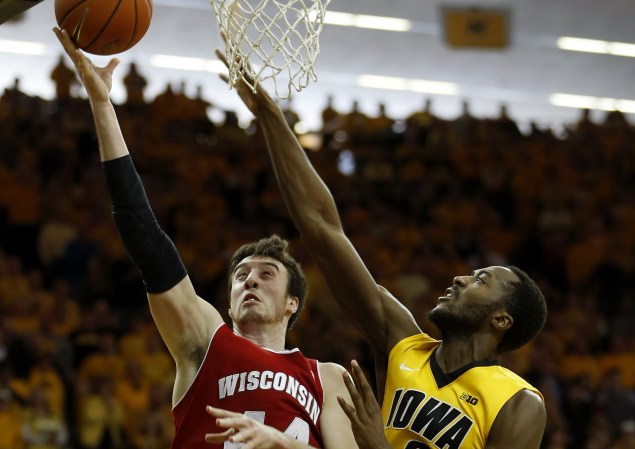 Frank Kaminsky is one of the best quotes in college basketball. He's smart, he's witty and he's not afraid to call it like he sees it.
On Wednesday, Frank the Tank wrote a letter to Wisconsin fans on his blog detailing out his entire thought process on why he made the decision to return to school. And, quite frankly, it might make you like him even more.
"I am at the pinnacle of my basketball playing career, at least in my eyes," Kaminsky wrote. "I know the NBA has their crazy fans and all, but if you look at all of their games, there are games when teams like the Bobcats get hardly any fans, and it looks flat out boring. At the Kohl Center, we play in front of nearly 17,000 fans every single time we step onto the court. When we travel, we play in front of sell out crowds who absolutely hate us. Not because of who is on the team, but because of where we go to school. Who could leave that?"
The 'flat out boring' line is going to be the one that gets repeated over and over again because, well, it's funny! How often do you actually hear an athlete give it to you straight like that?
But it will also make you overlook a bigger point that Kaminsky is making: he's happy where he is, and while he admits that he gets frustrated about "looking in my bank account at the end of the month and seeing $20 left in there" and that pursuing an NBA career is a dream of his, he's also a realist when it comes to his potential as a pro.
"I sat down and thought about it for a long time, and I kept coming back to the same exact point," Kaminsky wrote. "I don't think I would be able to live with the regret of skipping my last year of college to be a potential D-League player or end up in Europe. I have no doubt in my mind that I would have been drafted. I believe that one day I will be put on an NBA roster, but that doesn't happen right away for most people. Especially for a 7 foot white kid with average athleticism."
"I am going to be honest, I absolutely love college. Call me Joe College if you please," he added. "The NBA can wait. The NBA isn't going anywhere, so neither am I. I know my benefits of coming back to school just as well as I know my risks."
Kaminsky averaged 13.9 points and 6.3 boards while shooting 37.8% from three as a seven-footer. He's got the skill set offensively to carve out a career in the NBA, but he has the deficiencies athletically and defensively that could turn him into a career-Euroball player. Next season, he'll be an all-american on a top five team that will play just about every game on national television.
He's passing up money by returning to school.
But coming back ensures that he'll leave Wisconsin as one of the best to come through the program.
You may have done differently, but it seems like this was an easy decision for Kaminsky to make.