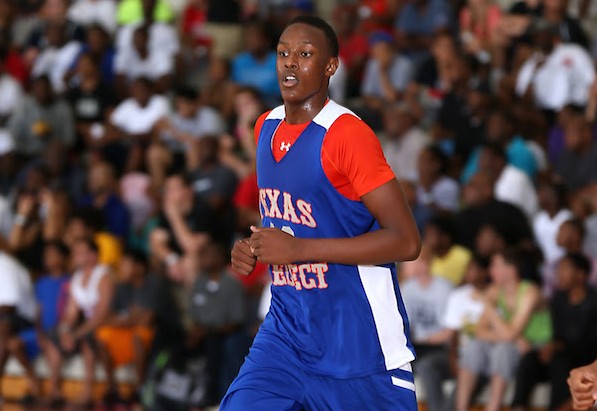 The most highly-regarded uncommitted recruit in the country finally made the decision on where he will play his college ball on Wednesday.
Myles Turner, the No. 9 recruit in the country, according to Rivals, announced on ESPN U that he will be headed to Austin to play for Rick Barnes and Texas.
"I'm excited to be pursuing my education and am excited to be part of the basketball program at the University of Texas," Turner said. "Hook 'em!"
"Just watching Texas work last year, they're a real blue-collar program. The only reason I'm here is through hard work. And I feel like that's what Texas has done and will do in the future, I really like their work ethic. I had a great visit down there. It's a great family atmosphere down there."
As of right now, Turner's biggest strength is his ability to be a force in the paint on the defensive end of the floor. He's just a shade under 7-foot with length and athleticism, and he has proven that he has a knack for timing blocking shots. But he also can step out on the perimeter and knock down jumpers out to the three-point line, making him a nice pick-and-pop threat.
"He blocks shots, has outstanding touch as a pick and pop jump shooter and has a big frame," said Rivals' Eric Bossi. "He can run but is sometimes a little stiff laterally."
Turner is a key recruit for the Longhorns, as he will likely add even more pop to what is already one of the best front lines in the Big 12. He joins Cameron Ridley, Prince Ibeh and Jonathan Holmes on that front line that will still add Shaq Cleare, who is sitting out this season after transferring from Maryland. It will be interesting to see how Barnes divvies up minutes up front, considering that both Ridley and Turner have some issues defending on the perimeter. That said, given the ability of Holmes and Turner to step out and hit from the perimeter, it will create plenty of space in the paint for Ridley.
With Isaiah Taylor and Javan Felix both returning in the back court as well, Texas has the look of a top ten team in the country in 2014-2015. And the better news may be that Turner doesn't jump off the page as a one-and-done prospect. His upside lies in the long-term, which means that the Longhorns could end up keeping him on campus for more than one season.
It certainly doesn't hurt that Turner's idol is former Texas product Kevin Durant.
Or that Turner went to high school in Texas, right outside Dallas, which is perhaps the most important part of this commitment. Barnes and the Texas staff have had a lot of trouble keeping the elite talent in Texas at home over the course of the last three years, which made landing Turner a priority.
"I'm happy to be a Texan," Turner said. "I've been a Texan my whole life. There's a lot of pride coming from the state of Texas, and staying in-state means a lot to me."
Turner picked the Longhorns over Kansas, as well as Duke, Ohio State, Arizona, Texas A&M and SMU.