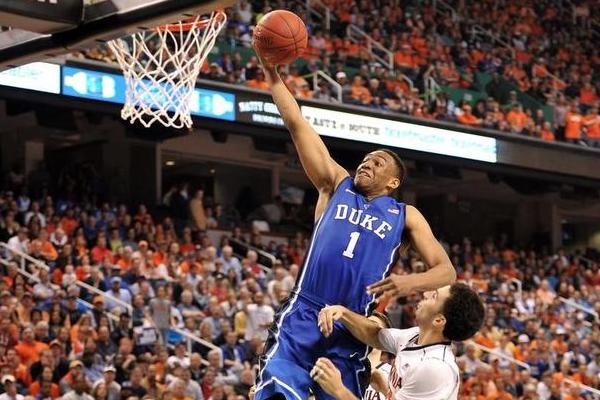 MORE: The entire list of players entering the 2014 NBA Draft
Jabari Parker announced his intentions to head to the NBA on Thursday afternoon, releasing a statement through Sports Illustrated.
Parker was a first-team All-American in his one season at Duke and is expected to be a top three pick in the NBA Draft. He averaged 19.1 points and 8.7 boards this season despite going through a slump during the middle of the season. Parker's as versatile of a scorer as you'll find at this level — he overpowers smaller defenders in the paint, he beats bigger defenders off the dribble, he's got three-point range and he can dunk in traffic over shotblockers — but the question mark with him is on the defensive end of the floor. He's got a ways to go before he can be considered above-average defensively.
Believe it or not, there was actually some doubt as to whether or not Parker would actually turn pro. He's a different dude, and I mean that as a compliment. He's quite religious, he's an excellent student and he's the kind of curious mind that values his education and experience at Duke as much as he would value the chance to make millions at the NBA level. It's clear in the lengthy statement that he released on Thursday, in which he discusses his intentions to return to school and earn his degree — "I was an honor student when I arrived at Duke, and I'd like to graduate as one," he wrote — and is decision not to go on a Mormon mission as much as he does he thought on becoming a professional basketball player.
In the end, here is what Parker said determined his choice to enter the NBA Draft:
Which environment — college or the NBA — offers me the best opportunity to grow as a basketball player?

Which environment — college or the NBA — offers me the best opportunity to grow and develop off the court?

The answer to both questions is undeniably the NBA.

There is something else. My father, Sonny, played in the NBA. I know firsthand that the career span of a pro basketball player is finite. The lucky ones play until their mid-30s. With that perspective, I shrink my professional career with each year that I remain in college. It's ironic, but true.
Duke will be just fine without Parker. They add a loaded recruiting class, headlined by Tyus Jones and Jahlil Okafor, and return guys like Rasheed Sulaimon, Amile Jefferson and Quinn Cook. They were No. 2 in our Way-Too-Early Preseason Top 25 with the assumption that Parker, and Rodney Hood, were bound for the league.