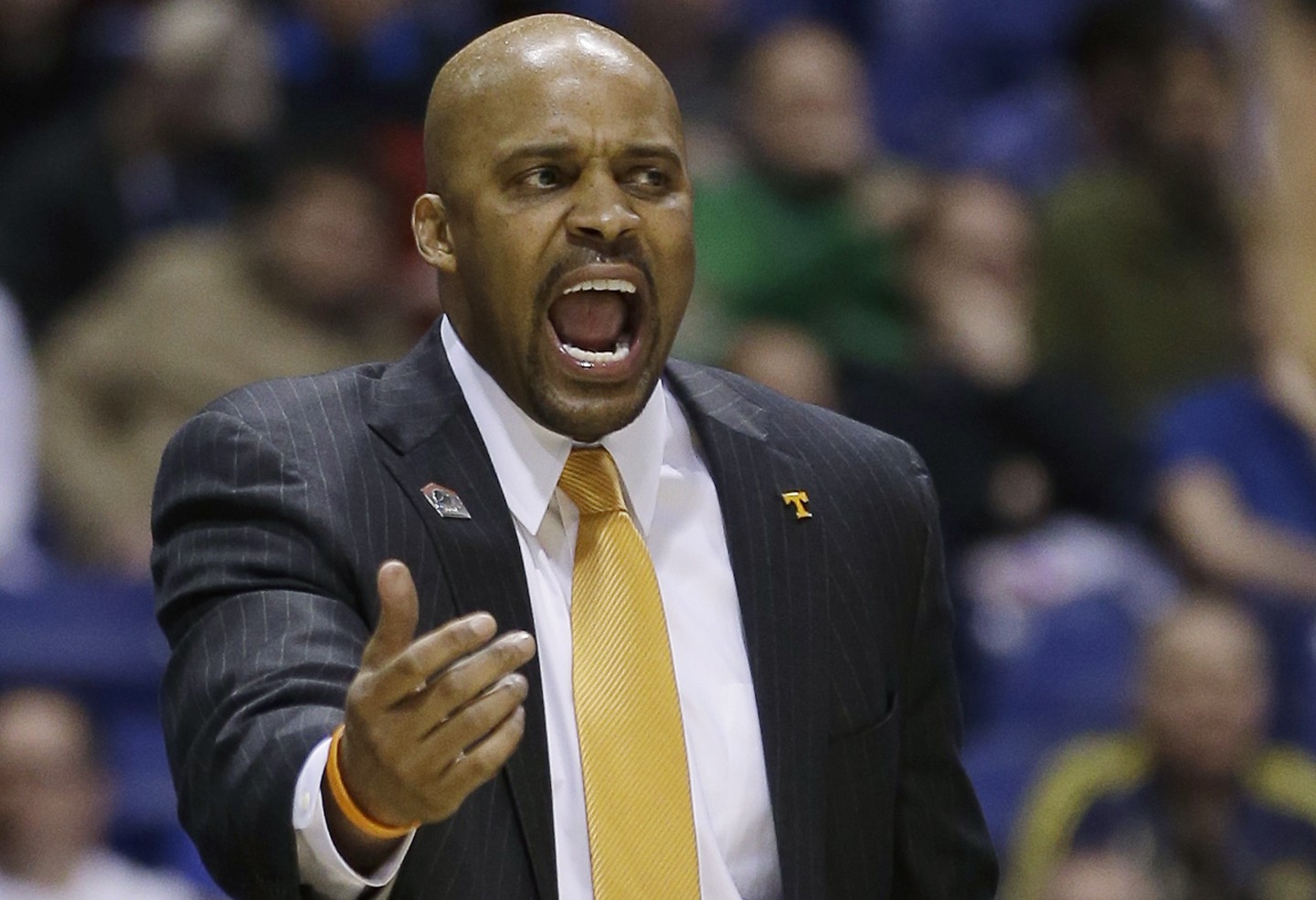 Tennessee underachieved under Cuonzo Martin.
I mean, that much is pretty inarguable at this point, isn't it?
The Vols finished this season No. 7 in KenPom's rating, ahead of the likes of UConn, Michigan State, Michigan and Kentucky, and were one of just five teams — along with Louisville, Florida, Arizona and Wichita State — to be ranked in the top 20 of adjusted offensive and defensive efficiency.
In other words, based on KenPom's ratings, Tennessee should have been a Final Four contender, yet they needed a lifeline from the NCAA to sneak into the First Four of the NCAA tournament before putting together a run to the Sweet 16 that got Martin in the mix at Marquette and hired at Cal.
That came a season after Martin ended up in the NIT, and while Tennessee basketball doesn't exactly have the kind of tradition that Kentucky does, they do have a fan base that's passionate and crazy and coming off of the high that was Bruce Pearl's tenure. He had them a possession away from the Final Four. He had them ranked No. 1 in the country. It's hard to go back to Golden Corral once you get used to Morton's.
Tennessee went 24-13 this season. They lost to UTEP and Vanderbilt. They were swept by Texas A&M. Even with the trip to the Sweet 16, Cuonzo would have been on the hot seat if he didn't make the tournament in 2015.
It's not surprising that fans wanted him out, especially with the prospect of Bruce Pearl returning to the sideline. But that doesn't excuse the way that they made it known, which included no less than 36,000 signatures on a petition to have Martin fired that circulated while the Vols were still fighting for a spot on the bubble. There have even been reports that boosters for the school revoked Martin's ability to use their private planes for recruiting.
If that's not a clear sign that Martin was unwanted in Knoxville, I'm not sure what is.
His player's noticed, too. Look at the reactions of the guys on his final Tennessee team after news broke that he would be leaving:
Can't treat people any kind of way and expect good in return.

— Jordan McRae (@JordyMac52) April 15, 2014
Not even surprised… It was just a matter of time! #RESPECT

— Jeronne Maymon (@JeronneMaymon) April 15, 2014
Best of luck to coach at Cal. Did what he had to do

— Josh Richardson (@J_Rich1) April 15, 2014
And then there is this from Jarnell Stokes:
@GaryParrishCBS agreed

— Jarnell Stokes (@JarnellStokes) April 15, 2014
Martin wasn't getting the job done at Tennessee. Assuming Martin had stayed at Tennessee, it wouldn't have been wrong to put him on the hot seat entering next season, and it wouldn't have been all that unfair if Tennessee had fired him if the Vols missed out on the NCAA tournament.
But think about it like this: Martin up and left on his team without telling anyone. He was not there when the team was told that he would no longer be their coach. And yet, none of the players seem upset about the decision with four of them supporting their former coach publicly — and unsolicited.
That should tell you just how bad things had gotten in Knoxville.
This was a marriage that needed to end, and all parties involved a) deserve blame, and b) are now probably better off.