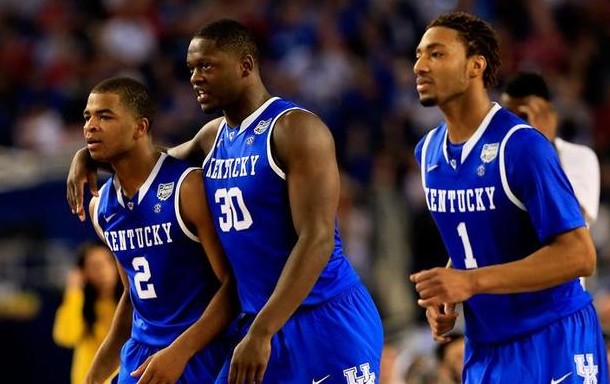 ARLINGTON, Texas — When the season began, Kentucky was one of the favorites to cut down the nets at AT&T Stadium. With the nation's top recruiting class on campus, there was even talk of this group dominating college basketball and making a run at the first-ever 40-0 mark.
The Harrison twins and James Young on the perimeter, Julius Randle and a host of other underclassmen in the paint, and a head coach in John Calipari who's proven throughout his time in Lexington that he's more than capable of taking a truly loaded roster and leading it deep into March. Clearly a tough formula to duplicate, and also a tough one to crack. the expectations for Kentucky were simple yet lofty: nothing less than a national title would suffice.
But as the season wore on college basketball dealt all involved an, at times, harsh reminder that can be forgotten when considering the skill level of the elite freshmen who ply their trade for no more than nine months before moving on to the professional ranks. The reminder: no one's given or promised anything on the court, regardless of how many stars are next to their names on the recruiting lists some fans obsess over every spring/summer.
Kentucky struggled at times, and as a result the talk of their being overrated and jokes about the preseason "40-0" chatter got rolling, with every game seemingly being a referendum on Kentucky's players and the recruiting of individuals who to outsiders had little interest in anything other than the quickest route to professional riches.
RELATED: Napier had to learn how to lead | Harrison twins struggle | Slow start costs Kentucky
However after their loss at Florida to end the regular season, things clicked. Calipari talked about a "tweak," and whatever that "tweak" (or tweaks) was the young Wildcats played with a level of confidence many expected to see all season long. The Harrison twins played with more confidence, Randle and company proved tough to stop in the paint and even with Willie Cauley-Stein suffering an ankle injury in the Sweet 16 Kentucky still managed to get to Monday's title game.
Unfortunately for Calipari and his players they didn't have one last answer against UConn, with the Huskies getting off to a far better start and ultimately winning 60-54. Randle didn't have his best game and neither did the Harrison twins, and in the early going it seemed as if the magnitude of the moment (along with UConn's skill) got to Kentucky. Young or old, headed to the lottery or a lengthy career overseas, that can happen to any player especially in front of more than 79,000 fans in AT&T Stadium and millions tuned in across the country.
"These kids aren't machines. They're not robots. They're not computers," Calipari said after the game. "I say it again, I wish I had an answer for them later in the game where I could have done something to just click it to where it needed to go. That [Aaron Harrison] three in the corner, if that would have gone maybe the game changes a little bit but it didn't.
"So keep coaching," Calipari continued. "What do we figure out, how do we do it? And obviously I didn't have the answers for them. But I'm proud of them. They fought and tried and played a really good team that's well-coached."
The question now is how will this group be remembered. For those who hang onto the preseason prognostications and the talk of Kentucky going undefeated, the 11 losses will overshadow the Wildcats' run to the national title. But this season was by no means a failure, even if Kentucky didn't reach its ultimate goal. It took some time but the Wildcats grew, both individually and collectively. And regardless of what the next step for Calipari and his players may be, that's something to be proud of.
"Even in that loss, I can't believe what these guys got done together," Calipari said. "Talking about a bunch of young kids that just went out there and believed and believed in each other and just kept fighting."