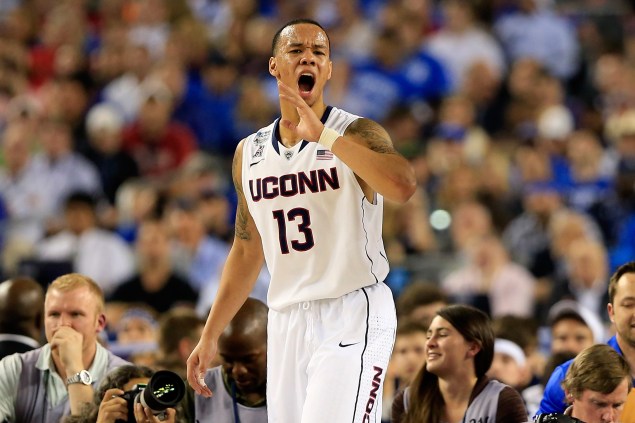 MORE: Watch One Shining Moment | Way-Too-Early Top 25 | Shabazz Napier becoming a leader
ARLINGTON, Texas — Shabazz had the world's eyes on him.
He had just led his UConn Huskies to a national title. It's the program's fourth in the last 15 years, their first since Kevin Ollie took over the program and just a year after they were banned from the postseason.
He was being interviewed by Jim Nantz, the world's most famous announcer, on national television in front of all the UConn fans that had hung around to watch One Shining Moment.
And what did he do?
He … ripped the NCAA?:
If you're not sure what Napier is referring to, the Huskies were banned from the postseason in 2013 as a result of the poor APR scores that they received during Jim Calhoun's tenure. That dated back to 2008 and 2009, well before Napier and anyone else on the UConn roster had been a part of the program.
And clearly, that's something that has bothered Napier for a long, long time.
"I just told myself if I was in that position, that was what I was going to say," Napier told reporters afterwards. "People know how I feel about the postseason ban. I really don't think that it was our fault. We had nothing to do with it. Our APR is up there. I think it was 1,000 actually. It wasn't our fault. Everyone knows how I feel about it, and I just wanted to express how I felt. It created the Hungry Huskies."
Those comments came on the same day that Napier gave these quotes to reporters:
"We as students athletes get utilized for what we do so well, and we're definitely best to get a scholarship to our universities. But at the end of the day, that doesn't cover everything. We do have hungry nights that we don't have enough money to get food in. Sometimes money is needed. I don't think you should stretch it out to hundreds of thousands of dollars for playing, because a lot of times guys don't know how to handle themselves with money.

I feel like a student athlete. Sometimes, there's hungry nights where I'm not able to eat, but I still gotta play up to my capabilities. I don't see myself as so much of an employee, but when you see your jersey getting sold, it may not have your last name on it, but when you see your jersey getting sold, to some credit, you feel like you want something in return."
"That's the tough thing about it," he said. "They call us student-athletes then they take us away from our school. At the end of the day, we understand what we get ourselves into. It's part of the game now."