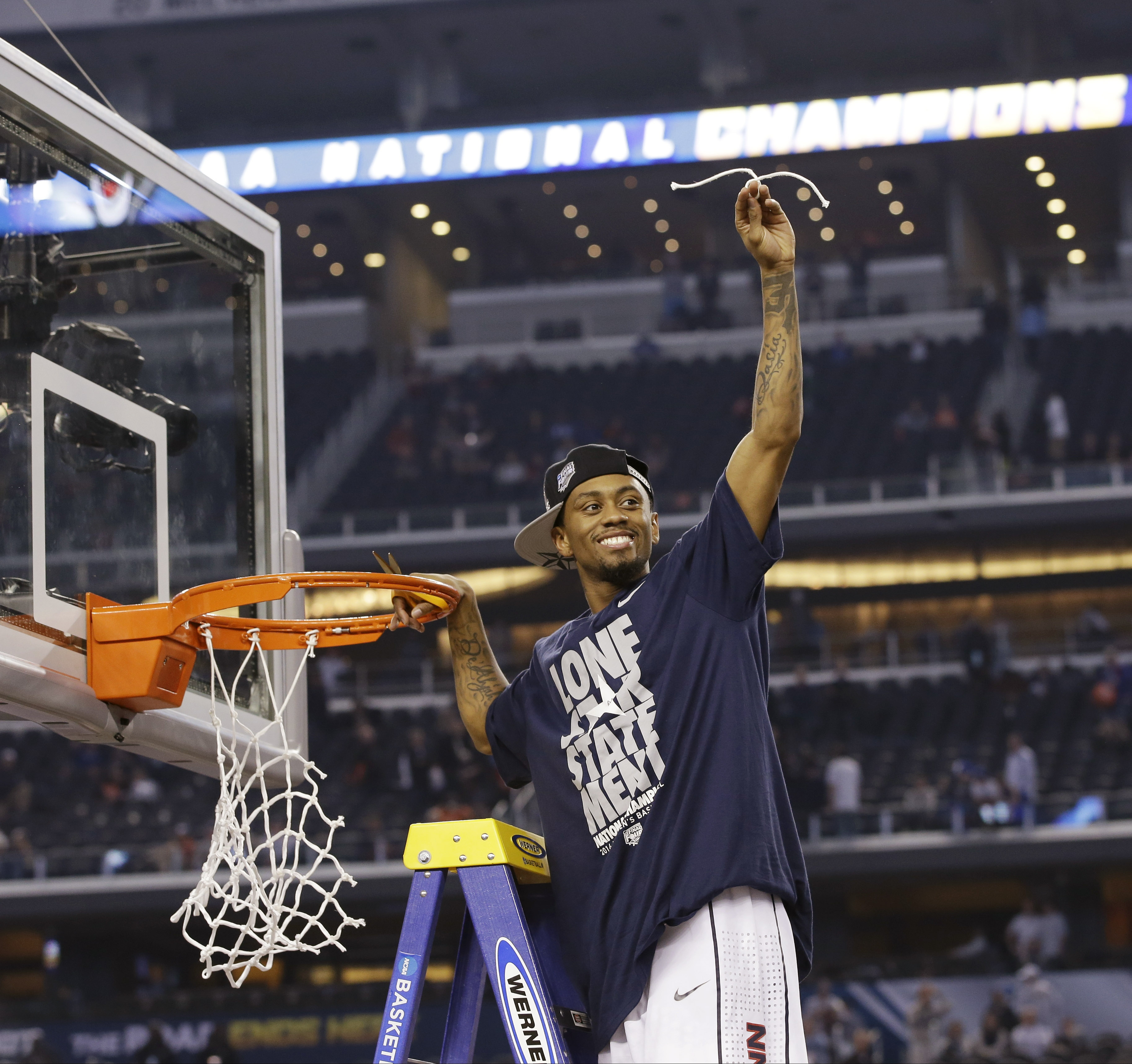 MORE: Watch One Shining Moment | Way-Too-Early Top 25 | Shabazz Napier becoming a leader
ARLINGTON, Texas — Shabazz Napier solidified himself as one of, if not the most popular UConn Husky in the history of the program that Jim Calhoun built.
Not that he wasn't before this weekend began, but when you cap a four-year career by earning tournament Most Outstanding Player honors while leading a No. 7 seed to a national title, becoming the first player — along with Tyler Olander and Niels Giffey — to win two rings for the program, you're bound to be fairly well-liked.
In other words, somewhere around the year 2032, there are going to be a lot of kids named Shabazz graduating from Connecticut high schools.
"Hell of a player," is how junior guard Ryan Boatright described Napier. "Great Player. Pro.  Great teammate. Great leader."
All accurate, and all completely irrelevant for the Huskies moving forward as Napier is graduating and on his way to the first round of the NBA Draft. What will matter, however, is which Huskies end up joining him in the draft this season.
DeAndre Daniels has always had the kind of talent, physical tools and potential to be a lottery pick, but until this tournament, he had been utterly incapable of playing with the kind of consistency that made him more than a tease. But over the course of the last month of the season, particularly during UConn's run to the title, Daniels was fantastic. He didn't have his best game in the title game — Julius Randle will do that to you — but he was the best player on the floor for the Huskies in their wins over Iowa State in the Sweet 16 and Florida in the Final Four.
RELATED: Kentucky's outlook for next season is strong
He's a long and athletic small forward with three-point range and the ability to put the ball on the floor and beat defenders off dribble. He's got the tools to be a good defender at the NBA level, and he even showed off a bit of a back to the basket game down the stretch. His strong play in the tournament could vault him — or vault his perception of himself — into the first round this season. Draft Express currently has Daniels projected as the No. 29 pick in the 2015 draft.
He's not the only player with a draft decision to make.
Boatright was asked about it after the game, shrugging off the question by saying that he will "worry about that later" and that he just wants to "enjoy the moment right now". Whether or not that means that he is actually considering leaving is unclear, but going pro right now doesn't seem like an ideal option. Right now he's a scoring guard that stands around 5-foot-11 and doesn't shoot it all that well. He spent three weeks playing tenacious defense, but it's hard to shake the memories of all the questionable decisions Boatright made in his three years before that.
Striking while the iron is hot wouldn't be the worst idea, but coming back to school and trying to tap into that Kemba Walker-Shabazz Napier pipeline certainly isn't, either.
The bottom line is this: UConn will have a chance to make the tournament next season. N.C. State transfer Rodney Purvis will be eligible after sitting out this season. Terrence Samuel and Amida Brimah look like they have very bright futures ahead of them in UConn jerseys. Omar Calhoun can't possibly be as bad as he played down the stretch of the season. They'll add Sam Cassell Jr. and currently hold a commitment from top 20 recruit Daniel Hamilton, although there is quite a bit of speculation he'll end up joining his brother at UCLA.
If Hamilton doesn't end up in Storrs and if Daniels and Boatright both leave, the Huskies are probably looking at having to scrape their way into the NCAA tournament. Get all three back, and they could end up back in the Final Four in Indianapolis.