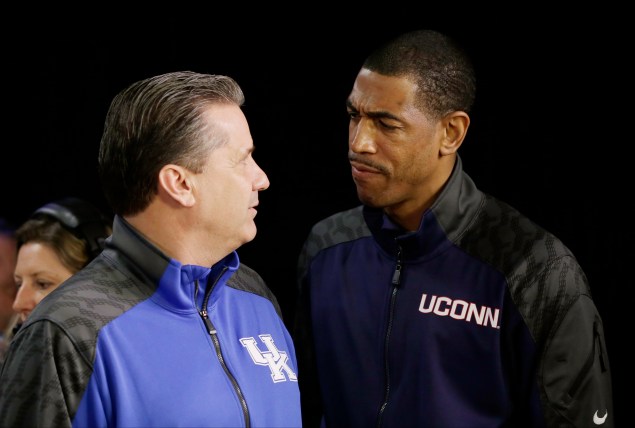 FINAL FOUR: National title game primer | All of our Final Four coverage | Fluky vs. Lucky
ARLINGTON, Texas — The college basketball season comes to a close tonight as No. 7 seed UConn squares off with No. 8 seed Kentucky in the national title game. Here is all you need to know about this matchup:
WHEN: 9:10 p.m. ET (TBS)
WHERE: AT&T Stadium, Arlington, TX
MAJOR STORY LINES: No one has ever won a national title while starting five freshmen. Michigan's Fab Five played for a title in 1991 with five freshmen leading the way, and, for the record, they did it as a No. 6 seed. Kentucky's 2012 team won a title, and while the theme of that tournament run was that Coach Cal proved that a team built around freshmen could win it all, what gets forgotten is that those Wildcats only started three freshmen along with Doron Lamb and Terrence Jones. This would be the first team to ever bring home a ring with five freshmen in the starting lineup.
UConn, however, is looking to pull off one of the most improbable national title runs of all time. They are a seven seed. They beat the Atlantic 10 tournament champs, the Big East regular season champs, the Big 12 tournament champs, the Big Ten tournament champs (who also happened to be the favorite to win the title) and the No. 1 overall seed who hadn't lost in 30 games. And now they're trying to beat the preseason No. 1 team. With all due respect to these Huskies, this group would probably be the "worst" national champion of all time, which makes what they've done the last month all the more impressive.
KEY STATS: On the season, UConn's allowed opponents to grab 32.9% of their available offensive rebounds, which ranks 247th nationally. In their five NCAA tournament games, UConn that number fell to 28.9%, which is top 60. Kentucky has an overwhelming size advantage in the front court and they are the nation's best offensive rebounding team.
KEY PLAYERS: The key matchup for the Huskies is going to be between Ryan Boatright and Andrew Harrison. UConn is going to have issues keeping Kentucky's big men from doing damage in the paint Monday night, but one of the best ways to counteract an overpowering front line is to get out and pressure the guards, making it difficult to throw an entry pass to a player in the post. Boatright has been sensational of late at playing as the point of UConn's defensive pressure, and he should be able to do the same against the bigger, slower Harrisons.
RELATED: UConn played Florida's game | Alex Poythress | Kentucky's game-winner
POINT SPREAD: Kentucky (-3)
THREE THINGS TO WATCH FOR:
1. DeAndre Daniels: He's perennially the x-factor for UConn. He's a lottery-level talent that doesn't always play like a lottery level talent. When he does, like he has throughout this tournament, UConn is a completely different team.
2. Kentucky's perimeter defense: What UConn is going to try to do is to control the ball in the half court and limit Kentucky's possessions offensively, which means that UConn's offense will, more often than not, devolve into the Huskies allowing Napier and Boatright to try and make a play getting into the lane at the end of a shot clock. Keep them from penetrating and beat UConn.
3. Kentucky's commitment to the paint: The Wildcats have been terrific shooting the ball from the perimeter in this tournament, but the reason that they beat Wisconsin is that they consistently pounded the ball into the paint, whether via entry pass or penetration. If they avoid settling for threes, they'll win.
CBT PREDICTION: Kentucky