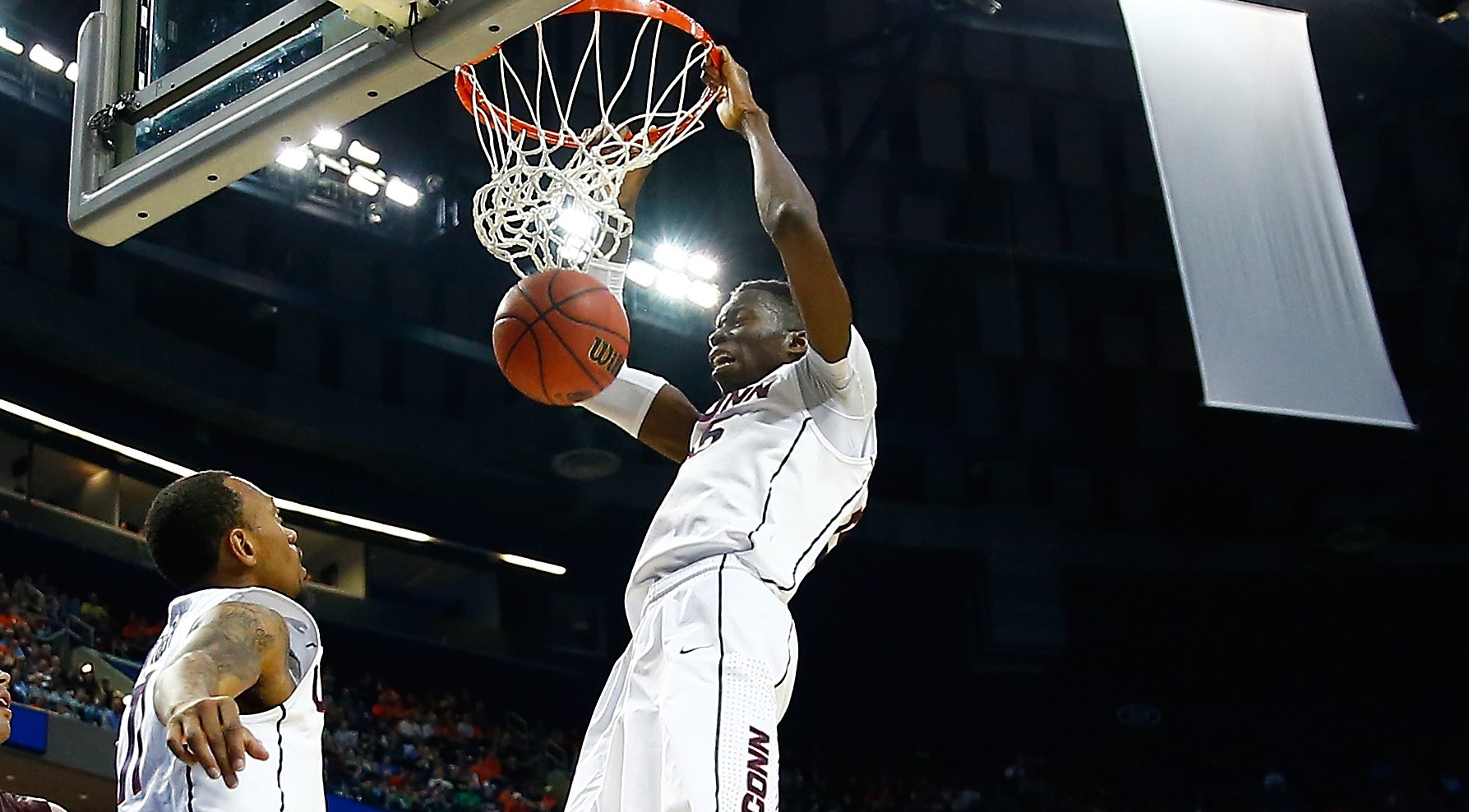 RELATED: UConn played Florida's game | Alex Poythress | Kentucky's game-winner
ARLINGTON, Texas — Amida Brimah has no idea that he's the reason UConn is playing in the national title game.
A 7-foot center from Ghana by way of Florida, Brimah doesn't even start for the Huskies. He's an excellent shot-blocker and has a softer touch around the basket than most folks are willing to admit, but his frame is closer to supermodel than superhuman and, frankly, at this point in his development his impact on a game isn't much more than being tall and having a soft touch.
And despite that, despite the fact that Shabazz Napier, Ryan Boatright and DeAndre Daniels are all playing the best basketball of their careers in this tournament, Brimah is why Napier is drawing comparisons to Kemba Walker and Daniels is now considered a first round pick.
Because Saint Joseph's had UConn beaten.
They shredded the Husky defense and forced Napier into his worst game of the postseason. With 45 seconds left of UConn's opening round win, the Hawks held a three point lead. Napier turned down a ball-screen from Brimah, driving right past DeAndre Bembry and getting all the way to the rim … where he missed.
It wasn't the first time in his career that Napier missed a critical shot and it certainly won't be the last, but it was one of the only times this season where Napier couldn't find a way to make a play when the Huskies really needed one. All the Hawks had to do was get one rebound, and they would have been a string of excitement-sapping free throws from a date with Villanova in the Round of 32.
Instead, all-league senior forward Halil Kanicevic found himself out of position, and as the rebound rolled off the rim, Brimah was able to gather the loose ball, collecting himself before drawing a foul as he hit a little turn around jumper while getting fouled. The three-point play tied up the game. The foul was Kanicevic's fourth, and when he fouled out with 3:48 left in overtime, the Hawks were all but dead.
So while Boatright's defense and Daniels' offensive explosion and Napier's Kemba-ing will be what gets credited for UConn's run to their fourth national title game in the last 15 years, if it wasn't for one play from a freshman center that comes off the bench and has scored eight points in the last four games, UConn would have been spending their spring break back in Storrs.
"People tell me about it, but I don't think like that," Brimah said.
FINAL FOUR: National title game primer | All of our Final Four coverage
—————————————————————————————–
Aaron Harrison is well aware that he's the reason Kentucky is now 40 minutes away from winning title No. 9.
He knows it, his team knows it, the entirety of Big Blue Nation knows it. Unless you've spent the last week and a half under a rock, you know it, too.
With 40 seconds left against Louisville, Harrison hit a three to give the Wildcats the lead for good. Two days later, he hit a three against Michigan to put Kentucky into the Final Four. Saturday night? You already know.
John Calipari called him Aaron the Assassin. Alex Poythress said, "He's got some hangers. He's got the biggest balls I've seen." Andrew Harrison added, "They're growing. We're just glad he has those." It doesn't matter what happens on Monday night, Aaron Harrison will go down as a legend in the city of Lexington and Commonwealth of Kentucky. Nine months from now, there will be more Aarons born in Fayette County than ever before. Every kid in the state will spend the entire summer counting down the time in their hand, squaring up an imaginary Josh Gasser, rising, from 25 feet on the left wing and burying a three over the outstretched arms of an invisible Caris LeVert.
"My daughter [Erin] tweeted out she just became my second favorite 'Aaron,'" Calipari said.
He's had his One Shining Moment.
Three times.
And to think, the best clutch three-pointer shooter in NCAA tournament history entered the Big Dance shooting a whopping 32.6% from beyond the arc.
"I'm not this genius up here," Calipari said. "He could have missed that shot or they could have made their shot and then Bo's sitting up here."
—————————————————————————————–
It happens like this every year.
Every team that makes a run in the NCAA tournament does so because, at one point or another during the six games they have to win to bring home a trophy, a shot at the end of a game happens to go in or a loose ball just happens to bounce their way.
And that is what makes March Madness great.
That's why every close game becomes so intense. One play could end a season or send a team off into immortality.
How far could Kansas have made it in 2010 if Ali Farokhmanesh hadn't hit that three? The comparisons between Napier and Kemba Walker would me much more difficult to make if Arizona's Jamelle Horne hit an open look from three at the end of their Elite 8 matchup in 2011. Florida doesn't win a title in 2006 without Corey Brewer's falling down three-point play against Georgetown in the Sweet 16. I could go on and on and on, but you get my point.
You have to be really, really good to win a national title. Great, even.
But you can't bring home a ring with a lot of luck, too.