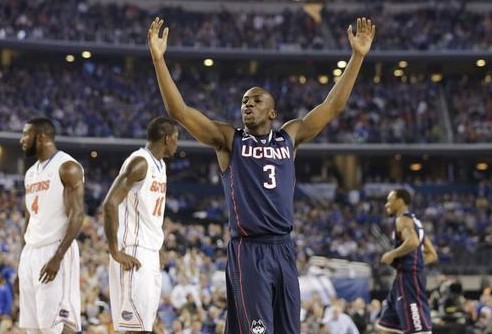 ARLINGTON, Texas — In three of their last four wins No. 7 UConn has held its opponents to below 40% shooting from the field. After ranking third in the American Athletic Conference in field goal percentage defense and sixth in three-point percentage defense in conference games, the Huskies have been even better on that end of the floor for much of the NCAA tournament.
And while guards Ryan Boatright and Shabazz Napier certainly deserve credit for UConn's perimeter defense, they've had help in the form of a freshman who has raised his level of production at just the right time.
That would be Terrence Samuel, who while not asked to score at the rate of either Boatright or Napier has proven to be an effective game-changer for the Huskies. Saturday night it was Samuel who, along with Boatright, helped changed the tenor of a game UConn trailed 16-4 with 9:07 remaining in the first half with their effort on the defensive end.
Going to a smaller, three point guard lineup the Huskies were able to put the clamps on Florida's guard tandem of Scottie Wilbekin and Michael Frazier II, which proved vital as UConn's offensive production began to pick up. And in their defending of ball screens, Samuel and the other guards kept Wilbekin and Kasey Hill from turning the corner or getting to the middle of the floor. That, as much as the improved work on the offensive end, led to UConn eliminating the top overall seed.
Samuel's has a better understanding of what's expected of him by Kevin Ollie and the rest of the coaching staff, resulting in a more confident player during the most important month of the season.
RELATED: UConn played Florida's game | Alex Poythress | Kentucky's game-winner
"I'm definitely more confident now," Samuel said following UConn's win over Florida. "I didn't really know my role and where I fit in with the team. But as the year went on, I realized my role was to be a game-changer. Create stops on the defensive end, and push the ball in transition and find my teammates [on offense].
"And when we go with three [point] guards I feel like that's our best lineup and it showed [Saturday], because we defended them well."
Samuel's reached double figures in two of UConn's five NCAA tournament games, scoring 11 points in their win over No. 2 Villanova and following that performance with a ten-point outing against No. 3 Iowa State. However to look solely at the numbers in the box score when gauging the impact Samuel's had during this run would be a bit shortsighted, as his presence has helped UConn apply more pressure on both ends of the floor.
"Terrence has been huge," Ollie said Sunday. "He's allowing me to put three point guards on the court at the same time and it's really allowed us to create havoc on the defensive end, picking up our pressure. It also allows us to space the floor and use our dribble drive sets more effectively. He's been doing an outstanding job."
Kentucky will counter with guards Aaron and Andrew Harrison, and with both being taller guards (6-foot-6) UConn will be at a disadvantage from a height standpoint Monday night. But the Huskies can, and have, made up for this issue in the tournament by being downright tenacious defensively. That'll need to be the case once again, with Samuel being one of the options capable of making life difficult for Kentucky's guards.