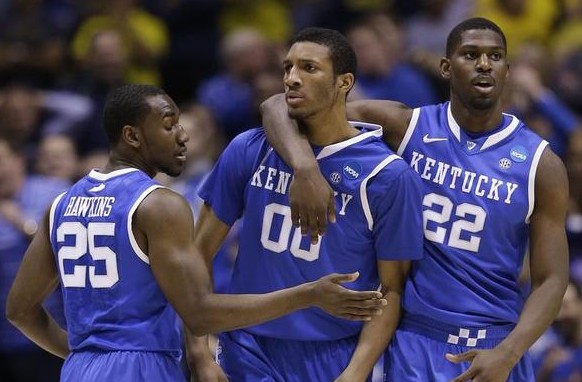 ARLINGTON, Texas — Coaches say it all the time: remain prepared because you never know when your opportunity will come. While that's an easy thing to say and an easy concept to agree to fully buying in is another matter, especially when the player in question arrives on campus at a McDonald's All-American.
That's the position Kentucky freshman center Marcus Lee has found himself in for much of this season, with the newcomer playing an average of just over six minutes per game. In SEC play the Californian didn't see action in nine of the Wildcats' 18 regular season games, and he played a total of one minute in Kentucky's first three NCAA tournament games. So when Willie Cauley-Stein went down with an ankle injury early in their Sweet 16 win over No. 4 Louisville, more than a few people saw that as a hit the Wildcats would be unable to shake off.
FINAL FOUR: Shabazz vs. Kemba | The Harrisons | UK vs. UW | UF vs. UConn
Enter Lee, who gave Kentucky 15 quality minutes in their Elite Eight win over Michigan, scoring ten points, grabbing eight rebounds (seven offensive) and blocking two shots. Opportunity knocked, and Lee was both ready and able to take advantage of the situation. And that preparedness reveals a level of maturity that some freshmen would lack when having to deal with the idea of not seeing much playing time after entering college as one of the pieces of a prized recruiting class.
"We coach every player like they're a starter," Kentucky head coach John Calipari said earlier this week. "There's no one coached different. You're held accountable just like a starter. You're pushed and challenged and coached just like a starter would be.
"We try throughout the season to make sure we're getting those kids minutes so by the end of the year if something happens, they're ready to go. So I'm not surprised."
Lee was one of two freshmen who stepped forward in that victory after seeing little playing time throughout the course of the season. Dominique Hawkins didn't score a point in his 11 second-half minutes, but his defending of Nik Stauskas was a critical factor for the Wildcats. After scoring 18 points on 5-for-7 shooting from the field in the first half Stauskas scored just six in the second, shooting 1-for-7 from the field.
"I just keep myself prepared because I know someone can get in foul trouble or injured, and the assistant coaches always tell me to be ready for my chance," Hawkins told NBC Sports. "During the Michigan game I made the most of my chance. Coach Cal wanted me to play good defense on Stauskas, and I feel like I did the majority of the [second half]."
FINAL FOUR: All Final Four coverage | X-Factors | Why each team can/won't win
How much of a role Hawkins plays in Saturday's game against No. 2 Wisconsin remains to be seen, but in the case of Lee he'll be asked to contribute against a Wisconsin front court anchored by Frank Kaminsky. Cauley-Stein is holding out hope that he'll be able to play, but he has still yet to go full speed in practice. With that being the case, Lee may once again find himself in the spotlight. And remaining positive despite receiving limited playing time is a trait that can serve a player such as Lee well in such moments.
"No not at all, because we were winning," Lee said when asked if he was frustrated by the decrease in playing time. "You can't be mad about winning. Just being with my team and working hard each day, you really don't have time to be mad about everything.
"I've gone through games and practices the same way I always have," added Lee. "My mentality is always to stay ready and do whatever needs to be done for my team."
A difficult mentality for some highly regarded prospects to maintain in the face of adversity, that mindset is one reason why Kentucky was able to do enough to beat Michigan and reach the Final Four. And both Lee and Hawkins will need to remain mentally prepared, should their names be called Saturday night.