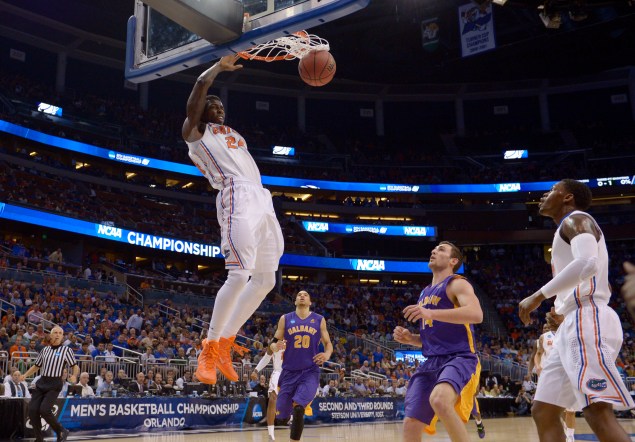 FINAL FOUR: Shabazz vs. Kemba | The Harrisons | UK vs. UW | UF vs. UConn
ARLINGTON, Texas — Early on this season, there was not a team in the country that was dealing with more question marks on their roster than the Florida Gators.
Scottie Wilbekin, who has since turned into an all-american and the most valuable player on Florida, was suspended for the first five games of the season. It was the second time in an eight month span that Wilbekin was separated from the program for a violation of team rules. Dorian Finney-Smith was suspended for the first two games of the season for violating team rules as well. Chris Walker had to sit out the first 21 games of the season as he waited to get cleared by the NCAA to play. Damontre Harris isn't even a part of the team.
And all that is before you factor in their injury issues. Kasey Hill has missed seven games this season, four because of an ankle injury in the first month of the season. Casey Prather missed a couple of games in the middle of the season. Eli Carter played in just seven games before he was shut down this season.
That's a lot of turmoil to dump on a team during the first month of the season, and while it cost them a couple of games early in the year, the games that the Gators played without some of their key pieces in the lineup ended up being one of the keys to their success this season.
Florida's a team that is built around their ability to defend; they're No. 1 on KenPom in defensive efficiency, and while they are still top 20 in offensive efficiency, this isn't a team that is loaded with NBA-caliber scorers. There's a chance that the only guy on this roster that will end up playing in the NBA (Chris Walker) is currently averaging all of 4.0 minutes per game. Their success is centered around the fact that they are as balanced as any team in the country, that there simply is not a weak link for them on the offensive end of the floor.
And that is the result of players being forced into roles that they were unaccustomed to early in the season.
"It definitely helped me out knowing that I could score and do what I could do because I been doing it early in the season," Prather said. "I could carry that throughout the season. I think the biggest thing was proving that we could win without a person."
"It gave some guys more confidence because they had to do more," Hill added.
FINAL FOUR: All Final Four coverage | X-Factors | Why each team can/won't win | UConn family
Prather is the best example. The 6-foot-6 forward couldn't get off the bench his first two seasons in Gainesville and was nothing more than an oft-injured role player as a junior, but midway through December he was post all-american caliber numbers. He was top ten in our Player of the Year rankings for half the year as he was averaging more than 17 points at one point during the season. His scoring role decreased throughout the season as Wilbekin became a focal point of their offense and Michael Frazier became a more consistent shooter, but that didn't change the fact that he had the confidence to be a threat offensively.
"I would like to have four to six guys in double figures," head coach Billy Donovan said Friday, "because you don't know what a team is going to try to take away from you. When a team takes certain things away from you, you still have to be able to have other guys step up in different situations and provide offense."
It's not just Prather, either.
Hill had two of his best games of the season while Wilbekin was suspended, scoring 15 points in a win over North Florida and notching 14 points, six assists and five steals as the Gators beat Arkansas-Little Rock. He didn't score in double figures again this season until the opening round of the NCAA tournament, as he finished with 10 points and was the sparkplug for a pivotal run that allowed Florida to pull away after Albany tied the game in the second half.
"All we need is five guys and we're going to compete," Finney-Smith said. "Give us any five off our team and I feel like we're going to win."