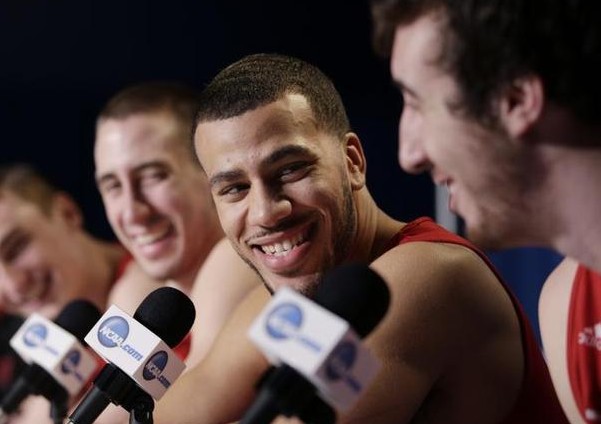 FINAL FOUR: All Final Four coverage | X-Factors | Why each team can/won't win
In order to enjoy success in March a team needs solid guard play, especially at the point guard position where so many of the decisions on both ends of the floor are made. And this weekend's Final Four is certainly an example of that, with Florida's Scottie Wilbekin and UConn's Shabazz Napier being two of the best at the position and Andrew Harrison's improved play one of the keys for Kentucky over the last month or so.
The same can also be said for Wisconsin junior Traevon Jackson, who spent his freshman season learning from Jordan Taylor and began his sophomore campaign as part of a two-man "platoon" of sorts with George Marshall. For some players the prospect of not getting handed the keys to their team in short order results in sulking as opposed to learning and working harder to be prepared when their number is called. That wasn't the case for Jackson, and the rewards have been reaped by Wisconsin this season.
"I remember coming in freshman year just seeing Josh [Gasser], and Jordan especially when he was here, and Josh being a guy that, no matter what it was, that he always was just rock solid," Jackson said during the team's media availability earlier this week. "A lot of that had to do with his maturity and just learning from him, and I think that's just a blessing just being able to go through a couple years here and just embracing the moment, embracing the opportunity that has been given.
"Just trying to learn from the mistakes I made in the past or the past failures and stuff and just capitalize on [the opportunity]. I've been given a special role on this team as a point guard, and it's important to embrace that."
Before the start of Big Ten play in Jackson's sophomore season, he played 25-plus minutes in just four games. However as conference play progressed he strengthened his grip on the point guard role, playing no fewer than 25 minutes in any of the Badgers' last 20 games of the 2012-13 campaign as a result. Jackson finished the season with averages of 6.9 points and 2.8 assists per game, and his assist-to-turnover ratio of 1.4 was solid if not spectacular.
FINAL FOUR: Shabazz vs. Kemba | The Harrisons | UK vs. UW | UF vs. UConn
Traevon made strides as the season progressed, which was noted by his father Jim, who was a great player at Ohio State and is currently an analyst for the Big Ten Network.
"One, his mental growth in how to run a team at this level," Jackson told NBC Sports. "In high school he played the point but he also played the two, so it wasn't a full-time 'job.' He had to get comfortable in that role, and you have to add to that the fact that Bo Ryan is extremely hard on his point guards. [Traevon] understands that the point guard is the captain of the ship and the one to make things go."
Fully entrenched as the starting point guard when the 2013-14 season began, Jackson continued to make progress throughout his junior campaign. There's been a greater understanding of what's expected of him at the point, and the growth has been noticeable in both the numbers and the areas that aren't seen in the box score. Traevon's scoring (10.7 ppg) and assists (4.0 apg) averages have improved, as has the assist-to-turnover ratio (1.9).
A confident and fearless player Jackson's the one who has the ball in his hands in the game's most important moments, and as seen in the Badgers' win over Michigan State earlier this season he's certainly capable of making the winning play. And according to Ryan, it's the confidence where Traevon has exhibited the greatest amount of growth.
"A very strong‑willed young man. He feels he's got it, okay," Ryan said earlier this week. "That means a player in baseball, wants that last ball hit to him so he can throw the guy out, that guy that wants the last shot. There are some people who talk about it, and there's some people that can do it and get it done.
"His confidence level and his ability to believe that he's got everything under control, even though none of us ever do totally have that. But he at least believes that, and therefore his confidence level has been able to get some things done for us in tight situations."
The confidence in part comes from preparation, as hard work has placed Jackson in position to not only take over the starting point guard role for Wisconsin but flourish. According to the elder Jackson, Traevon also played with the likes of Russell Westbrook and Andre Miller in pickup games before he even had a chance to earn the starting role with Jordan Taylor still in Madison. The combination of those experiences, be it the pickup games or going up against Taylor every day in practice, have led to Traevon being the point guard Wisconsin needs.
Clearly this Wisconsin team doesn't lack for leaders, with Gasser and Ben Brust both being fourth-year players (Gasser's a redshirt junior) and four of the five starters are upperclassmen with sophomore Sam Dekker being the exception. But it can be argued that the Badgers don't reach this point without the growth exhibited by Traevon Jackson, and he's one reason why they arrive in the Metroplex capable of winning the program's second national title.