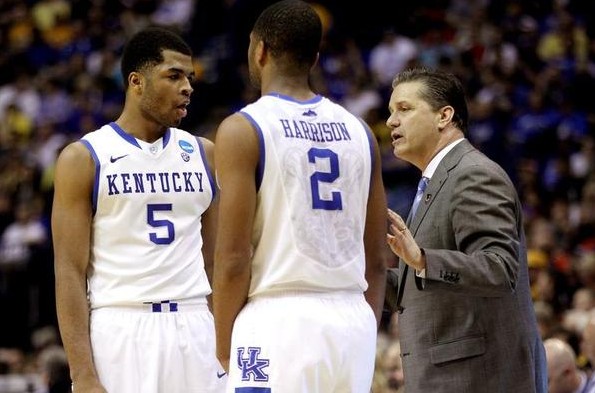 When the calendar flipped to the month of March, the Kentucky Wildcats looked nothing like a team that just over a month later would be making final preparations for a game in the Final Four. The Wildcats would lose 72-67 at South Carolina on March 1, a game that fell in the middle of a regular season-ending stretch of three losses in four game. One of the issues late was the play of freshman guards Aaron and Andrew Harrison, with both struggling with their shot and understanding of what head coach John Calipari expected of them within the system.
During those four games Aaron shot 11-for-43 (25.6%) from the field and Andrew wasn't much better at 11-for-38 (28.9%). And at that point in the season there were also signs that the twins were allowing the poor shooting to impact other areas of their game, which given their positions as the leaders in the backcourt can affect the team as a whole.
Was that rough stretch for Kentucky entirely their doing? No. But it should come as no coincidence that with the Harrison twins playing better basketball, Kentucky has stepped forward as a team.
RELATED: No. 2 Wisconsin vs. No. 8 Kentucky preview 
In seven postseason games Aaron, who hit big shots in wins over No. 4 Louisville and No. 2 Michigan last week, has shot 46.3% from the field and 50% (22-for-44) from beyond the arc. He's taken better shots for much of this seven-game run, with Kentucky's lone defeat coming in the SEC title game, and having that kind of perimeter shooting helps with the spacing of Kentucky's offense. Driving lanes become somewhat easier to navigate, and the big men have more room to operate inside when defenses are forced to remain honest.
As for Andrew, his improvement hasn't been so much about shooting as it has been distributing the basketball. In Kentucky's final four regular season games he averaged 3.8 assists per game. In postseason play that figure is up to 5.7 assists per contest, which is nearly two assists per game more than his average on the season (3.9). Have there been hiccups along the way? Yes, as noted by the 12 turnovers committed in wins over Kansas State and Wichita State. But he bounced back in Indianapolis, committing a total of six turnovers in Kentucky's wins over Louisville (two) and Michigan (four).
So what's the difference been? In Monday's coaches teleconference Calipari discussed their improved body language, but he also blamed himself for the twins not fully understanding what their respective roles were.
"We had to define the roles better, and I did a poor job of that until late in the year, by the end of the year," Calipari said. "I can't believe it. I was angry when I realized what I had done. I coached all different kinds of point guards. We had to get Derrick Rose to shoot more. We had to get Tyreke [Evans] and Brandon Knight to shoot less.
"We had fast point guards, point guards that weren't as fast. John Wall, Eric Bledsoe that played the combo. It just bothered me as a coach. That's my job. Their job is to play. My job is to help define their roles, to bring them together, to get them to understand. I'm happy it was done; I just wish I had done it earlier."
That may not seem like much to some, with the general response likely being "they're McDonald's All-Americans and projected lottery picks, so they should be able to figure it out." But that isn't how the game works, especially at the level Kentucky and any other team that aspires to win a national title competes at on a daily basis. Kentucky has multiple weapons capable of putting points on the board, with James Young on the wing and Julius Randle being an incredibly difficult matchup inside due in part to his ability to attack off the dribble.
FINAL FOUR: All Final Four coverage | X-Factors | Why each team can/won't win
But if this team was to turn things around and make good on the preseason prognostications that they'd win Kentucky's ninth national title, better play was needed from the backcourt. That's been the case over the last month, with the Harrisons' improved understanding of their individual roles and how they fit into what the team was looking to accomplish being a key factor. And if that continues to be the case, two more wins are well within Kentucky's reach.