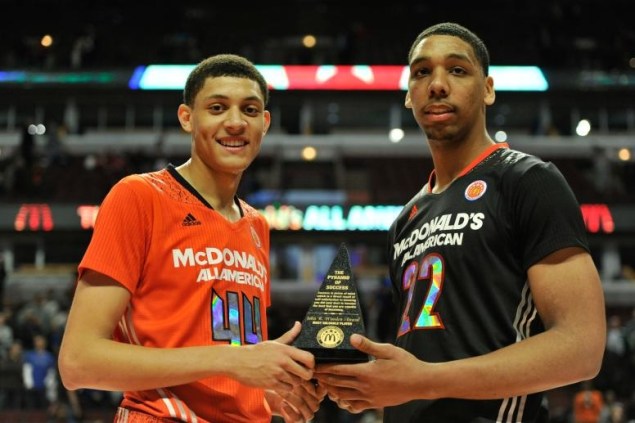 CHICAGO — The 2014 McDonald's All-American game was played last night and the same saw a showcase of the future stars of college basketball. Having McDonald's All-Americans on your roster is usually a pre-requisite to winning a national championship.
Since 1979, only Maryland in 2002 won a national title without a McDonald's All-American on its roster. Wisconsin and UConn (Rodney Purvis is sitting out the year) could threaten that status in this year's Final Four.
The game is a fun showcase that saw the West beat the East, 105-102, in the United Center in Chicago on Wednesday, but the week's worth of practices and scrimmages are where the action takes place. NBA GMs and scouts will take in McDonald's All-American practices and all of the top national talent evaluators are in the building as well.
Here are five thoughts from the week of practices and the game that saw a talented — but not star-laden — 2014 class compete.
1. I'm not sure who the No. 1 player in this 2014 class is yet, but I'm not sold on it being Jahlil Okafor, the No. 1 player for ESPN, Scout and Rivals. Although Okafor is a no-brainer contributor on the offensive end for Duke next season — and Jahlil won co-MVP honors for the West team on Wednesday — there are still some concerns in his game going into the collegiate level. Outside of three feet Okafor often puts the ball on the floor and attempts to spin and use his hips to create space instead of going up strong or quick, which will aid collapsing double teams at the college level. Okafor is also an average positional defender who is just okay at hedging ball screens. He's a great area rebounder but average out-of-area rebounder at times. That being said, Okafor isn't falling out of the top three, but there are some concerns about all of the bigs in this class.
2. To go along with the other bigs, Texas-native and unsigned center 7-foot center Myles Turner has a lot of potential with his ability to block shots and hit perimeter jumpers. Turner has added strength and still has good end-to-end speed. But he isn't very laterally quick and at times struggles with footwork. 6-foot-8 Chicago-native and Kansas commit Cliff Alexander is aggressive, powerful and raw, but he still needs skill development and at times struggles against length. Kentucky commit and Indiana-native Trey Lyles is talented at 6-foot-9 but has slowdowns in effort and isn't as tough on the interior as he needs to be at times. Similar things can be said of fellow Kentucky commit Karl Towns, a skilled 7-foot center with great skill but a power game that lacks at times.
3. So if Okafor isn't the clear-cut No. 1 player, who is? Texas guard Emmanuel Mudiay will try to put SMU into the NCAA Tournament next season and he should pair nicely with current sophomore guard Nic Moore. The two can score or handle and Mudiay told NBCSports.com that they plan on playing both guard spots. Mudiay is a tremendous athlete at 6-foot-4, a lockdown defender, fierce competitor, and fantastic passer. He is at his best scoring off the dribble where he is nearly uncontainable because of his first step, size and athleticism. His jumper still needs some work, but he's tough going to the rim. Findlay Prep guard Rashad Vaughn should be exactly the go-to perimeter scorer that UNLV needs next season as he's a complete guard that can do a number of things well. At 6-foot-5, Vaughn has an advanced array of moves off-the-dribble, can go left or right with ease, he passes well with both hands and has improved cross-court vision. Vaughn is also a reliable jump shooter that has improved tremendously in consistency since last summer. He's clearly put in a ton of work in his senior season. Arizona commit Stanley Johnson, a 6-foot-7 skilled and strong force on the perimeter also could stake his claim at being one of the best players during the week.
4. Multiple schools have multiple All-Americans. Kentucky and Duke each have four, North Carolina has three and UCLA and Kansas each has two. The rich get richer. The Wildcats add Lyles, Towns, point guard Tyler Ulis and shooting guard Devin Booker. Ulis is small at 5-foot-9 but incredible at running pick-and-rolls and running high ball screens while Booker is skilled and shows a great ability to score in multiple ways, although he'll need to get more physical. Duke has Okafor, point guard Tyus Jones, shooting guard Grayson Allen and wing Justise Winslow. Jones is fantastic offensively and the most complete offensive package of any point guard, but he's had a so-so defensive week as an on-the-ball defender. Allen has shown a pretty well-rounded guard package with great athleticism and bounciness. Winslow is the son of former McDonald's All-American Ricky Winslow ('83, Houston) and is a really tough two-way wing that does anything to win. The Carolina trio of point guard Joel Berry II (6-foot-1), wing Theo Pinson (6-foot-5) and wing Justin Jackson (6-foot-8) are all skilled and should play well together. UCLA's interior duo of Thomas Welsh (7-foot) and Kevon Looney (6-foot-9) played well at times this week and should help the Bruins interior depth. Kansas commits Alexander and 6-foot-8 wing Kelly Oubre both had great days and off days during the week.
5. Some good scoring guards headed to some unique schools in this game. Seton Hall is getting a competitive 6-foot-4 guard in Brooklyn native Isaiah Whitehead. Whitehead can really defend and loves hitting tough shots. Indiana is getting a tremendous scorer in James Blackmon Jr., who is definitely more of a scoring guard. On high screens, he's devastating, but he's not strong enough as a passer to be a primary handler. Maryland commit Melo Trimble is 6-foot-3 and can really get hot shooting the ball with his great-looking jumper. He has a tough time defending at times, but should get points off the bench at a minimum. Ohio State should get some scoring help from D'Angelo Russell, who's sweet lefty jumper can go down from nearly anywhere on some tough looks. The only player I didn't mention is Stanford commit Reid Travis, who is a tough 6-foot-7 forward that is athletic and plays with power moves but is a tad undersized. He'll figure things out eventually.