With the exception of the teams who take part in the First Four, the path to the Final Four is a rather straightforward proposition: win four games. But to take that view is to oversimplify things, as different teams enjoy different paths to the sport's biggest weekend. This year's quartet, No. 1 Florida, No. 2 Wisconsin, No. 7 UConn and No. 8 Kentucky, are all examples of this, with each team encountering different issues over the course of the season.
And with the exception of a team that likes to run up and down the court with reckless abandon, these four teams all possess distinct characteristics that have resulted in their reaching this point in the season.
Take Florida, for example. For all of the pre- and in-season hype for the nation's top freshmen, it's been a group of four seniors motivated by falling short in three prior trips to the Elite Eight leading the way for the Gators. Point guard Scottie Wilbekin has been one of the best players in the country this season, thanks in part to his understanding of what Billy Donovan's team needs at any point in time.
And it can also be noted that both Wilbekin and forward Casey Prather are "poster children" for the benefits of developing throughout the course of one's career. Wilbekin entered college a year early, and maybe that played a role in the maturity issues that led to two suspensions during his time in Gainesville. But he's matured, developing into one of the best leaders in college basketball.
"It worked out great with Scottie," Donovan said of his point guard earlier this week. "I think the story is well‑documented in terms of him electing to bypass his senior year of high school and give that up. I think he's continued to grow and develop over his four years here. I've enjoyed being around him, coaching him."
Prather's development on the court has been an important factor for Florida as well, with the forward going from playing less than ten minutes per game in his first two seasons to averaging 13.8 points per game as a senior. Add in the interior tandem of Will Yeguete and Patric Young, both of whom have also made strides while in Gainesville, and Florida has the experience more than a few analysts have cited as being necessary for success in March.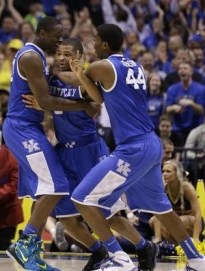 However there's also something to be said for having talent, which the Gators certainly don't lack. And for a team that lacks the "requisite" championship experience, that talent can close the gap provided the intangibles are there as well. It took Kentucky a while to figure that out, with guards Aaron and Andrew Harrison being prime examples of this. Skill-wise both, as have their fellow freshmen, have improved but the biggest strides have come in areas overlooked by most such as body language and the understanding of their roles.
PREVIEWS: No. 1 Florida vs. No. 7 UConn/ No. 2 Wisconsin vs. No. 8 Kentucky
"One, the biggest thing we had to help them with was body language," Kentucky head coach John Calipari said Monday. "As that changed, they became different players. "The second thing was, we had to define the roles better, and I did a poor job of that until late in the year, by the end of the year. I can't believe it. I was angry when I realized what I had done."
After fighting through the struggle the Harrisons have both played better basketball in the postseason, and the same can be said of their classmates. Roles and expectations are better understood, and even seldom-used players Dominique Hawkins and Marcus Lee stepped forward in Kentucky's regional final victory over Michigan. In this "microwave society" talks of going 40-0 preceded discussion of what it would actually take for Kentucky's freshman to reach that point, and that worked against the Wildcats.
However once they figured things out, their talent eventually became noticeable in the form of an accomplishment few thought they were capable of achieving a month ago.
Fan of highly efficient offenses? Wisconsin certainly fits the mold, and that's been the case for quite some time. In four of the last five seasons the Badgers have ranked in the top 20 of Ken Pomeroy's adjusted offensive efficiency category, with last year's team being the lone exception. Leading the way in the NCAA tournament is 7-footer Frank Kaminsky, a big man with the skill needed to score both inside and out, making him one of the toughest individual matchups in the country.
And the road to this point certainly wasn't an easy one for Kaminsky, who played sparingly last season with the likes of Jared Berggren, Mike Bruesewitz and Ryan Evans receiving most of the front court minutes.
" Just working hard. It's something I've always done," Kaminsky said after the Badgers beat No. 1 Arizona in the West regional final. "I knew that this year there would be an opportunity for me to go out there and play a lot of minutes, and I just wanted to do, like I said, anything I could to be a big factor on this team."
Kaminsky also noted the help of his teammates in reaching this point, and clearly it takes more than one talented option for a team to be as efficient as the Badgers have been. They certainly hit a rough patch, losing five of six conference games between January 14 and February 1, but Wisconsin was able to get back on track and help head coach Bo Ryan make his first trip to the Division I Final Four.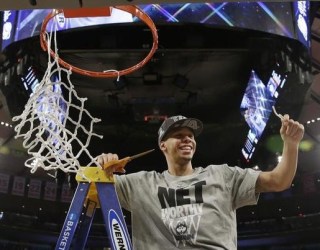 Then there's the adage that guard play wins in March, and that's been a critical factor for UConn. Shabazz Napier has been, arguably, the best point guard in the country this season as he leads the Huskies in points, assists and rebounds. Just as important for Napier have been the intangibles, as throughout his time in Storrs he's developed into the on-court leader a program left in flux by a postseason ban, the retirement of Jim Calhoun and conference realignment so desperately needed. And Napier isn't alone, as junior Ryan Boatright has also been a key figure for the Huskies on both ends of the floor.
"He's growing, maturing.  He's meant a lot to us," Ollie said of Boatright earlier this week. "Not only in the games when you see it on CBS or on ESPN, TNT, but what he's done in practice, being more vocal, being a leader. It's really helping our team. It's really getting Niels and DeAndre better shots."
The play of UConn's guards shouldn't be much of a surprise considering their coach, Kevin Ollie, was a point guard who led UConn for four seasons and then against all odds enjoyed a lengthy NBA career. Lasan Kromah, the graduate transfer from George Washington, has added depth and freshman Terrence Samuel has even chipped in during this NCAA tournament run. Without a dominant presence in the paint the guards are of great importance to UConn, and with Napier and Boatright leading the way the Huskies have made their way to the Final Four.
But while each team may possess a particular characteristic or two that sets them apart from each other, the fact of the matter is that there are ties that bind. Kentucky may have the most "lottery" talent, but clearly the other three teams have skilled players as well. Florida's experience? Both UConn and Wisconsin have savvy veterans as well. Wisconsin's efficiency? Kentucky, for all of its midseason issues, is also ranked in the top ten in adjusted offensive efficiency and Florida is a top 20 team in that category. And the guard play that has led UConn this season? The other three teams certainly don't lack for quality perimeter players.
The differences may have led to distinct experiences along the way to AT&T Stadium, but these four teams have things in common as well. And the combination will lead to a fun weekend in Arlington, Texas.