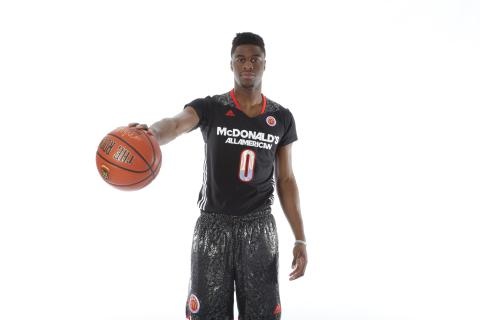 CHICAGO — The 2014 McDonald's All-American roster is littered with great players going to the usual blueblood programs of college basketball.
Kentucky and Duke are adding four McDonald's All-Americans each while traditional basketball powerhouses like North Carolina (3), UCLA (2), Kansas (2) all add multiple players as well in the 2014 edition of high school basketball's elite all-star game.
But very quietly in Dallas, Larry Brown is getting blue-chip players at a yearly rate. After adding current freshman wing Keith Frazier last year coming off of a McDonald's All-American Game appearance, the Mustangs will welcome 6-foot-4 guard Emmauel Mudiay into the fold next season.
The current McDonald's All-American — and native of Dallas — attends Prime Prep in Texas and opted to stay home and play for Brown, even though nearly every school in the country desired his services. As the No. 2 player in Rivals.com's 2014 rankings, Mudiay is a major impact get for a team that is right on the cusp of a NCAA Tournament appearance.
In the end, the experience of Brown and his championship pedigree won out for Mudiay.
"Larry Brown, he's the only coach ever to win an NCAA Championship and NBA championship, so why not get coached by one of the greatest coaches that's ever coached this game," Mudiay said to NBCSports.com.
SMU hasn't been a traditional basketball power, but Mudiay is up to the task of being the local superstar that helps build the Mustangs up. SMU was ranked in the top 25 the final week leading up to the 2014 NCAA Tournament but missed the Field of 68 after a first-round AAC Tournament loss to Houston as one of the last bubble teams left out of the field.
Currently, SMU is making a run in the NIT and they'll face Minnesota for the NIT title at Madison Square Garden.
"I know it's going to take a lot of work. I love challenges, that's part of the reason I picked there," Mudiay said of SMU. "I'm not the type of person that just picks a school for the name. I feel like some people do that. It's fine with me. I feel like once you bring Larry Brown's name into it, it shuts everybody up. This year they had one of the best years they've ever had, they didn't make the tournament, but they're doing their thing in the NIT."
With the addition of a player like Mudiay, it could really push SMU over the top in the American Athletic Conference next season. The Mustangs are going to have high hopes next season as Mudiay joins talented sophomore guard Nic Moore in the backcourt. Mudiay said he and Moore talk regularly about playing with each other next season.
"I feel like we can both alternate (guard spots) because he can score the ball too," Mudiay said. "I'm going to play on-the-ball some, I'm going to play off-the-ball some, so it's going to be fun. We talk all the time, every time I go watch them play. He tells me all the time, and I tell him, that we can't wait to play with each other. Just how Shabazz (Napier) and (Ryan) Boatright play, something like that. We can be a two-guard front."
While the Mustangs have changed from pretender to contender under Larry Brown, Mudiay has also noticed a revitalized fan base down in Dallas since last season. The guard broke down the difference between SMU's old building and the newly renovated Moody Coliseum.
"The fan base there is crazy now. It's really fun to go to the games and how loud it is. It's going to be really fun," Mudiay said. "I remember last year I went to a game against Memphis on one of my visits and you could literally change seats every two minutes because it was so empty. But this year it was standing room only. The Moody Coliseum is definitely crazy."
The new atmosphere in Moody Coliseum and the push to be a good basketball program has also had a noticeable affect on recruiting, according to Mudiay.
"I think a lot of people are surprised by how (SMU) is now and they have to take (SMU) into consideration," Mudiay said. "I know Sedrick (Barefield) committed in 2015, so he sees what I see (in SMU). I'm definitely happy it's starting to get people's attention."