Tuesday was the start of April, meaning the greatest month of the year is officially in the books. Tuesday also marked April Fools' Day, a holiday I've never really understood.
It always seems like April Fools' Day brings out two different types of extremes in people: the extremely lame, or the extremely reckless. April Fools' Day is also a really difficult day to trust any sort of news you read or hear.
March maybe over, but college basketball is still in the forefront of the sports world with the Final Four taking place next Saturday. April Fools' Day is an opportune time to trick college hoop fans across the nation.
Marcus Smart's playing days at Oklahoma State is over, but his career at Kansas is just beginning, according to a satirical article that ran in Tuesday's edition of The Kansan, the University of Kansas school paper.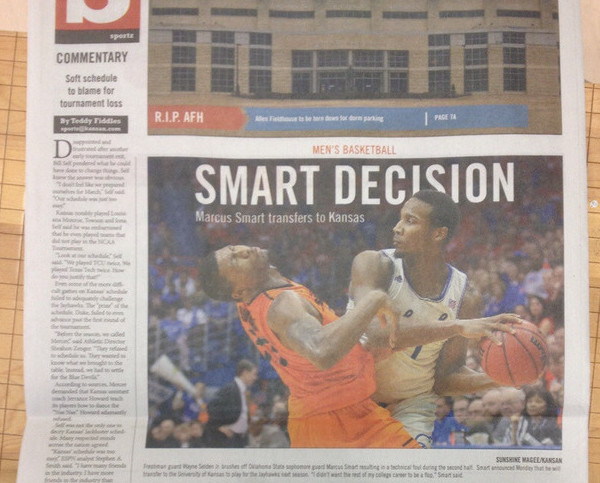 Via Reddit
Seattle Seahawks head coach Pete Carroll used his Super Bowl winning quarterback Russell Wilson as part of his April Fools' Day prank, convincing 710 AM ESPN Seattle that Wilson had accepted an invitation to practice with Wisconsin as the Badgers prepare for the Final Four. Somewhat believable considering Wilson spent a day at Texas Rangers spring training.
Russ will fit right in as he practices with the @UWBadgers hoops team this week! @DangeRussWilson pic.twitter.com/9C9rH62pBO

— Pete Carroll (@PeteCarroll) April 1, 2014
Via CollegeSpun
Mike Brey joined in on the fun, pretending to walk away from an interview with Campus Insider analyst and former Notre Dame player Jordan Cornette.
Creighton's Grant Gibbs received a sixth-year of eligibility in 2013, too bad this report wasn't true.
Breaking news: Gibbs granted seventh year @DoubleGfor3pic.twitter.com/2V8nrtu3IL

— Karthik Patil (@karthik245) April 1, 2014
Boston College is still looking for a replacement for Steve Donahue. SBNation confirmed that Jay Wright would leave Villanova for BC. The words "April Fools" were in the headline, but some of the "quotes" from Wright were great.
"BC has a great football program that has played in the prestigious Insight.com Bowl, Carquest Bowl, MPC Computers Bowl, and Kraft Fight Hunger Bowl …

"This school [Boston College] has such a long history in college basketball," Wright noted. "They've been playing for 110 years without a trip to the Final Four. That's a big selling point for me, we can make history here — that's not something you could say about Kentucky, Indiana, UCLA or the NBA."
Which ones did I miss?