While Badger fans flocked to State Street in Madison to celebrate Wisconsin's berth in the Final Four, a much different scene unfolded in Tucson on University Boulevard.
Following the 64-63 loss to Wisconsin, Arizona fans were asked to disperse by police officers from both the University of Arizona and the Tucson Police Department, who were lining the streets with riot gear. The scene turned violent as it was documented in a release from the Tucson PD on Saturday night:
The majority of the crowd did not respond to the dispersal order and began throwing beer bottles, beer cans and firecrackers at the officers. Several of the firecrackers rolled underneath a patrol vehicle that was deployed with the Mobile Field Force Units. As the crowd began to move closer to the officers, pepper ball rounds were used in an attempt to disperse the crowd. Several individuals continued to advance at the officers and were taken into custody.
MORE: Wisconsin celebrates, Arizona riots
In all 15 arrests were made with charges ranging from unlawful assembly to resisting arrest to disorderly conduct.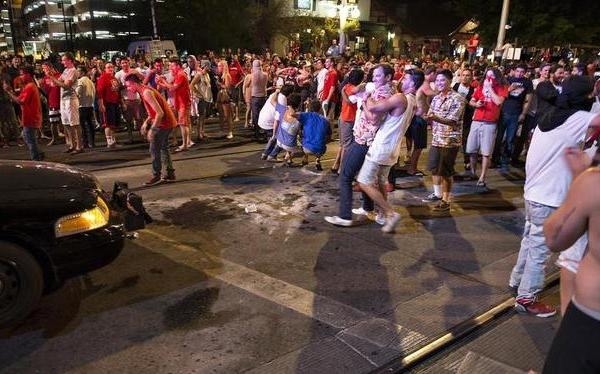 The image below is a photo of a student being arrested. He can be seen in the video above at the 0:19 second mark, taking pepper balls to the chest and stomach before multiple officers stepped in to detain the individual.