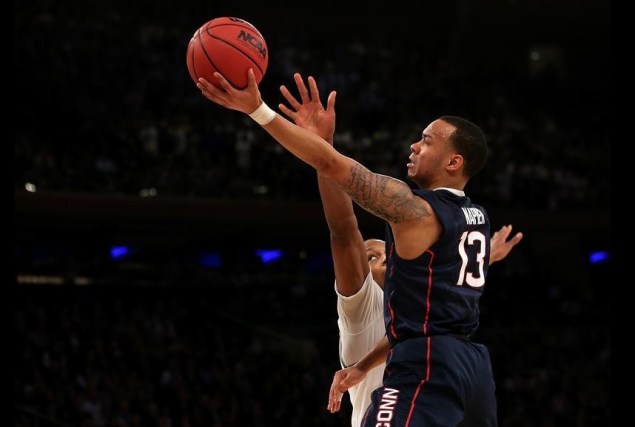 NEW YORK — Kevin Ollie had some big shoes to fill when he took over the UConn program prior to the 2012 season.
He was replacing Jim Calhoun, a legend in Nutmeg State for turning Storrs, CT, into the home of one of college basketball's elite programs. Calhoun won three national titles and made a fourth Final Four at a program that had a non-existent hoops identity before his arrival. He quite literally built the UConn program.
Ollie was Calhoun's hand-picked successor.
And he was taking over the program at a time when UConn was hurting. They were coming off of a disappointing, opening round tournament exit after entering the year as the No. 1 team in the country in the preseason. They had just wrapped up their probationary period for the violations that were committed during the recruitment of Nate Miles and were heading into a season where they were banned from participating in the postseason thanks to low APR scores.
That postseason ban meant that UConn would be forced to miss out on the final installment of the Big East tournament as we know it, as their bid to move into the ACC was not accepted, forcing the Huskies into the American and creating rivalries against the likes of South Florida and Houston instead of Duke and North Carolina.
Andre Drummond and Jeremy Lamb went pro. Alex Oriakhi transferred out of the program.
That's the hand that Ollie was dealt.
And in his second season as UConn head coach, in the first year he was eligible to lead a team into the postseason, the Huskies are headed to the Final Four after knocking off No. 4 Michigan State, 60-54.
————————————————————————–
Boo Willingham saw this coming.
A seldom-used reserve that played for the Huskies from 1991-1995, Willingham knows Ollie as well as anyone this side of Ollie's wife knows him. They were roommates for four years in Storrs. Willingham was the best man at Ollie's wedding. "That's my best friend," Willingham said while celebrating in the UConn locker room after the game.
"I know the fabric of Kevin Ollie. I know what he's made of," Willingham said. "The first day he stepped on campus as a freshman, he came in and was competing against one of the best guards in the country in Chris Smith at the time. He was a little skinny from California that didn't back down. He poked his chest out, he had a couple of fights in practice and he got into with a couple of guys."
"He was a tough guy that loved to compete. And he loved to get other to compete with him."
It was that competitiveness that kept this team and this program together last season. The Huskies had nothing to play for in 2012-2013, and yet they still managed to win 20 games in their final season as a part of the Big East conference.
"Everybody was saying we weren't playing for nothing, and a lot of media outlets saying we weren't playing for nothing, but we were playing for something," Ollie said on Saturday. "We were playing for what's on our jersey, and that means a lot. If you step on our campus and the pride we have for UConn, it means a lot to put on that jersey."
He's been tasked with trying to keep the Huskies, a school and a program that he loves, relevant as a top ten basketball program when it's the limited value of the school's football program to the companies that broadcast games that has put them in a position where their rivalry with SMU will be more important than their rivalry with Syracuse; where Sunday's visit to Madison Square Garden will be their last postseason appearance in a building that Shabazz Napier refers to as UConn's "third home" for the foreseeable future.
That won't be easy to do, and reaching this Final Four doesn't change that fact. Ollie will still be fighting an uphill battle, especially when you consider that the guy that carried the Huskies all season long, Shabazz Napier, won't be in a UConn uniform next season.
But what this win does prove is that the Huskies picked the right guy for the job.
"He proved me and a hell of a lot of people right," Calhoun said after the game. "He's like a son to me. He's got character, he's got great knowledge of the game, he works exceptionally hard, he can relate to the kids. And he's got all UConn guys around him. That fiber of UConn has not gone any place."
All you had to do was look up into the crowd on Sunday afternoon to see that. Among the 19,000 fans that packed into the Garden were a myriad of UConn alumni. Khalid El-Amin, Rip Hamilton, Ben Gordon, Emeka Okafor, Taliek Brown, Cliff Robinson, Andre Drummond. Ricky Moore and Kevin Freeman are on the UConn coaching staff. Even Kemba Walker's mom showed up.
The support system is there. The UConn program is very much the UConn family. There is more than enough history and fan support to sustain the program.
The future of the program is cloudy, but the Huskies aren't worried about the future. At least not right now. They're worried about the present. They're worried about playing Florida in the Final Four.
That's a Final Four, I might add, where they will not be joined by anyone from the ACC or the new Big East.