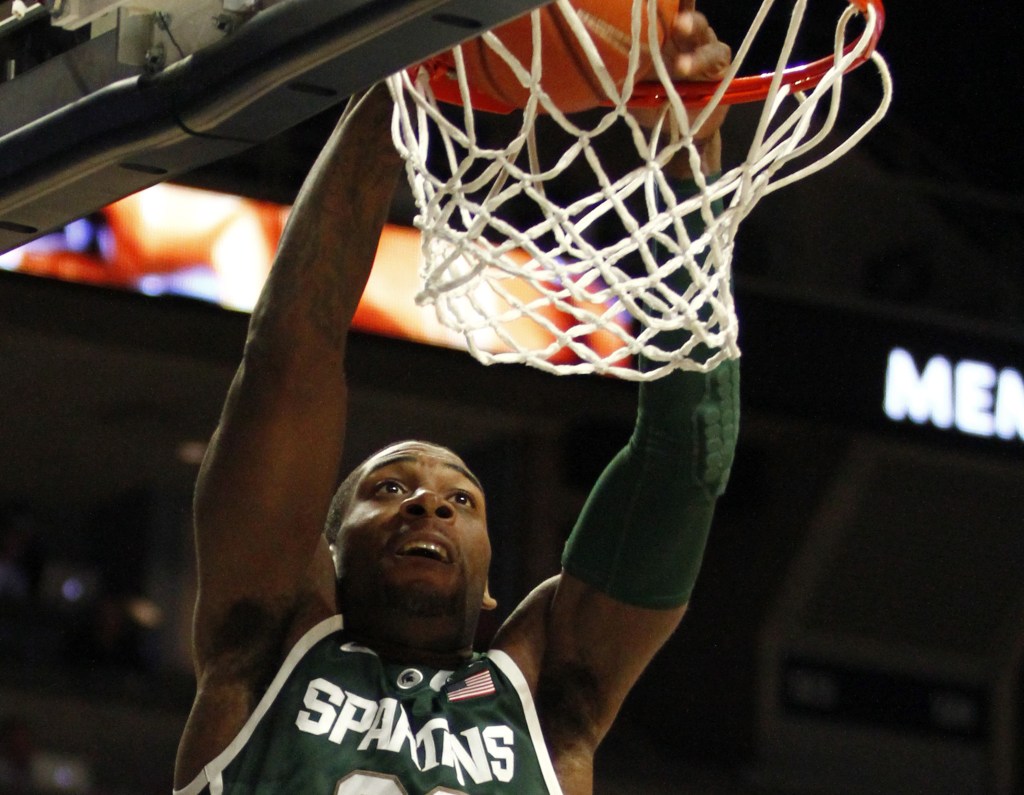 On Sunday morning, we will be breaking down the final two Elite 8 matchups. Here is our look at No. 4 Michigan State vs. No. 7 UConn:
WHEN: Sunday, 2:20 p.m. (TBS)
WHERE: Madison Square Garden (East Region)
MAJOR STORY LINES: UConn will be looking to make their first trip to the Final Four under a coach other than the legendary Jim Calhoun. Shabazz Napier will be looking to cement his legacy as the second-coming of Kemba Walker. On the other side, Michigan State will be looking to send their seniors — Adreian Payne and Keith Appling — to the Final Four, the first of their career. If the Spartans lose, Payne and Appling will go down as the first players in Tom Izzo's tenure with the Spartans to spend four years in East Lansing without making a Final Four.
KEY STATS: Michigan State has this reputation for being a team that plays rugby on a basketball court. Three yards and a cloud of dust. It may surprise you, then, that was this group does as well as anyone in the country is shoot the three. The same can be said about UConn, as both programs sit just a shade under 40% from beyond the arc on the season. Who's hitting their jumpers on Sunday?
KEY PLAYERS: This game has a ton of star power. Shabazz Napier, Gary Harris, Adreian Payne. The list goes on. On Friday night, when UConn knocked off Iowa State, DeAndre Daniels went off for 27 points and 10 boards, scoring 13 of UConn's first 15 points in the second half. When Daniels plays like that, UConn is a completely different team. Shabazz Napier is their all-american. He's their guy. But when he doesn't have to do it all, the Huskies are so much more dangerous.
POINT SPREAD: Michigan State (-5.5)
THREE THINGS TO WATCH FOR:
1. Who guards Adreian Payne?: Payne is like Wisconsin's Frank Kaminsky in that he's just a nightmare to try and matchup with. He's 6-foot-11 with three-point range, the ability to put the ball on the floor and get to the rim, and a post game. UConn doesn't have anyone to guard him, but Payne has a habit of going through scoring droughts.
2. Does Branden Dawson stay hot?: He's averaged 17.5 points and 8.2 boards since the start of the Big Ten tournament, shooting 69.7% from the floor during that stretch. He'll be guarded by the likes of Niels Giffey, Daniels and Lasan Kromah on Sunday. That's going to be a tough cover for the Huskies.
3. UConn's transition defense: Michigan State wants to run. That's what they do. They get out in transition and try to get easy buckets. There are two easy ways to start a fast break: turnovers and bad shots. UConn has a habit of doing both.
CBT PREDICTION: Michigan State