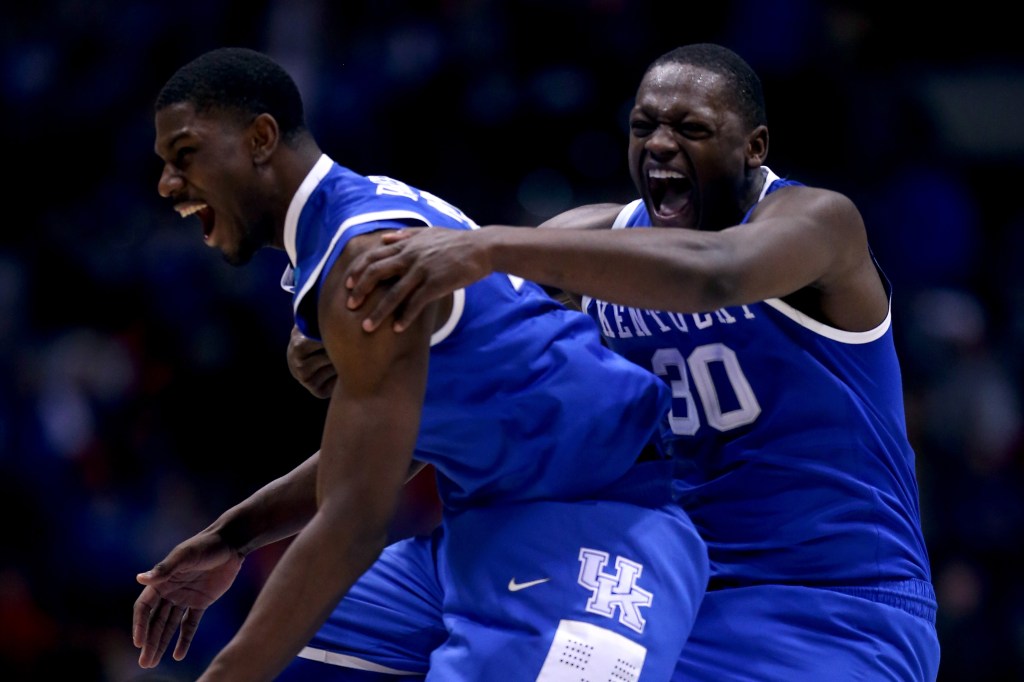 On Sunday, we will be breaking down the final two Elite 8 matchups. Here is our look at No. 2 Michigan vs. No. 8 Kentucky:
WHEN: Sunday, 5:05 p.m. (TBS)
WHERE: Lucas Oil Stadium, Indianapolis (Midwest Region)
MAJOR STORY LINES: Michigan will be looking to get back to their second straight Final Four on Sunday afternoon, but that's not going to be the story line that everyone is talking about. Kentucky's emergence is. After five long — excruciating for the folks of Lexington — months, this group of future NBA Draft picks finally are playing up to their potential. They've beaten Wichita State and Louisville in their last two games, and for the first time all season long, they actually look like a contender.
KEY STATS: That's simple: offensive rebounds. Even with Willie Cauley-Stein out of the lineup, Kentucky's front line is as big and as athletic as anyone in the country. They pound the offensive glass as well, grabbing 42.1% of their misses, which is the second highest rate in the country. And Michigan? They have no where near as much size up front. That didn't hurt them against Tennessee, however, who is just as good at getting to the offensive glass as Kentucky is.
KEY PLAYERS: The difference during this three game run in the NCAA tournament has been the Harrison twins. They are finally playing like the guys that were ranked in the top ten of every recruitniks rankings. They're hitting jump shots, they're making plays off the dribble, they're creating assists, they're not turning the ball over. Andrew Harrison in particular has been sensational.
POINT SPREAD: Kentucky (-2)
THREE THINGS TO WATCH FOR:
1. Nik Stauskas: He's Michigan's best player. Michigan will need him to play like it.
2. How much zone does Kentucky play?: As weird as this sounds, Kentucky's 2-3 zone has actually been a really effective tool for them defensively. And while Michigan can shoot the ball as well as any team in the country, playing them zone can give them issues as they don't have the kind of playmakers up front that will help them beat it.
3. Jordan Morgan vs. Julius Randle: Morgan's importance to this team has been underrated since Mitch McGary's back ended his season. He was physical enough inside to keep Jarnell Stokes in check on Friday night. He'll have to do the same on Sunday to Randle for Michigan to win.
CBT PREDICTION: Kentucky