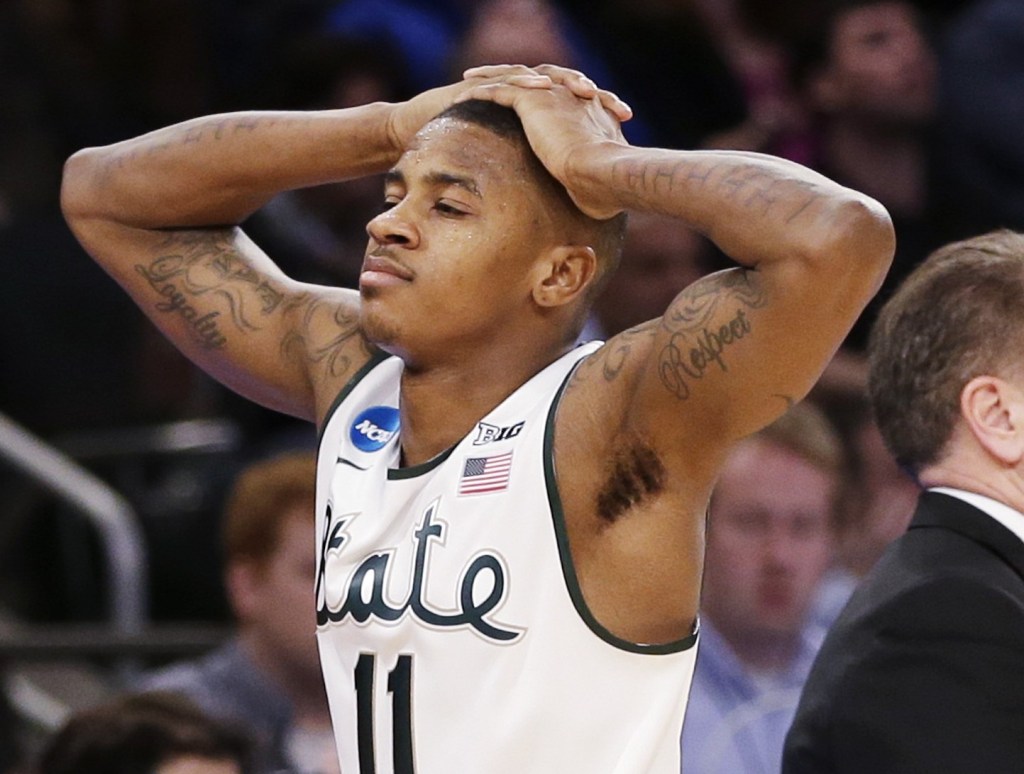 NEW YORK — It started with an ankle injury that Gary Harris suffered during the offseason.
Harris, Michigan State's all-american shooting guard, missed five weeks of action in the fall after hurting the ankle, an injury he consistently re-aggravated throughout the first month of the season. Then it was Keith Appling's wrist injury, which he suffered in a loss to North Carolina in December and aggravated in a loss to Georgetown in February. Adreian Payne sat out for a month in the middle of the season as he battled plantar fasciitis and a sprained foot. Branden Dawson broke his hand hitting a table during a film session. Travis Trice and Matt Costello seemed to be sick more than they were healthy.
This isn't new information. The talking point all season long when it came to the Spartans was that all we were waiting for was the team to get to 100% and they would be off and running on their way to a national title.
It never came.
Instead, their season came to an end with a 60-54 loss to No. 7 seed UConn in the Elite 8 at Madison Square Garden on Sunday afternoon, a loss that was as head-scratching and frustrating as any game this season.
The Spartans looked fatigued after the first eight minutes of the game. They couldn't create any kind of an advantage in the paint despite the fact that Payne and Dawson were bigger, more athletic and more talented that Phil Nolan, Amida Brimah and DeAndre Daniels. They settled for way too many threes, shooting 29 of their 46 field goal attempts from beyond the arc. They committed careless fouls and turned the ball over in so many weird ways. Well, maybe weird isn't the right word.
"Out of body," head coach Tom Izzo said. "I like that better because 'weird' does not explain how ridiculous some of those were."
Frankly, it was a fitting end for the Spartans this season, as the 2013-2014 campaign was a year spent trying to figure out why this team couldn't find a way to put it all together. I don't care how the season played out, I would still take a team coached by Tom Izzo that features Payne, Harris, Appling and Dawson over just about any other team in the country.
But the inconsistency was just too much to overcome in the end, as was the disappearance of Appling.
That will be one of the most intriguing stories to follow in the next couple of days. Appling played like an all-american the first month of the season, but he was a complete non-factor after the loss to Georgetown. Was it his confidence that was shot? Was his wrist still injured? More importantly, was Izzo right to leave him in the lineup despite the struggles?
"He's been through a lot this year and never got back to the guy he was in the first half, but not at all his fault and I just felt for him," Izzo said. Appling and Payne became the first four-year players under Izzo at Michigan State that didn't make a Final Four.
It may be a while before Michigan State heads back. They'll lose Appling and Payne to graduation, will likely lose Harris to the NBA and could even see Dawson depart for the professional level. With a couple of recent misses on the recruiting trail, it may be a rebuilding year in East Lansing next season.