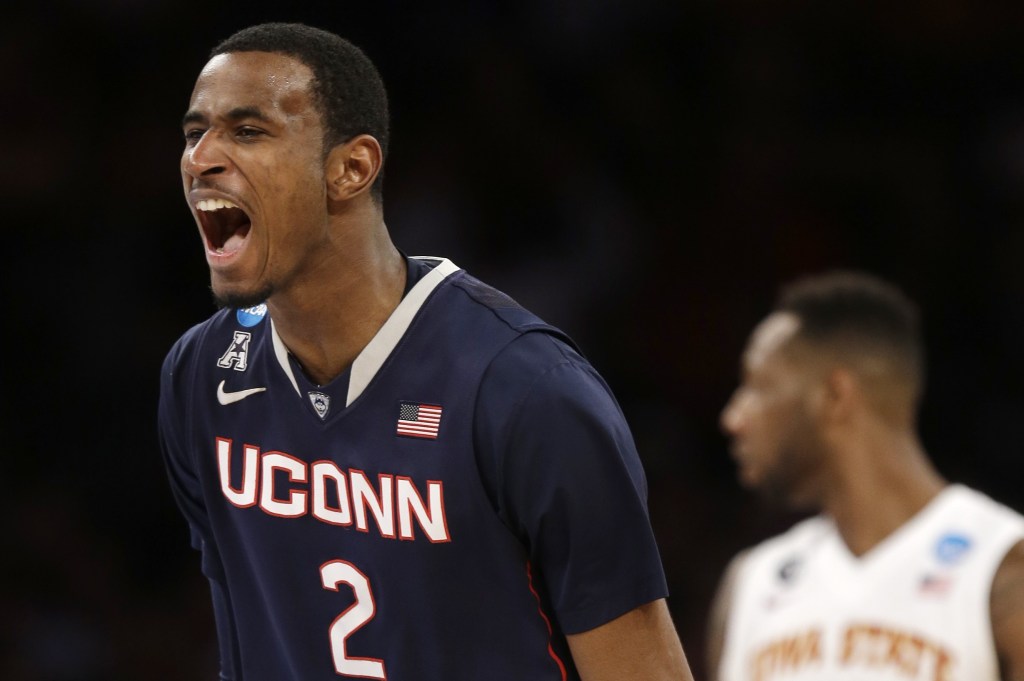 NEW YORK — When you think of UConn, you think of Shabazz Napier.
That's what happens when you're the star point guard, the first-team all-american for a program known for churning out first-team all-americans. That's not unexpected when you play the same position — and spark a similar postseason run — as Kemba Walker, the most popular UConn Husky of the last decade.
And Shabazz did was Shabazz is wont to do on Friday night. He hit four threes in the first 10 minutes of the first game at Madison Square Garden since 1961, sparking a first half run that gave the Huskies control early in a game was was never much in doubt in the second half. No. 7 seed UConn advanced with a 81-76 win over No. 3 Iowa State.
But that wasn't the difference in this game.
DeAndre was, only it wasn't the DeAndre we thought.
MORE: In the end, the loss of Georges Niang was too much to overcome
DeAndre Daniels, UConn's enigmatic junior forward, scored 27 points, including 13 of UConn's first 15 in the second half, and added ten boards and two blocks. He hit threes. He was beating Iowa State defenders off the dribble. He was the screener in UConn's pick-and-roll action. And that's before you factor in that he played a major roll in keeping Big 12 Player of the Year Melvin Ejim in check. He finished with just seven points and was 3-for-13 from the floor, although two of those field goals came in the final 30 seconds with the outcome already decided. DeAndre Kane, Iowa State's star point guard and the hero of the Round of 32, had 16 points, nine assists and eight boards, but was just 6-for-18 from the floor.
"Deandre was kind of pressing [early]," Napier said. "He wanted to make a big impact, and I just told him, 'Calm down, it'll come to you'. Once he got the first one, we kept feeding him."
"He got super hot, we had to cool his hand down."
Iowa State head coach Fred Hoiberg agreed. "He was unbelievable tonight," he said.
It wasn't just Daniels that stepped up for the Huskies, either. Ryan Boatright scored 10 of his 14 points in the first half and added a pair of assists as well, one of which led to the biggest shot of the game. Iowa State had just cut the UConn lead to 67-63, the closest that the Cyclones had been since midway through the first half, when Boatright got into the paint and found Niels Giffey wide open in the corner.
Giffey buried the three, giving the Huskies a seven-point lead with less than two minutes left, and from that point forward all the Huskies needed to do was hit free throws to seal up the win.
They did.
And they'll advance to the Elite 8 to play the winner of No. 1 Virginia and No. 4 Michigan State on Sunday evening at the Garden.
It's a game they have a real chance to win, regardless of the opponent, if they can get this kind of an effort from Napier's supporting cast. Napier can control a game as well as anyone in the country. I know that and you know that, which means that every coach in the country knows it as well. That also means that every game-plan will be built around trying to keep Napier in check. Iowa State didn't do too bad, either.
Napier finished with 19 points, five boards and five assists, but he was just 5-for-11 from the floor and hit just a single field goal in the final 30 minutes while committing five turnovers.
"I'm the type of person that don't look to the future to much," Napier said. "I just look at what's in front of me."
And what's in front of him now is a chance to play in the Final Four.