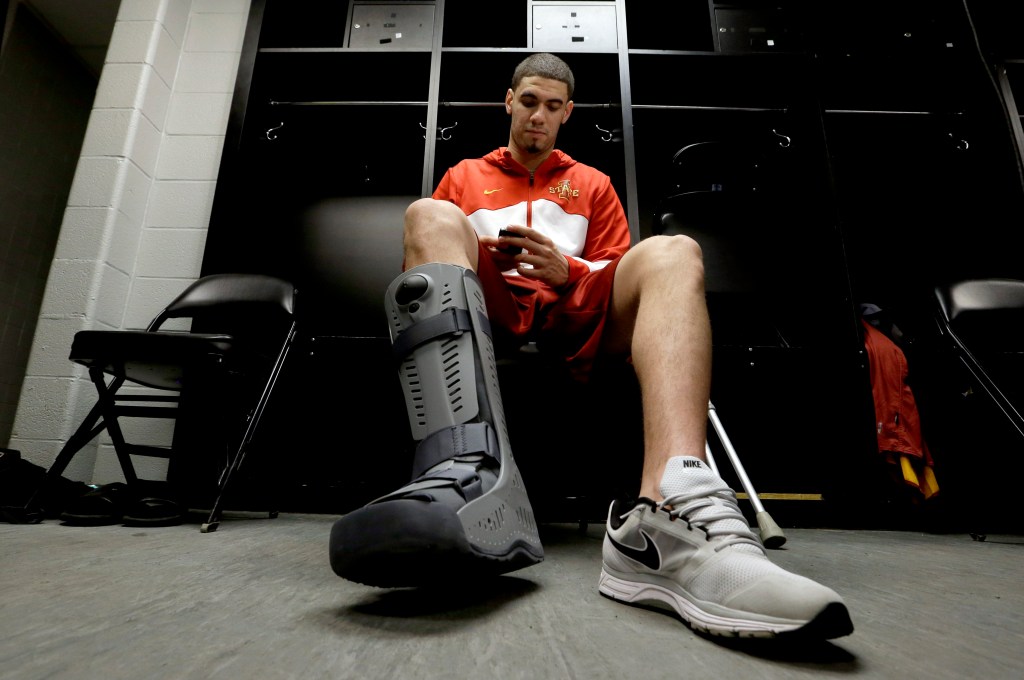 NEW YORK — No. 7 UConn didn't have an answer for Dustin Hogue.
He was 15-for-19 from the floor, finishing with a career-high 34 points while spending the majority of the first 30 minutes being the sole reason that No. 3 Iowa State remained within striking distance of the Huskies. The Huskies made the decision to use whoever was guarding Hogue as a help defender, and Hogue made them pay. Rim cuts, offensive rebounds, he was even rewarded with a number of isolations in the second half.
The problem was that he didn't get help until UConn was up 49-32 midway through the second half, and while Melvin Ejim finally hit some jumpers late and DeAndre Kane finally looked like more than a senior that was trying to do just a little bit too much in the second half, the Cyclones till lost, 81-76.
"UConn had a very good game plan I thought defensively," Iowa State head coach Fred Hoiberg said after the game. "They got us standing around a little bit."
MORE: A DeAndre took over Friday in the Garden, just not the one we thought
In the first half, it was obvious how much the Cyclones missed Georges Niang. Kane spent the first 20 minutes trying — but not succeeding — to go into takeover mode. He was just 2-for-7 from the floor in the first 20 minutes while Melvin Ejim hit just 1-for-11 from the field before hitting a pair of jumpers in the final 30 seconds. The length of Amida Brimah was just too much for the Cyclones inside, and while he was only credited with one block, he changed six or seven shots around the rim, shots that the Cyclones normally.
"They did a good job in packing in the paint," Hogue said. "We really didn't move the ball too much and we got real stagnant in our iso."
The other thing that UConn did was take the air out of the ball offensively. They didn't allow the Cyclones to get out and run, and they did it the easiest way possible: they made shots. It's possible to turn a made shot into a fast break, but it's not an easy thing to do, and as a result Iowa State was forced to try and attack UConn's set defense. There's a reason the Huskies were in KenPom's top ten in adjusted defensive efficiency this past season.
What Niang provided the Cyclones was a matchup nightmare. There aren't many power forwards in the country with Niang's offensive repertoire: he can score with his back to the basket, he can score facing-up from 15 feet and he has enough handle to bring the ball up the floor and get the Cyclones into their sets.
But more importantly, he would have forced Kevin Ollie into a nearly impossible personnel decision.
With Niang on the floor, the Cyclones would have had three forwards that stood at least 6-foot-7 with the ability to play on the perimeter, meaning that not only would one of UConn's bigger guards — Niels Giffey or Lasan Kromah — would have had been forced to guard Hogue or Niang instead of Kane.
The difference that would have had was evident down the stretch. When Kane got hot, when he started scoring late, it was when the Huskies went to a three-guard lineup and Shabazz Napier was forced to guard him.
Injuries are a part of sports, and every athletes and coach will freely admit that.
But it's a shame when, five months into a season, loses a player that is so integral to what they do.
"To lose a guy like Georges niang and still go out and beat a North Carolina and have an opportunity, after being down 17 [to UConn], tell you everything you need to know about this group of guys," Hoiberg said.
"I've been a fan of Iowa State basketball since I was a little kid, and seeing this program taken to new heights because of guys like [this]. … Couldn't be more proud of this group."