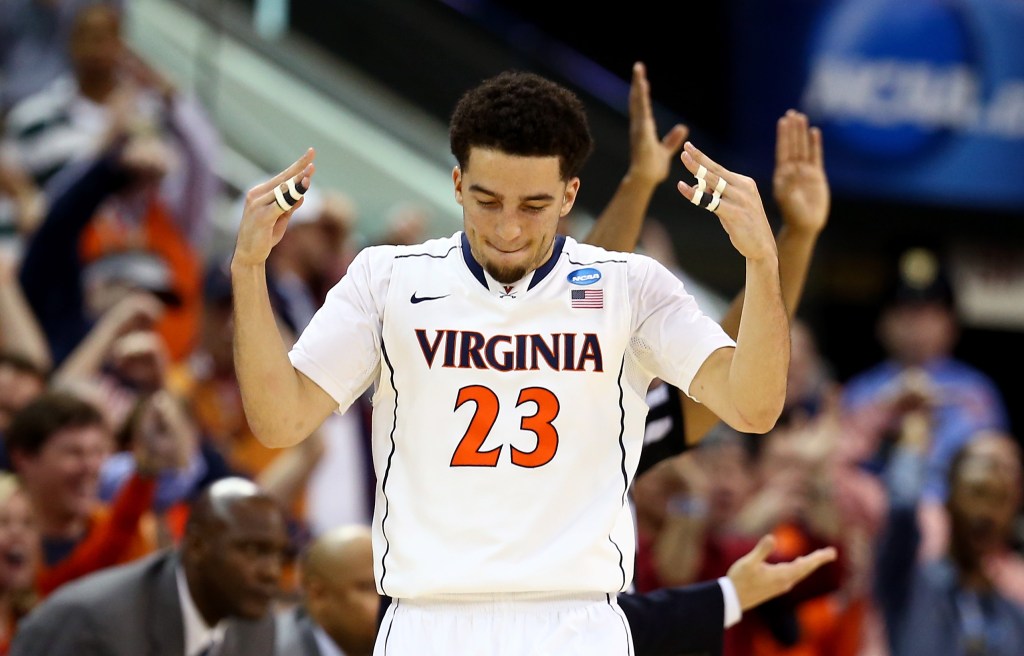 NEW YORK — They won the ACC regular season title. They won the ACC tournament title. They got the No. 1 seed in the East Region.
And it doesn't matter.
Everyone is still overlooking Virginia, even President Barack Obama, who, like the overwhelming majority of people living outside the Commonwealth of Virginia, picked the Spartans. And if you ask Malcolm Brogdon, Virginia's leading scorer, that's not only something that the team has embraced, it's something that he actually enjoys. Bring on the critics and the doubters. The more the merrier.
"When people doubt us, it's fuel to the fire," he said. "We use it as motivation to keep pushing forward and doing good things."
There are a couple of reasons why the team that beat out Duke, North Carolina and Syracuse for a dual-ACC title gets overlooked. Their performance during the non-conference portion of their schedule wasn't exactly dominant, and while they ran through ACC play with just a pair of blemishes — their road trips to Durham and College Park — the Cavs also got lucky. They only played Duke, North Carolina, Syracuse, N.C. State and Pitt once each, and the fact that all five of those teams bowed out during the first weekend of the NCAA tournament certainly hasn't helped the league's reputation as a powerhouse.
That's not the way Brogdon sees it, however.
He believes that people are impressed with plays that make Sportscenter, the highlights. Virginia's talented and they have much more athleticism than they'll get credit for, but this isn't a team that will ever be confused with the Showtime Lakers. They aren't going to be throwing lobs in transition or finding themselves making the NBA-caliber moves in isolation. They're a team built on offensive execution and staunch defense.
It's not glitzy, but it sure is effective.
"We're not a flashy team," Brogdon said. "We're not going for homerun plays. We're very steady, very consistent in every play. We pride ourselves on defense, which is one big thing that people don't admire about us. It's not about putting points on the board it's about stopping people."
No one on the Virginia roster exemplifies that temperament more than freshman point guard London Perrantes, whose calm demeanor and laid-back style of play initially had teammates concerned about whether or not he would be able to find success at this level.
"I didn't see it at all," sophomore forward Justin Anderson said of Perrantes, a native Californian who didn't get much high-major attention on the recruiting trail, when he first saw the freshman play over the summer. "The way he plays is so relaxed. He never gets sped up. In practice, he's just chilling and running the play."
Perrantes has started 32 games this season, and while his numbers are rather pedestrian — 5.4 points, 3.8 assists, 44.0% 3PT, 1.1 turnovers — it's his demeanor at the point position that sets the tone for everything the 'Hoos do. He's the "Tony Bennett point guard", as Anderson calls it. He doesn't turn the ball over, he gets the team into their sets offensively and he'll get into opposing ball-handlers as soon as they cross half court.
"I remember Akil telling him in the summer, 'C'mon, you've gotta pick it up, give me something,'" Anderson said. "We used to tell him, 'Get rid of the Cali-swag, talk, move faster,' and he never did. He still has his same swag and I think it's allowed him to be very successful."
"No one tries to touch that Cali-swag anymore."
Perrantes says that he didn't expect to start as a freshman, but that his confidence has steadily grown as the season as progressed. "I've got almost a year underneath my belt right now," he said, which is part of the reason that he hasn't been blinded by the moment.
That shouldn't change playing under the bright lights of Madison Square Garden, but what could change is a nation's perception of the Cavaliers. They'll have a chance to knock off the nation's trendy title pick, a team with a trip of potential first round picks and a head coach that is reportedly being courted by NBA teams.
Is that what it will take for Virginia to be considered a legitimate title threat?
"I think we will prove some people wrong, if and when we win tomorrow, but I think we have to keep winning," Brogdon said with a smile.
"I think a national championship will get people to be quiet for sure."