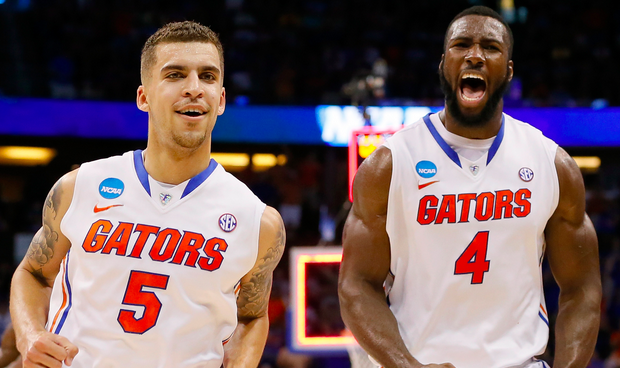 On Wednesday and Thursday, we will be breaking down all eight of the Sweet 16 matchups. Here is our look at No. 1 Florida vs. No. 4 UCLA:
RELATED: Sweet 16 Power Rankings | Top 16 Players | Eight Critical Individual Matchups
WHEN: Thursday, 9:45 p.m.
WHERE: FedEx Forum, Memphis (South Region)
MAJOR STORY LINES: Why doesn't Billy Donovan's come up more when discussing the best coach in college basketball? A win on Thursday will send him to his fourth consecutive Elite 8, the first three of which came with an offense built around Kenny Boynton. He's won two National Titles and could end up making his fourth Final Four this season. He lands elite talent and can also develop players into quality pieces in for his system. At the same time, Steve Alford will be trying to make his first career Elite 8. His predecessor made three straight Final Fours and was fired after winning the Pac-12 title.
KEY STATS: There's an argument to be made here that UCLA has the best transition attack in the country. An impressive 21.2% of their possessions are used in transition, a number that ranks them 13th nationally. They average 1.170 points-per-possession in transition as well, which gives them the most efficiency fast break among the 30 teams that have the highest percentage of transition possessions. Florida, however, ranks in the 95th percentile nationally in transition defense and, per KenPom, force teams into the second-longest average possession.
SWEET 16 PREVIEWS: Dayton-Stanford | Wisconsin-Baylor | Arizona-San Diego State
Iowa State-UConn | Michigan-Tennessee | Virginia-Michigan State | Louisville-Kentucky
KEY PLAYERS: The single-most important player on the floor in this game — and arguably the single-most important player left in the NCAA tournament — is Florida point guard Scottie Wilbekin. He's Florida's closer, the guy that makes the big shots in the big moments as the Gators are trying to close out a game. I'm not sure there is a better 'big shot maker' in the country than Wilbekin, and I'm not sure that UCLA has an ideal matchup for him.
POINT SPREAD: Florida (-4.5)
THREE THINGS TO WATCH FOR:
1. Who guards Kyle Anderson?: Slo-mo is the most unique player in all of college basketball. He's slow, he's not all that explosive and he's 6-foot-9, but he's UCLA's point guard, their facilitator offensively, while averaging 14.7 points, 8.7 boards and 6.5 assists. He's so slow that he actually gets defenders off-balance, which, when combined with his ability to handle the ball, makes him a nightmare matchup for big men. Who does Florida use to guard him?
2. UCLA's zone: Most of the elite teams in the country can be zoned pretty effectively this season, and Florida is one of those teams. The Gators don't have a ton of perimeter shooters, and as a team they're shooting just 25% from beyond the arc during the NCAA tournament. The Bruins play zone 36% of the time, according to Synergy.
3. Florida changing defenses: What makes the Gators so difficult to prepare for is the fact that they can give so many different looks defensively. They can play man-to-man, straight up or switching all exchanges 1-through-4. They can switch pick-and-rolls. They play an extended 1-3-1 zone that is a nightmare given their length and athleticism. They press on 16% of their defensive possessions. It is not easy to prepare for.
CBT PREDICTION: Florida