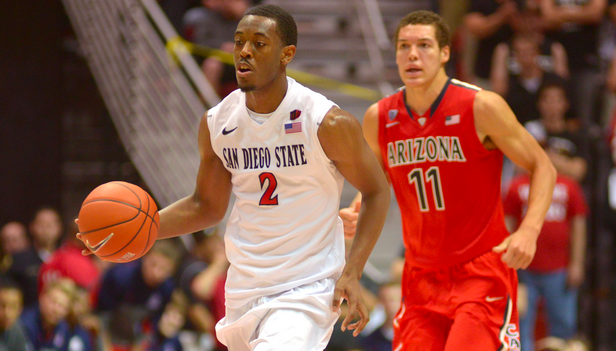 The first weekend could not have been more thrilling, beginning with Vee Sanford's runner that sent No. 11 Dayton past No. 6 Ohio State and ending with the dunk show that Aaron Gordon put on for No. 1 Arizona.
In between, we unbelievably only had one true buzzer-beater — Cameron Ridley dispatching No. 10 Arizona State — but we did manage to put together the best day of Round of 64 games ever and the single best college basketball game since Louisville beat Michigan for the 2013 title.
We now have just 16 teams left in the dance. Here is our list of the eight most important individual matchups in the Sweet 16:
MORE: Top 16 players in the Sweet 16 | Sweet 16 Preview | Sweet 16 Power Rankings
Deandre Kane vs. Shabazz Napier: Two of the best point guards in the country. The engines driving two of the best offenses in the country. Two all-americans going head-to-head. You don't really need any analysis here, just enjoy the fireworks.
Glenn Robinson III vs. Jarnell Stokes: I'm not sure if these two will end up guarding each other, but the fact of the matter is this: Tennessee has a massive, physical front line that can be overwhelming when Stokes plays the way he has this tournament. Michigan often uses Robinson as their four and plays a finesse game compared to Tennessee's power. What wins out?
Nick Johnson vs. Xavier Thames: This is simple: Xavier Thames is San Diego State's offense. Case in point: late in the win over North Dakota State, his 30 points and eight assists accounted for 46 of SDSU's 55 points and 15 of their 19 field goals. Nick Johnson is one of the best defenders in the country. Slow down the all-american Thames, beat SDSU.
Frank Kaminsky vs. Isaiah Austin: Baylor beat Creighton because they were able to stretch out their 2-3 zone, hug the Creighton shooters and dare the Bluejays to try to score over Isaiah Austin in the paint. Wisconsin takes 40% of the field goals from beyond the arc, which is top 40 nationally. If Scott Drew employs the same tweak in his zone on Thursday night, Kaminsky will become the most important player on the floor.
Russ Smith vs. the Harrison twins: The most fun matchup in the Louisville-Kentucky game will be Julius Randle vs. Montrezl Harrell, but the most important will be between Russ Smith and the Harrisons. Smith, as well as Terry Rozier and Chris Jones, are going to have to get the Wildcats sped up and force some live-ball turnovers. Offensively, Smith needs to play like the guy that was a first-team all-american, not the guy that shot 6-for-19 with 11 turnovers in the first weekend.
Devin Oliver and Dyshawn Pierre vs. Josh Heustis and Dwight Powell: Stanford beat Kansas because their size overwhelmed a smaller Jayhawk front line. Oliver and Pierre and unquestionably smaller than Powell and Heustis, but they are more skilled on the perimeter than some of the Jayhawk fours. They'll need to take advantage of that if Dayton wants to make the Elite 8.
Akil Mitchell vs. Adreian Payne: There may not be a more physically overwhelming player in the Sweet 16 than Adreian Payne. If he has a flaw, it's that he can be inconsistent, even quiet, at times. Akil Mitchell, as well as Mike Tobey and Anthony Gill, will be charged with keeping the big fella in check. Gary Harris might be Michigan State's best player, but when Payne gets it going, Michigan State can be near-unbeatable.
Scottie Wilbekin vs. UCLA's defense: Florida is not the kind of team that gets blown out. They're good enough on the defensive end of the floor that even a team that can put up points the way that UCLA can won't be running away from them. And assuming this does come down to being a close game, the guy that Florida goes to in the clutch is Scottie Wilbekin. He's their closer. Keep him from getting big buckets in big moments, and the Bruins will have a chance to pull an upset.