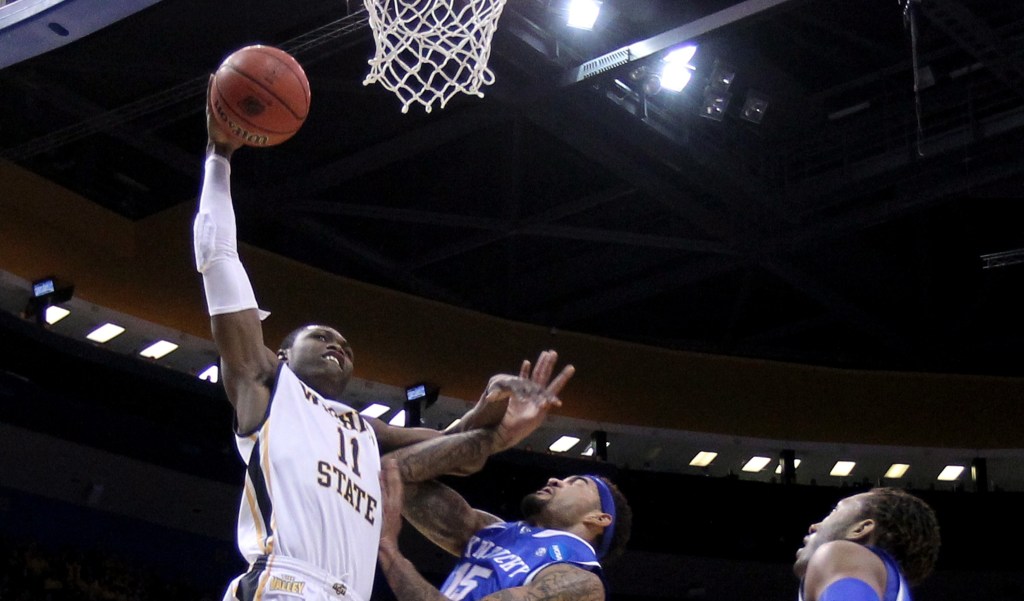 GAME OF THE DAY: No. 8 Kentucky 78, No. 1 Wichita State 76
The best game of the season. It's not really all that close, either. Playing in front of a packed house, a team full of NBA draft picks that was supposed to go 40-0 spent 40 minutes going blow-for-blow with a team of junkyard dogs that actually had a chance to go undefeated. Story lines on top of story lines. More than enough hype. College basketball at its best.
Oh, and our Scott Phillips was court side. Here's what he wrote off of the game:
Hype was justified | How good can Kentucky be? | One loss ruins Wichita State's season?
IMPORTANT OUTCOMES
1. No. 10 Stanford 60, No. 2 Kansas 57: Unfortunately for Kansas, they picked the wrong time of the year to go absolutely ice cold from beyond the arc. Stanford controlled the paint on both ends of the floor, benefitting from Joel Embiid's absence, as they survived a late rally to beat the Jayhawks and advance to face No. 11 Dayton in the Sweet 16.
2. No. 3 Iowa State 85, No. 6 North Carolina 83: The Cyclones played without Georges Niang, who had a broken foot, but got 24 points, 10 boards and seven assists from DeAndre Kane, including a game-winning layup with 1.6 seconds left, to advance to the Sweet 16. UNC never got a shot off in one of the weirder finishes that you'll ever see.
3. No. 6 Baylor 85, No. 3 Creighton 55: The Bears went all Creighton on the Bluejays, shooting 63.8% from the floor and hitting 11 threes in a game that was never in doubt.
STARRED
1. Jarnell Stokes, Tennessee: The Hulk. Stokes had 17 points, 18 boards (Stephen F. Austin had 19 as a team) and five assists as the No. 11 Vols knocked off the No. 14 Lumberjacks. He's averaging 15 boards in the tournament.
2. Aaron Gordon and Rondae Hollis-Jefferson, Arizona: They combined for 36 points, 11 boards, 11 assists, five steals and four blocks. Oh, and about ten ridiculous dunks. Arizona beat Gonzaga, by the way.
3. Jordan Adams, UCLA: He scored 19 points as the Bruins made their first Sweet 16 in five years.
STRUGGLED
1. Andrew Wiggins, Kansas: In the most important game of his career, Wiggins shot 1-for-6 from the floor and finished with as many turnover (four) as points. It was not his best outing.
2. Memphis Tigers: Josh Pastner's club got smacked around by No. 1 Virginia, but the real damage was done in the last nine minutes of the first half. Memphis shot 2-for-14 from the floor and scored just four points as Virginia turned a one-point deficit into a 15 point lead.
3. Creighton Bluejays: They shot 5-for-24 from three. Creighton can't win that way. Tough to see this group of seniors have their career end on a night like this.