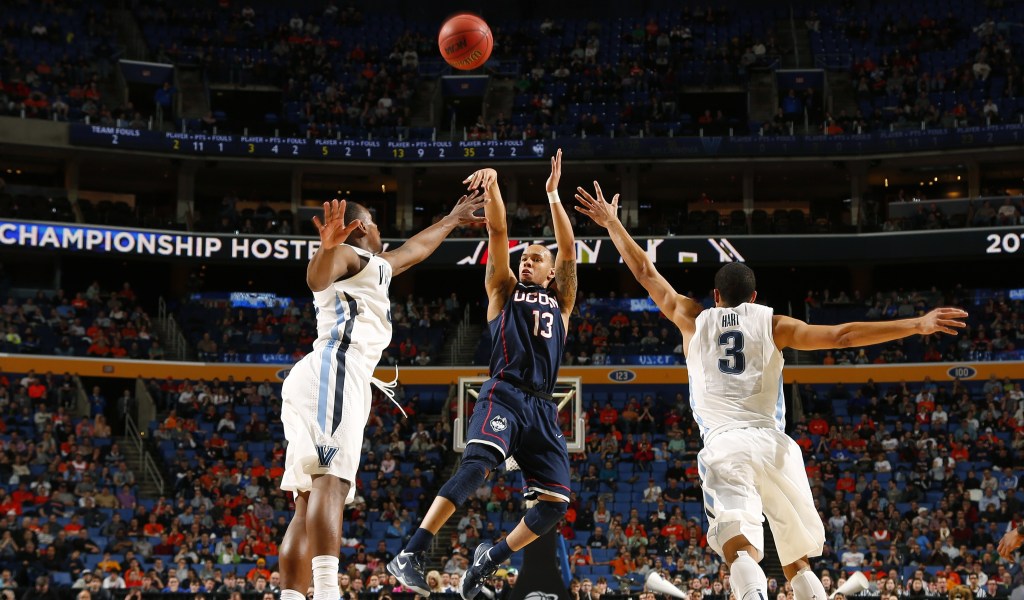 Shabazz Napier has already earned a permanent place in the hearts of UConn fans, but he took a major step in the pursuit of his Kemba Walker moment on Saturday night.
With the No. 7 seed Huskies locked in a battle with No. 2 Villanova, a former Big East rival, Napier buried three straight ridiculous three to extend the UConn lead to as much as 11 points in a 77-65 upset that didn't really feel all that much like an upset.
In total, Napier scored 21 of his 25 points in the second half despite the fact that: A) he played just eight first half minutes thanks to foul trouble, B) he rolled his left ankle on a jump shot in the first half and C) he suffered some kind of shin injury in the second half that left him writhing in pain and with a bag of ice on his leg before the final buzzer had sounded.
It was just another in a long line of dominant, clutch performances from UConn's leader this season, far too many to list here.
But here's the better news: UConn caught a break when they were placed in the East Region. The Sweet 16 and the Elite 8 will be played Madison Square Garden, and as any fan of the Big East will tell you, when UConn plays at the Garden, the Garden is packed. It may not be a home game, per se, but with the winner of No. 3 Iowa State — who will be without Georges Niang — and No. 6 North Carolina up next, there's no reason to believe that the Huskies can't pull off a run.
Particularly if they get this kind of play out of Napier.
Here's the irony, however.
As good as Napier was, the most important part of this game was the play that UConn got off the bench from the likes of Lasan Kromah and Terrence Samuel. Think about it like this: Napier played eight minutes in the first half. Ryan Boatright and DeAndre Daniels finished the night a combined 7-for-22 from the floor. If it wasn't for Kroman and Samuel combining for 23 points off the bench, the Huskies would not have led at halftime and they would not be heading to the Garden.
But they did, and they are.