In four seasons at Creighton University, senior forward Doug McDermott established himself as one of the greatest scorers in the history of the sport. With 3,150 points, McDermott ranks fifth on the NCAA's all-time scoring list, but to look at his career is to reveal that he had an impact that went well beyond the scoring column.
Creighton made three NCAA tournament appearances during his college career, and that run of excellence helped put the program in position to make the move from the Missouri Valley Conference to the Big East. The change in leagues gave both McDermott and the program as a whole another stage on which to perform, and the Big East Player of the Year didn't miss a beat in his lone season in the conference.
Unfortunately as the saying goes all good things must come to an end, and that proved to be the case for McDermott and his fellow seniors (Grant Gibbs, Jahenns Manigat and Ethan Wragge) in No. 3 Creighton's 85-55 loss to No. 6 Baylor on Sunday.
MORE: Baylor clicks on both end in emphatic victory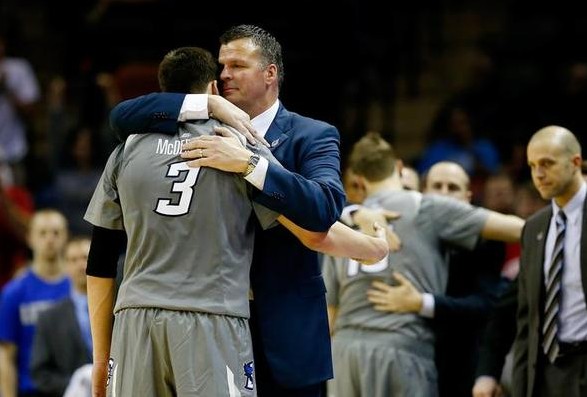 Baylor's primary goal was to keep McDermott from getting comfortable offensively, and they were successful through the use of their length and a zone defense that took on various looks throughout the night. McDermott would once again reach double figures, scoring 15 points, but he did so on 14 shot attempts and did not make a single three-pointer. And with his teammates also struggling to connect from the perimeter (5-for-24 3PT), this spelled doom against a Baylor team that supplemented its defensive effort with some hot shooting on the other end.
To say the least it was a tough way to go out, as any athlete hopes to have their career end in positive fashion. Creighton won an NCAA tournament game in each of the last three seasons, but they were unable to reach the second weekend. However that final line in the story that is Doug McDermott's college career won't take away from what he and his teammates were able to accomplish.
"This is the worst we've played all season, and it just stinks that it's the last one," McDermott said after the loss. "But that doesn't take away from all my memories here.  It's tough to go out this way.  We still won three games in the NCAA tournament the last three years.
"Not a lot of teams say they can do that three straight years to win a game, but it's hard to end on something like this."