FRIDAY'S SCHEDULE (all times ET)
12:15 p.m.: No. 3 Duke vs. No. 14 Mercer (CBS)
12:30 p.m.: No. 6 Baylor vs. No. 11 Nebraska (Tru TV)
1:30 p.m.: No. 7 New Mexico vs. No. 10 Stanford (TBS)
2:00 p.m.: No. 1 Arizona vs. No. 16 Weber State (TNT)
—————
2:30 p.m.: No. 6 UMass vs. No. 11 Tennessee (CBS)
3:00 p.m.: No. 3 Creighton vs. No. 14 Louisiana-Lafayette (Tru TV)
4:00 p.m.: No. 2 Kansas vs. No. 15 Eastern Kentucky (TBS)
4:30 p.m.: No. 8 Gonzaga vs. No. 9 Oklahoma State (TNT)
—————
6:55 p.m.: No. 8 Memphis vs. No. 9 George Washington (TBS)
7:00 p.m.: No. 1 Wichita State vs. No. 16 Cal Poly (CBS)
7:15 p:m.: No. 6 North Carolina vs. No. 11 Providence (TNT)
7:25 p.m.: No. 5 VCU vs. No. 12 Stephen F. Austin (Tru-TV)
—————
9:15 p.m.: No. 1 Virginia vs. No. 16 Coastal Carolina (TBS)
9:30 p.m.: No. 8 Kentucky vs. No. 9 Kansas State (CBS)
9:45 p.m.: No. 3 Iowa State vs. No. 14 North Carolina Central (TNT)
9:55 p.m.: No. 4 UCLA vs. No. 13 Tulsa (Tru-TV)
RECAP: Catch up on all of Thursday's NCAA tournament action
GAME OF THE DAY: No. 7 New Mexico vs. No. 10 Stanford
The game itself is all kinds of intriguing. Stanford actually has the kind of size and versatility up front that could give the Lobos all kinds of problems, which Chasson Randle will be a tough cover for Kendall Williams. But there is also a lot riding on this game. You see, New Mexico, if they can get past the Cardinal, look like a team that could beat No. 2 seed Kansas in the Round of 32.
THE OTHER GAME OF THE DAY: No. 8 Gonzaga vs. No. 9 Oklahoma State
Marcus Smart has been playing some of the best basketball of his collegiate career since he got back from his suspension. When he plays this way — not forcing shots, not turning the ball over, within the framework of the offense, etc. — the Cowboys are a dangerous, and Gonzaga doesn't really have anyone that can guard him and Markel Brown. The problem? Gonzaga has a big, physical front line, which is their strength this season, and Oklahoma State's front court depth is non-existent. Foul trouble for Le'Bryan Nash will be the key.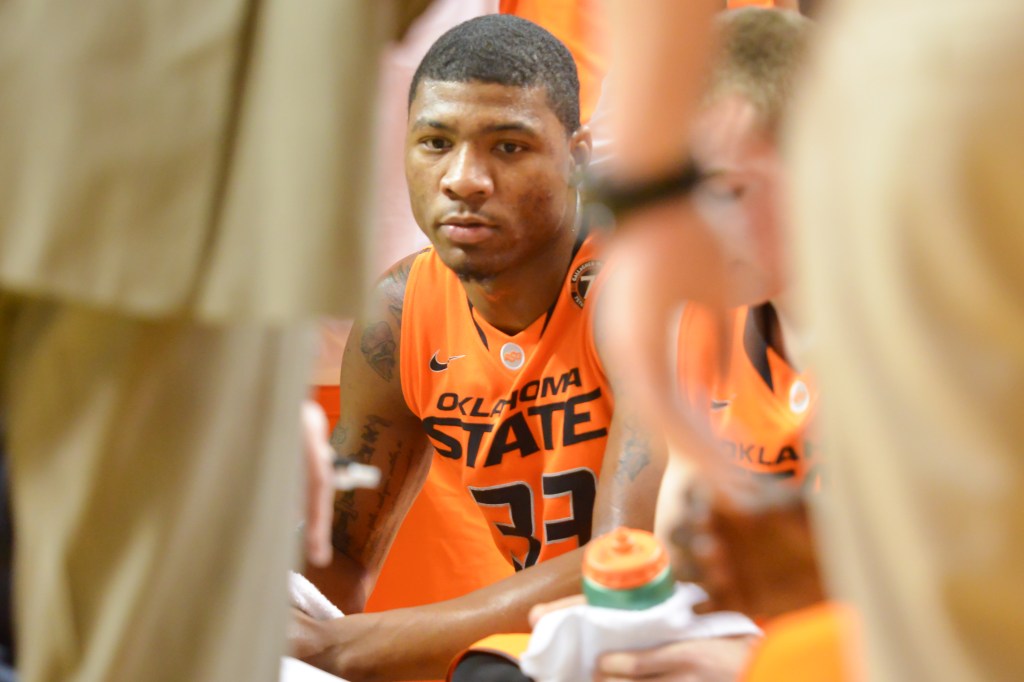 WHO'S GETTING UPSET?: No. 6 UMass vs. No. 11 Tennessee
I love Chaz Williams, but I'm not sure the top of the Atlantic 10 is quite as good as we made them out to be. Antonio Barton will have his work cut out slowing Williams down, but if he can, the Minutemen are going to have a nightmares about the physicality of Jeronne Maymon and Jarnell Stokes. Look for a big day from Jordan McRae.
WHO ELSE IS GETTING UPSET?: No. 5 VCU vs. No. 12 Stephen F. Austin
Stephen F. Austin has been a trendy pick all week long, and I don't blame anyone that went with them in their bracket. It looks all the more likely now that Melvin Johnson is out for VCU. He's their best shooter, and where the Rams struggle is when you can bog them down in the half court. No Johnson makes them that much less effective in a slow-paced game.
WATCH: Cameron Ridley's buzzer-beater | Vee Sanford's game-winner
FOUR KEY INDIVIDUAL MATCHUPS
No. 6 North Carolina vs. No. 11 Providence: Marcus Paige vs. Bryce Cotton, two of the nation's most underappreciated point guards. It won't get much better than that.
No. 3 Duke vs. No. 14 Mercer: Two matchups here that will be fun to watch: how Mercer tries to slow down Jabari Parker, and how Duke matches up with Langston Hall.
No. 8 Kentucky vs. No. 9 Kansas State: Julius Randle is usually bothered by length more than strength. Kansas State has a ton of strength up front, but they're not all that big.
No. 3 Creighton vs. No. 14 Louisiana-Lafayette: With the obvious acknowledgement that Doug McDermott and Elfrid Payton are the two stars, I think the matchup between Ethan Wragge and Shawn Long will be the key. Long is a big and burly post, Wragge is not. But Wragge has range out to 30 feet, and Long isn't going to want to chase him all over the floor.
YOU CAN IGNORE THESE (UNLESS THEY'RE CLOSE LATE!):
No. 1 Arizona vs. No. 16 Weber State
No. 2 Kansas vs. No. 15 Eastern Kentucky
No. 1 Wichita State vs. No. 16 Cal Poly
No. 1 Virginia vs. No. 16 Coastal Carolina
NOTABLES
No. 6 Baylor vs. No. 11 Nebraska: The Cornhuskers have one of the nation's most clutch shooters and best bad shot makers in Terran Petteway. How will he do against Baylor's zone defense?
No. 8 Memphis vs. No. 9 George Washington: Perhaps the most intriguing tactical matchup of the day: how will the Tigers handle GW's 1-3-1 zone?
No. 3 Iowa State vs. No. 14 North Carolina Central: NCCU's head coach LeVelle Moton's one-year old son is in the hospital after having hot coffee spilled on him. The good news? LeVelle Jr. should be fine.
No. 4 UCLA vs. No. 13 Tulsa: Danny Manning's Golden Hurricane better find a way to slow down UCLA's run-and-gun game.