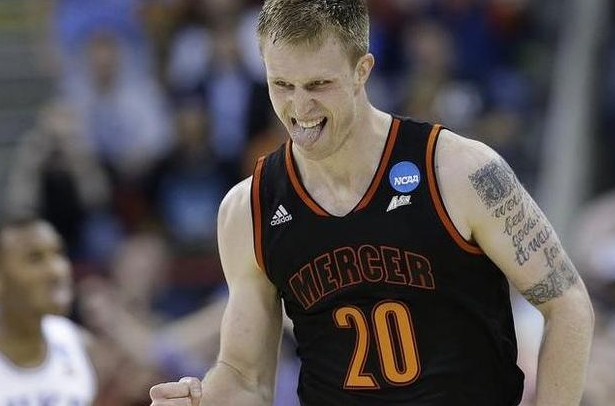 Down goes Duke.
Jakob Gollob led five players in double figures with 18 points and No. 14 Mercer held Rodney Hood and Jabari Parker to a combined 6-for-24 shooting from the floor as the Bears handed the Blue Devils their second shocking Round of 64 upset in three years, 76-68. Duke lost to No. 15 Lehigh in the opening round as a No. 2 seed in 2012.
And with that, the celebration was on.
"You're never too old to celebrate," a fired up Bob Hoffman, Mercer's head coach, told Rachel Nichols on CBS after the game. "Unbelievable what theses dudes believe about each other and they can accomplish. That's the kind of heart it takes, and it's amazing what they've done the last three years, believing at the highest level that they can accomplish what they did today."
MORE: Lehigh, FGCU send regards | Mercer guard can dance | Duke's worst tourney losses
The Bears shot 55.6% from the floor, taking full advantage of the issues that Duke has had defensively all season long. They attacked Hood and Parker in pick-and-roll actions, conceding offensive rebounds in exchange for taking away Duke's transition game.
More important, however, was the job that the Bears did defensively. Hoffman did his homework. The way to beat Duke is to play a zone, force them to become a jump-shooting team and dare them to try and cram the ball into the paint. The Blue Devils hit 15 threes and they grabbed 16 offensive rebound, but as a team they shot just 35.5% from the field and got nothing out of their two stars. Parker didn't touches in the post and Duke didn't get the ball into the high post nearly enough. It was a constant theme this season — the same thing happened against Clemson, Notre Dame, Wake Forest and North Carolina — and it came back to bite the Blue Devils at the wrong time.
That said, this is a very good, and very motivated, Mercer team. They beat both Seton Hall and Ole Miss this season, losing by three at Texas and hanging with Oklahoma in Norman. They have seven seniors that had to sit home and watch the team that they beat out for last season's Atlantic Sun regular season title, Florida-Gulf Coast, make a run to the Sweet 16.
You don't think that that had been stewing inside them all offseason?
You don't think that Hoffman reminded them of that fact in every single practice?
It's not fun watching a team you believe you're better than become a global phenomenon. Mercer wanted their moment in the sun, and they got it.
They're advance to fact the winner of this afternoon's game between No. 6 UMass and No. 11 Tennessee, two teams that the Bears are well-equipped to beat.
Just how far can Mercer go?
"With these guys?" Hoffman said. "I don't know who's beating us."