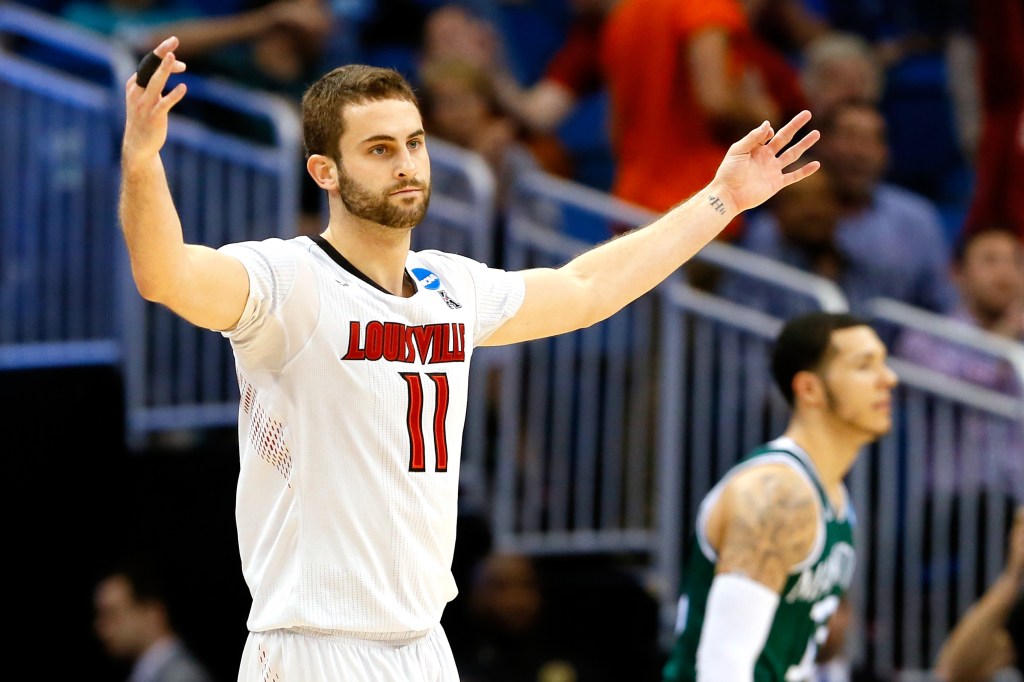 Luke Hancock scored eight straight points for No. 4 Louisville in the final 1:53 as the Cardinals avoided a massive upset on the NCAA tournament's opening day with a 71-64 win over No. 13 Manhattan.
Hancock finished the night with 16 points, four assists and four boards. He set up Russ Smith for a three to tie the game at 58 with a little more than three minutes left, and after the two teams traded buckets, Hancock stole a floating, cross court pass and drew a foul, hitting both free throws. On the next two Louisville possessions, Hancock drilled threes, which put Manhattan to sleep.
Louisville's performance will be cause for concern for Cards fans and anyone that bought into the hype and picked Rick Pitino's club to make a run in the tournament. That's what happens when a National Title favorite shoots 36.5% from the floor while their All-American, Smith, goes 3-for-9 with six turnovers.
But it's important to remember here that Manhattan's head coach, Steve Masiello, is about as close to Pitino as a coach can get. He was Pitino's ball boy when Pitino was the head coach of the Knicks. He was a walk-on for Pitino at Kentucky. He was an assistant with the Cardinals for six years. And, as Pitino said after the game, his coaching style — the offense he runs, the defense he employs — is more similar to Pitino's style than any other member of his coaching tree.
It got to the point that reporters court side at the game could hear Masiello calling out Louisville's offenses and what they were running while they were running it.
That's tough to play against, particularly when going up against a team that's not going to be bothered by the things that Louisville does well.
As the saying goes, styles win the fight, and Manhattan's style just so happened to match up well against Louisville.
And frankly, I'm more worried about the fact that Smith landed funny and played the second half with take on his thumb and wrist than I am worried about a close win over the Jaspers.
Louisville will advance to take on No. 5 Saint Louis, who erased a 14-point lead in the final five minutes to beat No. 12 N.C. State on Thursday afternoon.