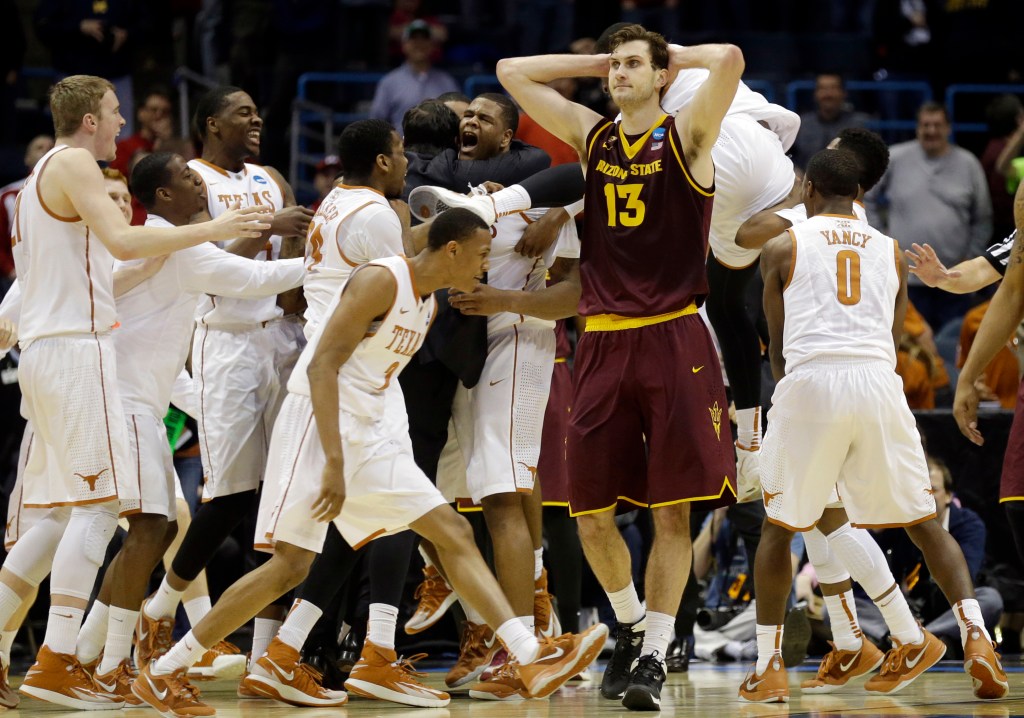 MILWAUKEE — Rick Barnes emerged from the Texas locker room a happy man. With a big smile on his face, the Texas head coach walked through the media members and Texas basketball staff standing in the hallway and happily slapped everyone in his path on the shoulder as he briskly moved towards the NCAA's mandatory post-game press conference.
Following behind him was gentle giant Cameron Ridley, the 6-foot-10 sophomore center who had just put No. 7 seed Texas in the next round with his first career buzzer-beater in a thrilling 87-85 win over No. 10 seed Arizona State.
Barnes quickly left Ridley and sophomore teammate Demarcus Holland in the dust as the three made their way towards the press conference. As Barnes enthusiastically marched through the long and winding underbelly of the BMO Harris Bradley Center, Ridley and Holland took their time and shared some laughs. Texas assistant athletic director Scott McConnell soon caught up to the duo in the hallway and began asking them questions about the chaotic final play.
With the game tied at 85, Texas had the final possession as the clock was winding down and the ball found its way to junior forward Jonathan Holmes on the left wing.
"Some guys were confused by what we were doing. Some guys knew that it was supposed to be a screen and a re-screen for Javan (Felix) but I think three guys out there didn't know that," Holmes said of the final, broken play that continued the Longhorns' season. "There was six seconds left so I tried to just pop out and get open and my man backed off and let me get a shot off."
Holland, Holmes and Ridley all believed the shot was going in but it went long, bounced on the floor and Ridley corralled the loose ball and flipped it off the glass with his left hand to put Texas into the next round.
"I knew it was about five seconds left when Javan called the play for Jon (Holmes)," Ridley said. "I expected Jon to make it and I went to the glass as hard as I could and the ball came to me and I put it up as quick as I possibly could and it went in."
"Unbelievable," Holmes said smiling and shaking his head about the final play. "The lowest you've ever felt followed by the highest you've ever felt and it all happens in .2 seconds. I'm not going to be able to sleep tonight."
Centers aren't usually known for making heroic, buzzer-beating shots and the soft-spoken Ridley is not much of a talker. As an elite high school prospect from Houston, Ridley shyly gave short answers to most questions, but he's since graduated to quietly answering questions in a few sentences while mainly fixating on the podium below.
If Ridley wasn't looking at the podium, he shared a quick glance and a smile with Holland, almost in disbelief that he was the center of everyone's attention for a NCAA Tournament buzzer-beater.
"I've never made a game-winner in my life. To walk off the court and know that you're the one that made the play to take us to the next round, it's a great feeling," Ridley said.
Walking back to the locker room after the press conference, Ridley and Holland went right past the Arizona State locker room. There, a hoard of Sun Devil admirers had gathered with their heads down waiting outside the locker room to greet their fallen comrades.
The Arizona State faithful looked up, noticed Ridley walking past them and quickly looked back down again. It seemed none of them could stand to stare at the giant that had just crushed their March dreams.
Ridley continued to stroll the hallway at a casual pace with Holland, nervously dancing his knuckles along the wall in a rhythmic pattern as they made their way back to the Texas locker room. The nervous energy was a dead giveaway that Ridley knew he was about to be swarmed with even more media attention.
First came an on-camera interview with Longhorn Network's Kaylee Hartung. Hartung remarked that she wished she had worn heels as Ridley towered over her during the interview. The sophomore center spoke so softly that you couldn't hear him from a few feet away as a long line of media members began to form behind the duo, awaiting their crack at the newest star of March Madness.
"I think he'll be able to handle it," Holmes said of Ridley's newfound March stardom. "He's a humble guy and he cares about us; it's all about the team with him. He's going to be able to handle it and keep it all under control. I'm happy we were able to come up with the win, but I'm happy that it was Cam that was able to come through because it's going to do a lot for his confidence going forward."
If you put a microphone in Cameron Ridley's face, he might not be the most polished or charismatic speaker, but the sophomore did his talking with the buzzer-beating play that everyone will be talking about for quite some time.
And for now, that's good enough for the Longhorns.