MILWAUKEE — After an uneventful day of double-digits games at the BMO Harris Bradley Center, fans were treated to a great game in the nightcap as No. 7 seed Texas held off No. 10 seed Arizona State, 87-85, in a Midwest Regional Round of 64 clash.
Texas held a 14-point, second-half lead but the Sun Devils charged back into the game behind a balanced scoring effort and the hot second-half shooting of junior forward Jonathan Gilling.
With Texas clinging to an 82-81 lead with under a minute remaining, Arizona State point guard Jahii Carson drove from the right wing and fed senior center Jordan Bachynski under the hoop for the thunderous, go-ahead dunk with 45 seconds remaining.
On the ensuing possession, Texas sophomore point guard Javan Felix airballed a three-pointer from the corner, but it was recovered on the offensive glass by junior forward Jonathan Holmes for a three-point play as Holmes was fouled underneath by Gilling while scoring on the putback.
Arizona State went for a three-pointer from senior wing Jermaine Marshall on its final possession, but his attempt went long only to be recovered by Gilling, who was fouled and made two free throws to tie the game at 85.
On the game's final possession, Holmes attempted an NBA-range three-pointer with four seconds left that drew iron and missed, but sophomore center Cameron Ridley gathered the offensive rebound and put up the game-winning layup with his left hand as the buzzer sounded.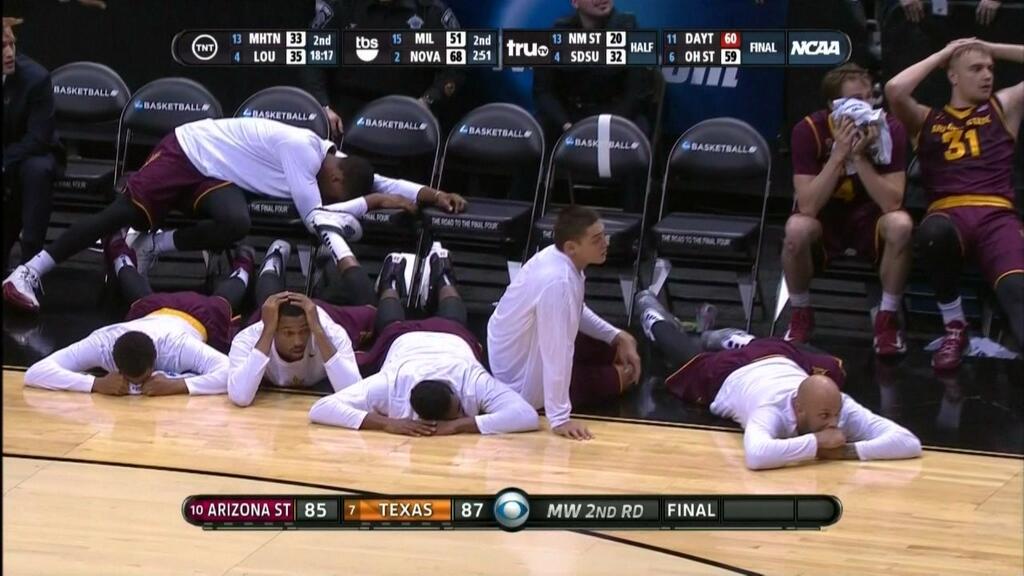 After a review from the officials, the basket stood and No. 7 seed Texas was declared the winner.
Ridley paced Texas with 17 points and 12 rebounds while Martez Walker (16 points), Demarcus Holland (14 points), Holmes (11 points), Felix (11 points) and point guard Isaiah Taylor (11 points) all finished in double-figures as well for the Longhorns.
Bachynski led Arizona State with 25 points while Carson added 19 points and Marshall chipped in 17. Gilling scored 12 of his 15 points in the second half.
Texas finished the game shooting 53.4 percent from the field (31-for-58) after shooting a blistering 59 percent from the field in the first half.
The Longhorns move on to face No. 2 seed Michigan on Saturday in the Midwest Regional's Round of 32.