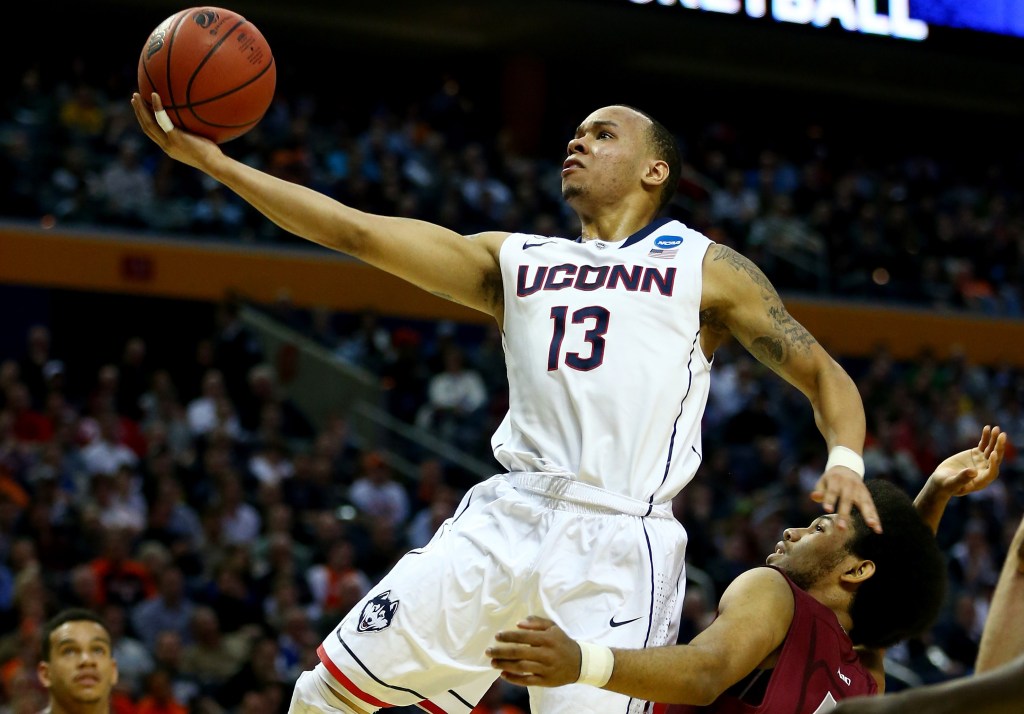 Shabazz Napier scored 19 of his 24 points after halftime, nine of which came in overtime, as No. 7 UConn landed a come-from-behind overtime win over No. 10 St. Joseph's, 89-81.
The Huskies will advance to face the winner of No. 2 Villanova and No. 15 Milwaukee.
The Hawks were in control for much of the first half, but UConn made their run in the second half turning the final 10 minutes of this game into one of the more entertaining stretches of basketball that you are going to see in this tournament. The two team traded big buckets and exchanged the lead a number of times down the stretch, and we came within a couple of inches of what would have been one of the all-time great buzzer-beaters.
UConn had a chance to win at the end of regulation, but after a tremendous inbounds play reminiscent of the play that made Valparaiso's Bryce Drew immortal, Napier missed a running three at the buzzer.
The game changed in overtime when Halil Kanicevic fouled out early in overtime. He's the sparkplug for everything that the Hawks do offensively, and without him on the floor, the Hawks looked lost.
The good news for the Huskies is that they were able to get this win on a night where Napier did not play his best. He made some big shots — and clutch free throws — down the stretch and added six assists and eight boards, but he shot 7-for-22 from the floor and was thrown off his game when Phil Martelli made the decision to put the longer, more athletic DeAndre Bembry on him.
DeAndre Daniels played one of his better games, finishing with 18 points, while Ryan Boatright added 17 points, many of which kept UConn within striking distance as Napier struggled through the first half. It also should be noted that UConn's 7-foot freshman Amida Briah finished with nine points and six boards, grabbing key offensive rebounds and hitting some clutch free throws. With the Huskies down by three in the final minute, he grabbed an offensive rebound and got the putback plus the foul to tie the game at 70.