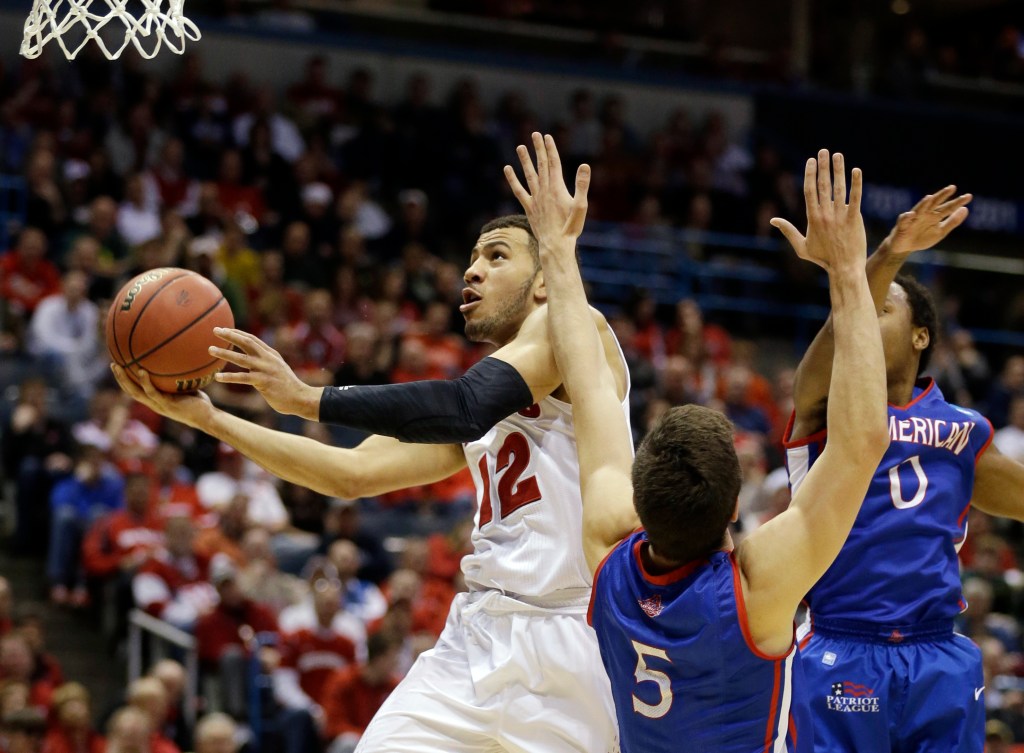 MILWAUKEE — After a slow start that saw No. 15 seed American jump out to an early first-half lead, No. 2 seed Wisconsin settled down, made some shots and got the pro-Badger crowd involved as the Badgers breezed to a 75-35 win on Thursday in the opening Round of 64 West Region game in Milwaukee.
With the nearly-full Bradley Center turned into Kohl Center East on Thursday, the Badgers slowly grew comfortable defending American's methodical Princeton-style offense and cruised to victory once they started knocking down shots and forcing turnovers.
The Wisconsin (27-7) defense held American (20-13) to 29 percent shooting (11-for-37) — including 15 percent shooting in the second half (3-for-19) — as senior guard Traevon Jackson led the Badgers with 18 points while senior guard Ben Brust added 17 points and sophomore forward Sam Dekker added 11 points.
After jumping out to a 19-13 lead with 8:53 remaining in the first half, the Eagles only mustered 16 points the last 28:53 of the game as American struggled to knock down shots and turnovers became a factor. Wisconsin's defense forced 17 American turnovers and also tightened up after allowing some easy looks from the Eagle offense off of dribble hand-offs early in the first half.
The Eagles were led by junior guard John Schoof and senior center Tony Wroblicky, as they each finished with 11.
Wisconsin now moves on to face the winner of the No. 7 seed Oregon and No. 10 seed BYU game on Saturday at the Bradley Center.