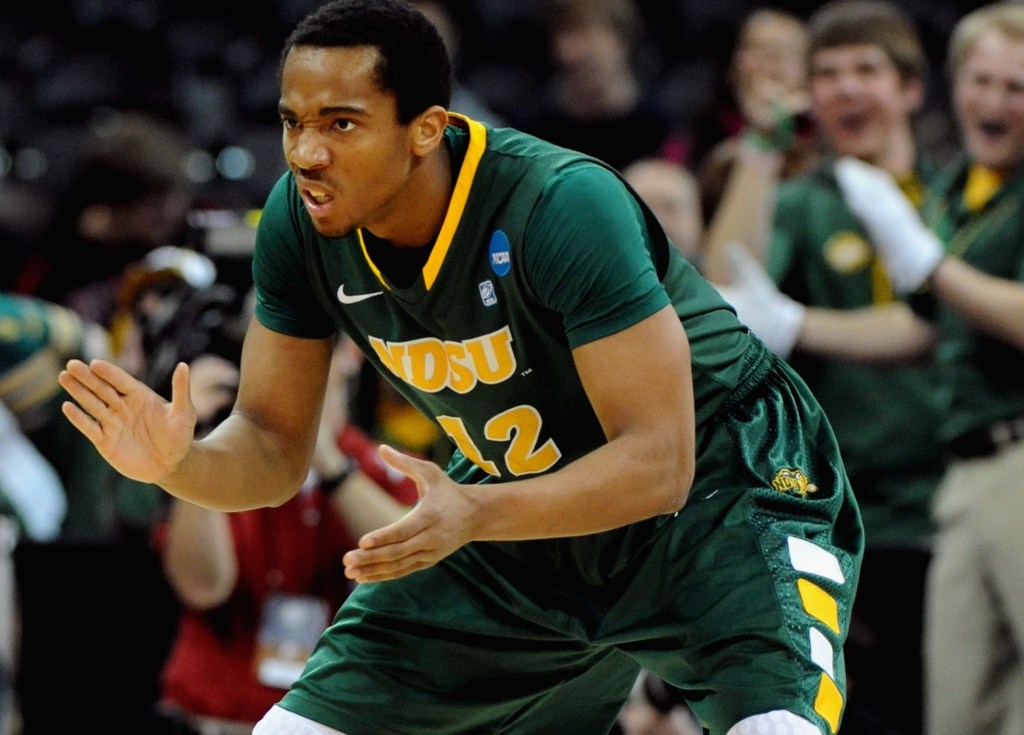 Carlin Dupree had not played a second for No. 12 North Dakota State in regulation, and if it wasn't for a dumb reach-in foul by Summit League Player of the Year Taylor Braun with 1:18 left in overtime, he would have spent the entire evening on the bench.
But Braun did reach-in. And that was his fifth foul. And after Cameron Clark hit a pair of free throws, the Bison found themselves in the final minute of a tie game against No. 5 Oklahoma with Dupree, a freshman that was getting his first minutes of the night, handling the ball.
WATCH: North Dakota State's locker room celebration
The first time he touched the ball, Dupree was fouled, calmly stepping to the free throw line and burying both free throws just four seconds after he stepped onto the court. Less than a minute later, on the ensuing possession, Dupree drove baseline and finished a floater over Oklahoma's Ryan Spangler, giving the Bison a 76-72 lead with just 42 ticks left on the clock.
And that was it.
The Sooners would never get closer than that, and the Bison, who had seen their all-conference center, Marshall Bjorklund, foul out at the end of regulation, advanced to take on the winner of No. 4 San Diego State and No. 13 New Mexico State with an 80-75 win.
"I'm elated the way we did," NDSU head coach Saul Phillips said in a postgame interview. "How about Carlin Bupree? We were just telling him a lot of the year, 'hold on, we're going to need you, we're going to need you.'"
It's fairly impressive that the Bison were even able to get this game into overtime. NDSU blew an eight-point halftime lead and trailed 66-63 with less than 20 seconds left in regulation, but Braun — who was 3-for-11 and scored just 11 points on the night — was able to find Lawrence Alexander for a three to tie the game and force the extra period.
Alexander was just terrific on Thursday night, finishing with 28 points, eight boards and four assists on 10-for-15 shooting, leading four players in double-figures.
Here's the better news: the Bison did not matchup well with Oklahoma on paper. They play a pack-line defense, which essentially means that they play man-to-man, pack in their defense and dare you to try to shoot jump shots over the top of them. It worked against the Sooners, thanks in large part to the job that Braun did on Oklahoma's Buddy Hield (4-for-14 shooting, 1-for-9 from three), and it should work even better against San Diego State, assuming they beat New Mexico State.
The Aztecs have a ton of size and athleticism on their roster, but outside of Xavier Thames, they don't really have any perimeter shooting.
America, you may have just met your 2014 Cinderella.
Phillips isn't worried about that yet, however.
He's just happy "we get to keep playing!"