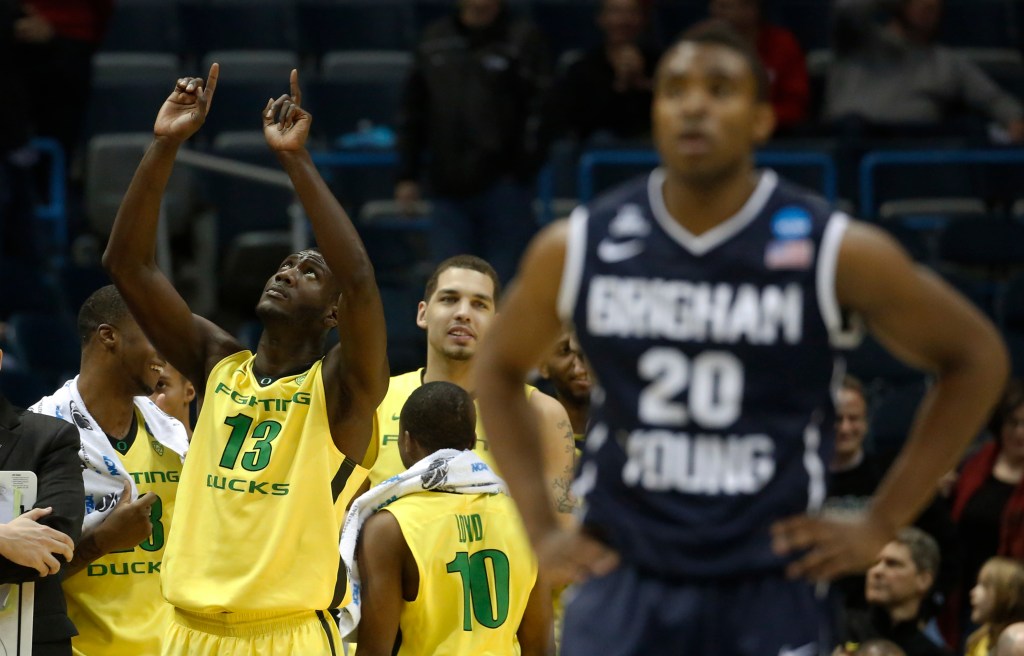 MILWAUKEE — After No. 7 seed Oregon's 87-68 win over No. 10 seed BYU on Thursday, the Ducks' locker room wasn't the typical scene you would expect after a big Oregon win.
Milwaukee-native Elgin Cook had a career game of 23 points and eight rebounds so the television cameras and reporters in the locker room crowded around the redshirt sophomore reserve forward as Oregon's starters mostly sat around waiting to be addressed by reporters.
"Elgin was definitely the player of the game. He really gave this home crowd something to take home with them," Oregon senior forward Mike Moser said. "You could say it's kind of a surprise, but we see him every day and he's one of the most athletic guys on the team so when we see him take the ball and dunk it on somebody's head, it doesn't surprise us. It's more of, 'It's about time.'"
With reserves like Cook stepping up for a deep Oregon team, is it about time for the Ducks to make another surprise NCAA Tournament run?
The Ducks advanced to the Sweet 16 as a No. 12 seed last season after winning the Pac-12 Conference Tournament, and Oregon appears to be peaking at the right time heading into Saturday's game against No. 2 seed Wisconsin in the West Regional's Round of 32.
Performances like the one Cook had against BYU — in which Moser sat most of the second half with foul trouble and the Ducks shot only 2-for-13 from the three-point line after shooting 39 percent as a team this season — show why this Ducks team is once again a major threat to win multiple games in March. Oregon didn't come close to bringing its 'A' game and still easily got past BYU on Thursday. The Ducks flew to the ball for most of the game, got 49 bench points and generally looked the part of a team that wants to make a statement in March.
"It's definitely special, but it wouldn't mean a thing if we didn't get the win," Cook said. "I think our guards did a good job of getting in the middle of the BYU zone and they found where I was comfortable at. My role is to come in, continue to play hard and play Oregon basketball and play as a team."
Since an early February swing in which the Ducks lost by a combined total of four points to NCAA Tournament teams, Arizona and Arizona State, Oregon has rattled off nine wins in its last 10 games, with its only loss coming to 2014 Pac-12 Conference Tournament champion UCLA.
Ten different players played at least 23 games, and averaged 10-plus minutes a game for Oregon this season, so it doesn't matter to the Ducks if a player like Moser gets in foul trouble in the second half of an NCAA Tournament game. Oregon's players have the confidence that someone else will step in and fill the void.
"I was getting back loose and getting ready (to come back in), but thankfully we had guys step up and really close the game out," Moser said of being on the sidelines in the second half. "I told them to just keep playing, even up 20. (At that point) I'm just a coach, (telling them to) just keep playing, play your heart out and don't let them come back."
Cook downplayed his special hometown performance on Thursday, a performance that included his mother appearing on the Bradley Center jumbotron smiling ear-to-ear and the sophomore getting a standing ovation from the Oregon faithful when he exited the game.
The sophomore didn't know how many family and friends came out to see him play on Thursday, but said, "my phone is going crazy right now," as he occasionally looked down at the white iPhone buzzing in his hand.
Oregon appears pretty comfortable in Milwaukee at the moment, even as a sea of Wisconsin red stuck around to see to see the Ducks dismantle BYU. Oregon will basically be playing a road game at Kohl Center East on Saturday against No. 2 seed Wisconsin, but that didn't seem to faze them much after the game.
"I feel if we get stops and we can rebound it won't be a slow-paced game (like Wisconsin wants)," Moser said of facing Wisconsin. "If that happens, we can impose that will that we want to run."
With reserves like Cook stepping up for Moser and solid guard play from Joseph Young, Jason Calliste, Johnathan Loyd and Dominic Artis, the Ducks are confident heading into Saturday's game against Wisconsin.
"The only thing that matters right now is that we continue to win," Cook said. "I've never played at this level, so it's definitely special, but it matters more if we win games."