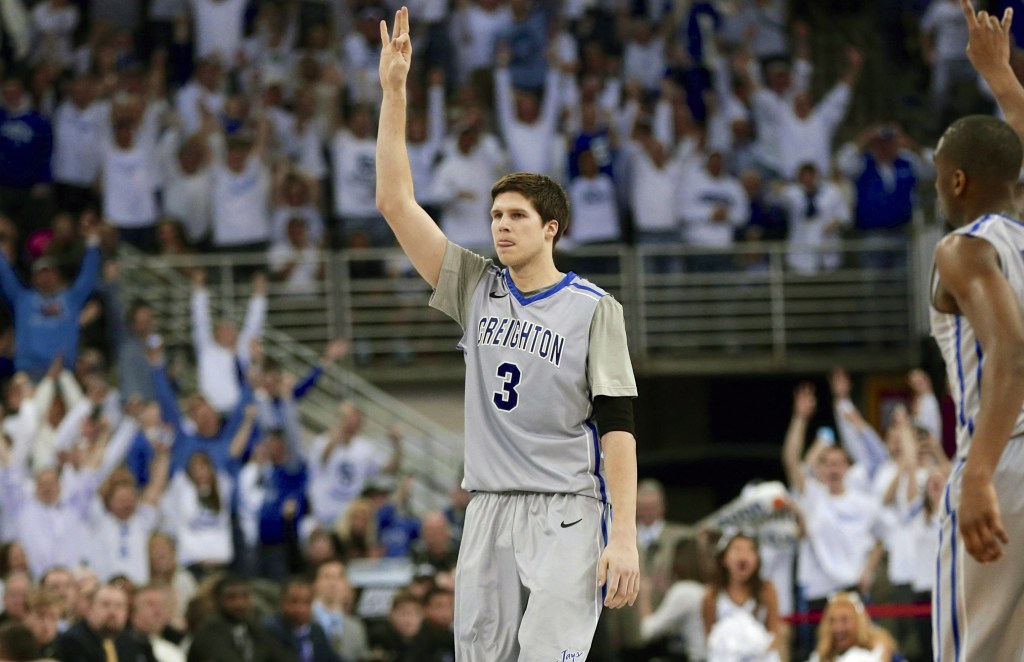 PREVIEWS: Dummy's guide to filling out a bracket  |  7 must-watch games  |  Sleeper teams
March Madness is when heroes get made in college basketball. With the eyes of an entire nation descending upon our sport for a month, getting hot on the court as spring begins to thaw out a polar vortex-induced deep freeze is what can turn a good player into an unforgettable memory, into One Shining Moment. 
Guys like Harold Arceneaux and C.J. McCollum, Danny Manning and Kemba Walker, Bryce Drew and Ali Farokhmanesh. You might not remember who he beat, but you should remember Stephen Curry carrying Davidson to without a shot of the Final Four, or Carmelo Anthony leading Jim Boeheim to his only national title.
Here are 14 players that can turn this into their tournament:
TOP PLAYERS: Lead Guards | Off Guards | Wing Forwards | Big Men
TITLE CONTENDERS
Doug McDermott, Creighton: Dougie McBuckets. The best player in the country. One of the best scorers that we've seen in college basketball history. How good is he? I always use this as an example: McDermott scored 22 points, hitting four threes, and grabbed 12 boards in Creighton's loss at Georgetown earlier this month, and the overriding sentiment was that he had an off-night. Think about that. He can get 35 a night in the tournament and I wouldn't be shocked.
Here's the interesting part: McDermott's career is incredible, but legends get made in March. A deep run in the tournament is the one thing that he's missing on his resume. Will he get it this year?
Jabari Parker, Duke: The easy comparison to make for Jabari Parker at the next level is Carmelo Anthony, and, like Anthony in 2003, Parker will enter the tournament on a team with a No. 3 seed. Parker may be the most difficult matchup in the tournament and has already proven himself capable of carrying the weight for the Blue Devils.
Andrew Wiggins, Kansas: Wiggins has been the most over-analyzed player in the country, but we all saw what he is capable of in the loss at West Virginia the overtime win over Oklahoma State in the last two weeks. With Embiid's status uncertain, if Wiggins can lead Kansas to a Final Four, he'll be the biggest story in college basketball.
Nik Stauskas, Michigan: Wouldn't it be something if Michigan can make back-to-back Final Fours despite losing Trey Burke, Tim Hardaway Jr. and Mitch McGary? If they do, it will be because of Stauskas, who has turned into the focal point for that offensive attack.
Russ Smith, Louisville: It feels weird saying this about a guy that is coming off of a Final Four and a National Title in the past two seasons, but with the change in Smith's role this season, he's become a much bigger part of this team's success. He's capable of carrying the Cardinals to a back-to-back titles.
MORE: 8 teams that can win it all  |  8 that won't  |  TV times  |  Bracket contest
SLEEPERS
Shabazz Napier, UConn: Can Bazz get his Kemba on? He's had that kind of a season for the Huskies this year, hitting big shot after big shot while carrying the Huskies to a No. 7 seed in the Big Dance. He also has a flair for the dramatic. Don't be surprised if when his game-winners make One Shining Moment.
Bryce Cotton, Providence: I'm glad Cotton has gotten a chance to play on a national stage. He's thrived in anonymity for the last four years, and now he can showcase his ability nation-wide. An upset over North Carolina would be a good place to start, but …
Marcus Paige, North Carolina: … he'll be going up against another guard with the ability to take over in Paige. North Carolina has the ability to make a run this year, and Paige is the guy that will carry them. There's a reason is nickname is "second half Paige".
T.J. Warren, N.C. State: 30 times this season, T.J. Warren has scored more than 20 points. He's done it in 18 straight games, including popping off for more than 40 in back-to-back games at the end of the regular season. He was the ACC Player of the Year. N.C. State already won a game in March. If they make a run, he'll be a star.
Marcus Foster, Kansas State: The freshman no one talked about. Foster is a tough scorer and a big-time athlete at the off-guard spot, but he'll have a couple of tough matchups with Kentucky and then, in all likelihood, a date with Wichita State.
CINDERELLAS
Taylor Braun, North Dakota State: I really like Braun and I've loved this North Dakota State team all season, but they drew a tough matchup for them against Oklahoma. Still, Braun is their best player and a guy that can takeover in crunch time.
Elfrid Payton, Louisiana-Lafayette: Payton is a beast. He played with Team USA in the U-19 championships this summer and started. He's an athletic, penetrating guard that's a terror defensively, and he'll be tough for Creighton to matchup with. People notice if you knock out the National Player of the Year.
Langston Hall, Mercer: Hall is as tough of a point guard as you are going to find and, like C.J. McCollum and Eric Maynor before him, he'll have a chance to etch his name into history by leading his team to an upset of Duke in the NCAA tournament.
David Brown, Western Michigan: I've got Western Michigan beating Syracuse in the Round of 64. Brown is their leading scorer at 19.7 points. You can do the math there.