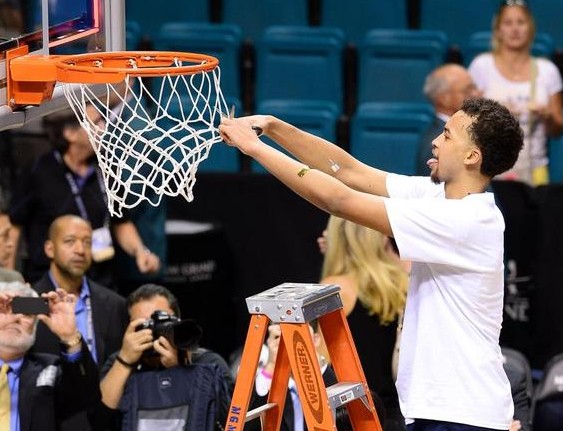 PREVIEWS: Dummy's guide to filling out a bracket  |  7 must-watch games  |  Sleeper teams
As evidenced by the brackets filled out by the CBT writers, there are just a handful of teams with a reasonable expectation to make the Final Four in this year's tournament. Arizona, Florida, Louisville, and Michigan State (with one selection of Wichita State) headline the group, but despite this unintentionally uniformed thinking, could there be an outlier, or two, that end up playing until April's first weekend? We examine the four teams that could possibly keep dancing.
No. 7 Oregon — West
At one point, the Ducks were among the nation's hottest teams, but a midseason swoon — Oregon won just two games over the course of the month (losing eight contests) — subsequently sidelined Dana Altman's squad. The team finished league play strongly, posting wins over Arizona and UCLA, and have been propelled by their offensive efficiency rating — 1.16 points per possession — which ranks twelfth nationally. Oregon was fortunately seeded amongst teams whose defense is, at best, optional.
Other than Nebraska, no other team in San Antonio or Milwaukee holds opponents under one point per possession, catnip to Joseph Young (52 percent of his twos, 41.6 percent of his threes) and the other offensively proficient Ducks. Oregon already has an advantage even before the tournament tips — UO played its first-round opponent, BYU, during its non-conference slate, and the Cougars will be playing without arguably the best player (Kyle Collinsworth). If Dana Altman's squad emerges in the Elite Eight, a potential match-up is Arizona looms, a team UO already split with during Pac-12 play (their lone loss to the Wildcats was by two points).
No. 4 UCLA — South
UCLA has likely the least chance of this quartet to make the Final Four, but that is why the Bruins are a dark horse! It is unclear whether Steve Alford's team will even escape their first, or second, round games, but if they do manage to leap-frog their initial region, one filled with swipe-happy, ball-pressuring defenses, a match-up versus Florida will determine UCLA's NCAA livelihood. The Bruins' unique offense, one that starts with an iso problem in Kyle Anderson, continue with the Wear twins (both dilemmas for opposing bigs), and ends with one of the Pac-12's most improved players, Norman Powell, is a defensive nightmare — i.e. in the Pac-12 final, against Arizona, the Bruins scored north of 1.40 PPP — and even though the Gators' defense is stingy, the team hasn't faced an offense as explosive as the one showcased in Westwood.
MORE: 8 teams that can win it all  |  8 that won't  |  TV times  |  Bracket contest
No. 11 Tennessee — Midwest
The toughest region in this year's bracket, the consensus picks to reach Arlington are Wichita State, Louisville, Michigan, or Duke, BUT there is another team that could completely bust the bracket and win four games — Tennessee. Cuonzo Martin's team has twelve losses, but eleven of those defeats were within single digits (two of those losses came on buzzer-beaters to Texas A&M). The Vols have an offensive and defensive efficiency rate that both rank within Ken Pomeroy's top 25, and UT is able to withstand their low shooting percentages by grabbing a high rate of their misses (nearly 40 percent, fifth nationally). Mercer has become a trendy upset pick to beat Duke — this is one of the weakest Blue Devil defenses in the KenPom era (since 2002-03) — and should the Vols get past (likely) Michigan, the squad is familiar with one of their potential Elite Eight match-ups — UT faced the Shockers during their non-conference slate and only lost by nine.
No. 7 New Mexico — South
We keep telling ourselves that the Lobos won't desert us like last year. That first-round, premature exit thanks to Harvard can't possibly happen again. The Mountain West team is too experienced, and much more efficient from within the arc (51.8 percent, as compared to 46.1 percent in '13), to suffer another early exit, and the selection committee did Craig Neal's squad a solid by setting up a potential match-up with Kansas, a team with a frontcourt that may miss Joel Embiid, or Ohio State, a squad that is backcourt-heavy. Should they advance to play either of those teams, the odds have to favor the Lobos, but first they need to beat to Stanford, which is certainly no easy task.