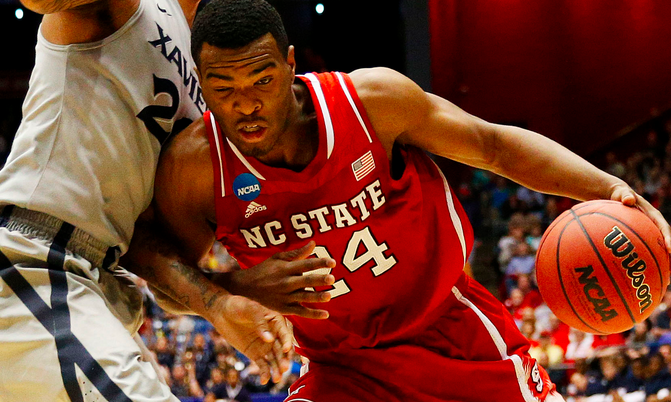 PREVIEWS: East Region  |  South Region  |  Midwest Region  |  West Region
T.J. Warren did what T.J. Warren does.
The ACC Player of the Year went for 25 points, five boards and three steals despite spending much of the first half in foul trouble as N.C. State knocked off Xavier, 74-59, in the nightcap of the NCAA tournament's first set of games.
Tyler Lewis added seven points and eight assists, playing a terrific floor game and running the Wolfpack offense, while Ralston Turner chipped in with 17. N.C. State also put together a pretty good defensive performance, holding the Musketeers to 41.8% shooting from the floor. Matt Stainbrook had 19 points and nine boards to lead the way for the Musketeers, but it was the seven turnovers from Semaj Christon (to go along with 14 points and four assists) and the combined 4-for-19 shooting (1-for-12 from three) from Justin Martin, Dee Davis and Myles Davis that did Xavier in.
With the win, the Wolfpack, who many believed didn't belong in the NCAA tournament to begin with, will roll on to the Round of 64 as the No. 12 seed in the Midwest Region. They'll be taking on No. 5 seed Saint Louis in a game that is quite winnable for Mark Gottfried's club.
UPSET PICKS: Mid-majors that can win a game | Six Sweet 16 Sleepers
The Billikens are one of the nation's best defensive teams. They can really struggle to score at times, but when their defense is clicking, they can flat out guard. The question, however, is which Saint Louis team will show up: the one that started out the season 25-2, or the one that lost four of their last five games and got knocked out in the first round of the Atlantic 10 tournament?
The other issue is going to be who on Saint Louis guards Warren. Jordair Jett is probably their best on-ball defender, but Warren will have a couple of inches on him. And while his game isn't exactly that of a post player, he use his body and his size to his advantage in the mid-range, as he leads the NCAA in floaters made and attempted.
Whatever the case, the Wolfpack are in for a long couple of days. After playing a game that tipped at 9:10 p.m. on Tuesday night, they'll be catching a 2:00 a.m. flight — which will take a little more than two hours —  to Orlando for Thursday's game , which tips off at 7:20 p.m. They'll have a media availability around lunch time on Wednesday.
Every year since the First Four has come into existence, one of the at-large winners has one a game in the main event. If N.C. State wants to be the team that continues that streak, I hope they can sleep on a plane.