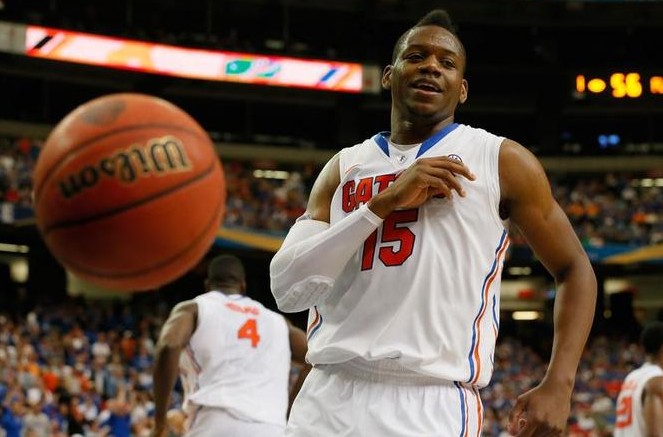 From a personnel standpoint much of the focus during the NCAA tournament is on the stars, the players who have the talent needed to change their NBA draft possibilities drastically over the next three weeks. But for as important as those stars are they need help, and a quality "unsung hero" could mean the difference between a good season and a truly special one.
Here are 11 players capable of fitting that role: 
1) Will Yeguete (Florida): Yeguete isn't much of a scorer, averaging just 4.9 points per game, but his impact on the defensive end is an important factor for the top overall seed. Yeguete has the athleticism and energy needed to spearhead Florida's full-court pressure, and his presence in the front court helps out fellow senior Patric Young as well.
2) Tekele Cotton (Wichita State): Cotton's clearly a known commodity for those who have watched the Shockers all season long. But for those who haven't, he tends to be an afterthought of sorts with sophomores Ron Baker and Fred VanVleet and senior Cleanthony Early receiving the bulk of the attention. Cotton's averaging 10.8 points per game, and with two 20-point efforts in his last six games he can provide scoring when the key options are struggling.
3) Travis Trice (Michigan State): This has as much to do with the health of Keith Appling as it does Trice's ability to handle the point guard responsibilities at times for Michigan State. How close to 100% is Appling at this point? While he's getting closer to that point the wrist may still be an issue, and for that reason more has been asked of Trice in recent games. And he's responded well for the most part, which could mean good things in the NCAA tournament.
4) Gabe York (Arizona): Perimeter shooting has been an issue for the Wildcats this season, and York is one of the players capable of providing a spark in this area. But the key for the sophomore in the NCAA tournament will be consistency. In the Pac-12 title game against UCLA York scored 11 points. In the three games prior: a total of nine points.
5) London Perrantes (Virginia): While Syracuse's Tyler Ennis received a high amount of praise for his steady leadership at the point (and rightfully so), there was another freshman point guard in the ACC running the show with a calm demeanor. Perrantes has been a difference-maker for the Cavaliers this season, and a stat to remember is his 18-for-28 (64.3%) shooting from beyond the arc over the last eight games.
6) Nigel Hayes (Wisconsin): Hayes has done a good job of providing the Badgers with a spark off the bench for much of this season, and he'll need to continue to do so in the NCAA tournament if Wisconsin is to make a deep run. In the three games prior to his quiet effort in a Big Ten semifinal loss to Ohio State the freshman averaged 12.0 points and 4.7 rebounds.
7) Stephen Van Treese (Louisville): This pick is likely a shock considering the fact that Van Treese is scoring just 2.9 points per game. But his value this season has come on the boards, with Van Treese being Louisville's second-leading rebounder. Having Montrezl Harrell inside certainly helps, but if the Cardinals are to win a national title they're going to need Van Treese from a rebounding standpoint. Over his last four games the senior's pulled down an average of 10.3 rebounds per game.
8) Norman Powell (UCLA): Jordan Adams and Kyle Anderson get most of the attention when it comes to UCLA's perimeter scoring and rightfully so. But don't ignore Powell's ability to make things happen as well, and it should also be noted that he's the Bruins' best perimeter defender. Over his last three games the junior's averaging 15.3 points.
9) Rasheed Sulaimon (Duke): Sulaimon's in a similar situation to that of Powell, with Jabari Parker and Rodney Hood being asked to do much of the heavy lifting offensively. Sulaimon's certainly capable of giving Duke additional perimeter scoring, as evidenced by his average of 13.8 points per game in the five contests before the ACC title game (two points, 1-for-6 FG).
10) Josh Hart (Villanova): The Wildcats have four talented scoring options in guards Ryan Arcidiacono, James Bell and Darrun Hilliard and forward JayVaughn Pinkston. But what if one (or more) of those players happens to be off the mark? Enter Hart, who averaged 7.9 points per game and enjoyed a stretch of eight straight games in double figures earlier this season.
11) Rob Brandenberg (VCU): When Melvin Johnson injured his knee at the Atlantic 10 tournament this past weekend the Rams lost their best three-point shooter, with the sophomore making 39.5% of his attempts from three. So which player is best equipped to take a step forward if Johnson can't go this week? Brandenberg, who's shooting 36.9% from three and averaging 9.7 points per game. With the attention that Treveon Graham, Juvonte Reddic and Briante Weber are bound to receive, keep an eye on Brandenberg.