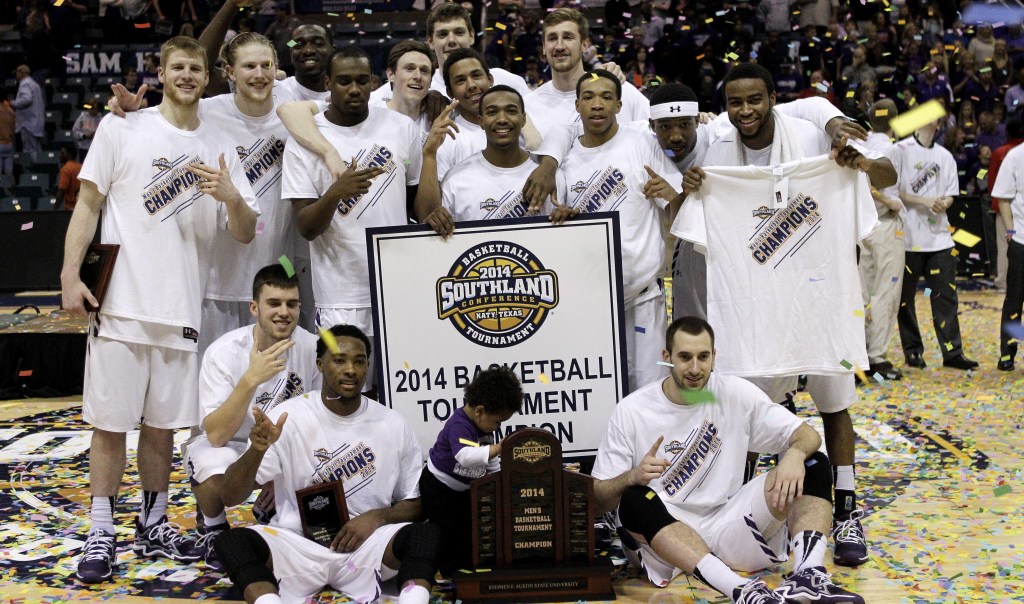 It's always fun to root for the little guy.
Every year, people across the country always root for upsets in the NCAA Tournament because it brings a unique excitement to America's most unpredictable sporting event. Whether you're just purely into the "David topples Goliah" storyline, or you want to be that person that brags to their friends about knowing way too much about Ohio Valley Conference basketball, everyone seems to root for lower seeds to beat some of the most storied programs in America.
PREVIEWS: East Region | South Region | Midwest Region | West Region
Here are five potential upsets in the Round of 64 involved double-digit seeds.
No. 12 seed Stephen F. Austin over No. 5 seed VCU
Winners of 28 straight games, the Lumberjacks went through the Southland Conference unscathed as first-year head coach Brad Underwood has done a tremendous job this season getting this balanced group to bye in. With five starters averaging at least 9.6 points per game — and all five shoot at least 35 percent from the three-point line — Stephen F. Austin is incredibly dangerous on offense thanks to their balance and ability to stretch the floor at all five positions. If the Lumberjacks can handle VCU's pressure, they could hit enough shots to get past Shaka Smart's ballclub.
No. 12 seed North Dakota State over No. 5 seed Oklahoma
Senior-laden North Dakota State will be a tough out in the Round of 64 thanks to their tremendous shot selection and leadership. Summit League Player of the Year Taylor Braun is a do-it-all senior forward that shoots it well from everywhere on the floor and senior center Marshall Bjorkland has been in the top-ten in the country the last two seasons in field goal percentage, as he hovered in the mid-60s — percentage wise — both seasons. With the way Oklahoma can give up easy buckets, you have to like Bison's chances if they can get stops on the other end.
MORE: 8 teams that can win it all | TV times | Bracket contest
No. 12 seed North Carolina State over No. 5 seed Saint Louis
If N.C. State can get past Xavier in Dayton — and they should — they pose a major threat for the rest of the field thanks in large part to sophomore scoring sensation T.J. Warren. The forward is the most ruthless and effeicient scorer in the country not named "Doug McDermott" and he's a matchup nightmare for nearly every team in the field. Saint Louis is also struggling, having lost four of their last five games entering the tournament. If Warren gets hot enough, N.C. State is a very dangerous team in this field.
UPDATE: NC State beat Xavier, 74-59, on Monday.
No. 11 seed Tennessee over No. 6 UMass
If Tennessee gets past Iowa in Dayton, then they should be a potential upset to watch against No. 6 seed UMass. The Volunteers are playing much better basketball down the stretch and won five straight games before falling to No. 1 overall seed Florida in the SEC Tournament. Four of those wins came by double-digits and the inside-outside combination of Jordan McRae and Jarnell Stokes is tough to stop. The Minutemen also struggled entering the field as they've alternated wins and losses since March began and lost all three games that they played against NCAA Tournament teams during that stretch.
No. 11 Providence over No. 6 North Carolina
After winning the Big East Tournament in dramatic fashion at Madison Square Garden, the Friars are very confident heading into the tournament. Even though senior guard Bryce Cotton is an All-American performer, the Friars won two of the Big East Tournament games with Cotton playing well below his normal output. Providence only goes six deep, but all six players contributed heavily in the Big East Tournament and the Friars can get points and rebounds from nearly everyone on the floor. It's not that North Carolina is susceptible to a loss as much as Providence is playing well and matches up well with the Tar Heels. This should be a good one.
Have any upset predictions of your own that we didn't profile? Let us know your Round of 64 upsets — and why — in the comments section.