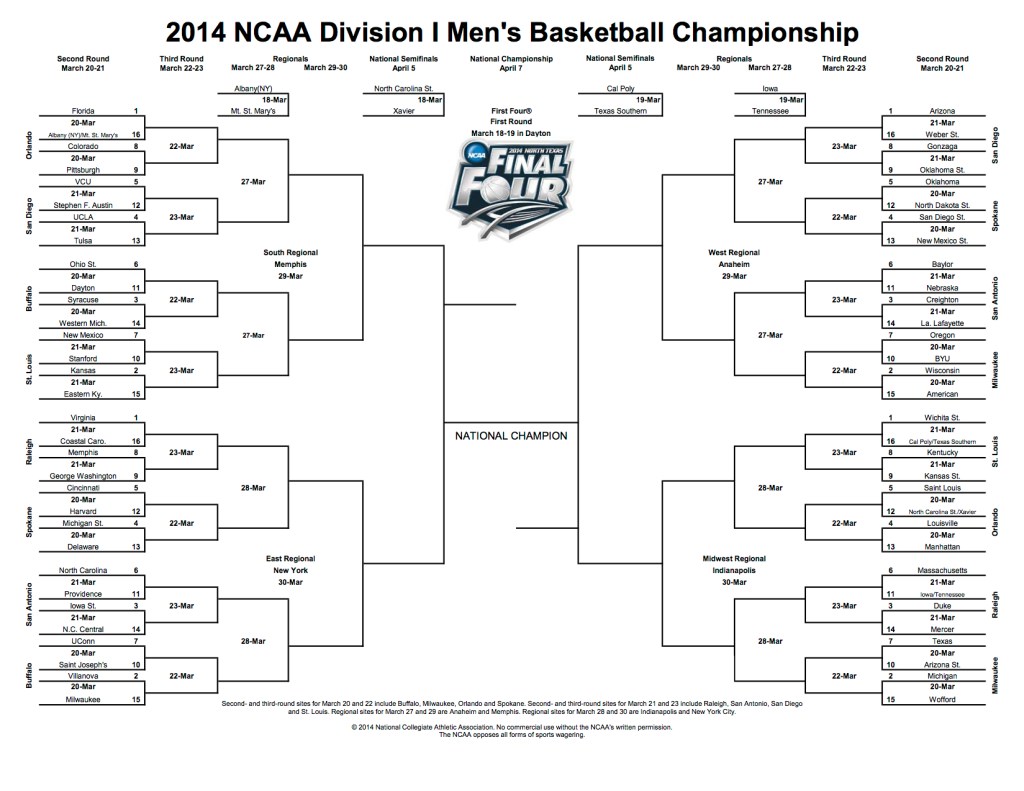 REGION PREVIEWS: East Region | South Region | Midwest Region | West Region
Oh, March Madness.
The time of year where every single eyeball of every single sports fan across the country falls upon our underappreciated sport for three glorious weeks in March.
Now, most of the people that read this site religiously (Hi, Grandma!) will already know a thing or two about college basketball this year. If you don't, we got you covered. Click here. Read every word. You'll be good to go.
But knowing teams and names and stats isn't what's going to win you your Bracket Pool. We've all been in a pool where the girlfriend of the dude that hates sports and was only involved in the first place because he got a pity invite ends up taking home the jackpot. You know that pain. I certainly do.
That's why we're here, to give you all the tidbits and insider knowledge you can handle while trying to pick 67 winners. Here are 16 things you need to know while filling out your bracket, and if you win Warren Buffet's billion dollars, my cut is 3%.
MORE: 8 teams that can win it all  |  8 clutch players  |  Guide to perfect bracket pool
1. Always stick to a single bracket even if you're in more than one pool. If you feel the need to fill out multiple brackets, just walk away from the computer for five minutes. Everyone knows that Sports Karma is at its strongest when you're all-in pulling for one team. We don't hedge our bets around here.
2. Never fill out your bracket with permanent ink on the first go-round. You will change your mind. And then change it back. And then change it back again.
3. A No. 16 seed has never beaten a No. 1 seed. It's not going to happen, so don't even bother.
4. That said, it's OK to be reckless. No one likes the guy that has all chalk in the Sweet 16. Can't stand the thought of No. 3 Duke winning a game? Pick No. 14 Mercer! Does your Marquette fandom preclude you from ever rooting for No. 2 Wisconsin? Well, three No. 2 seeds have lost to No. 15 in the last two years. Gamble away …
5. … but be smart the further you get. Only four times since 1979, when the tournament was first seeded, as someone lower than a No. 3 won the National Title: No. 4 Arizona (1997), No. 6 Kansas (1988), No. 6 N.C. State (1983), No. 8 Villanova (1985). …
6. … and only 10 times in those 35 years has someone lower than a No. 8 seed made the Final Four.
7. … but it has happened three times in the last three season, and that doesn't include No. 5 Butler or No. 5 Michigan State making the Final Four in 2010. So if you fall in love with a sleeper, go ahead and roll the dice. You'll have endless bragging rights if you're right.
MORE: All-Americans | Player of the Year | Coach of the Year | Freshman of the Year
8. There are no locks for a Round of 64 upset … this year. Georgetown is in the NIT.
9. Kansas will do one of two things: They'll make a run to the Final Four, or they'll get dropped by a mid-major at some point in the first weekend of the tournament. Guess right (ahem, New Mexico anyone?) and your bracket will be thankful.
10. You should always trust in Tom Izzo and Michigan State.
11. But you should also always trust in Billy Donovan. He not only won two titles back-to-back with Florida, but he made three straight Elite 8s with Kenny Boynton. Hall. Of. Fame.
12. If you're stuck, never, EVER flip a coin. There has to be logic. Any kind of logic. Which mascot would win in a fight. Which school's colors would better match the shirt you're wearing. Which coach's wife is the hottest. Find a system, and always trust the system.
13. If you've reached your limit and you can't make a decision, put the bracket down for a few hours. Leave your office (like you're actually going to be working this week) and go hit Happy Hour. Three ice cold brewskis and a dozen wings later, your decision won't be any easier, but you might have realized it's stupid to work yourself into a tizzy worrying about who would win an 8-9 game when you have the No. 1 seed in that region winning the National Title
Point being, have fun with it. We stress ourselves out enough with Fantasy Football — I'll seriously never forgive Matt Stafford for last year's collapse until August when I draft him again because I hate myself — filling out a bracket should be enjoyable.